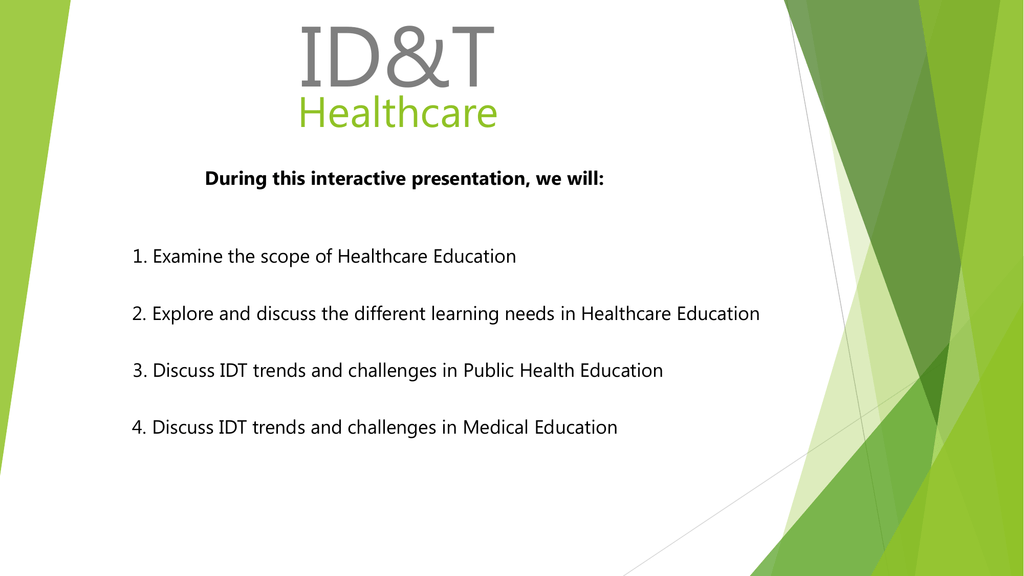 ID&T
Healthcare
During this interactive presentation, we will:
1. Examine the scope of Healthcare Education
2. Explore and discuss the different learning needs in Healthcare Education
3. Discuss IDT trends and challenges in Public Health Education
4. Discuss IDT trends and challenges in Medical Education
Where is Healthcare Education?
Formal Settings
Informal Settings
Schools and Universities
Environmental health
Clinical settings
Homelessness
Home health care
Violence
Pharmacies
Literacy
Who delivers Healthcare Education?
Medical
Medical Schools
Professional Associations
(AMA)
Hospitals
MOOC's
Public Health
Government Agencies
Community Health Centers
Workplace wellness programs
Hospitals
Allied Health Workers
Social Workers
Schools
Who are Healthcare Learners?
Medical
Medical & AH Students
Medical & AH Professionals
Patients
Caregivers
Public Health
Public Health Workers
Community-based organizations
The general public
Trends in Public Health ID&T
E-Learning
E-Learning in Public Health Education Outreach
Advantages
Challenges
Cost-effective
Attracting Learners
Accessible
Retaining Learners
Flexible
Assessing Outcomes
Barriers to Accessibility
Trends in Medical ID&T
Simulation-based learning
Trends in Medical ID&T
E-Learning
Wearable E-Learning
M-Learning
Blended Learning
The Future of Medical ID&T?