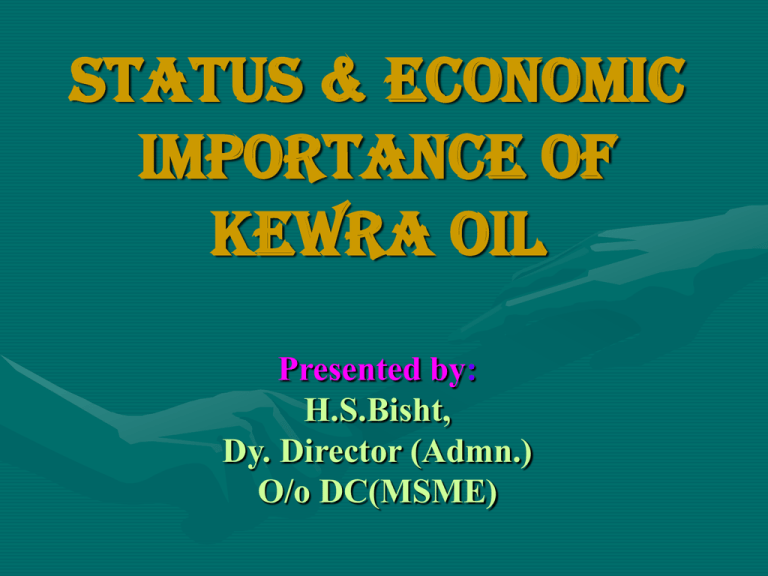 Status & Economic
importance of
kewra oil
Presented by:
H.S.Bisht,
Dy. Director (Admn.)
O/o DC(MSME)
NUT SHELL INFORMATION ON
KEWRA
BACKGROUND
 Kewda
plant is a shrub belonging to the family
pandanaceae. The botanical name of the plant is
Pandanus
Fascicularis
Lim.
Syn.
P.
Odoratissimus.
is called "Keora" in Hindi, "Kia" in Oriya,
"Keda" in Marathi, "Kewoda" in Gujarati,
"Ketaki" in Sanskrit.
 It
 It
is a densely branched shrub supported by
aerial roots. It grows to a height of 4 to 6
metres and is generally found along the banks
of rivers, canals, rice fields, ponds etc.
 Kewda
is having commercial important due to
the utilisation of male spadices (popularly
known as flower) in the production of kewda
oil, kewda attar and kewda water.
GROWING CENTRE
 This plant is widely available in
pockets of Puri, Cuttack, Balasore
and Jagatsinghpur district, but
there is no commercial exploitation
in these parts.
 The main concentration of kewda
plant in Ganjam District are found at
Keluapali, Chhatarpur, Indrakhi,
Rangeilunda, Gopalpur, Tulu etc.
 Ganjam
district of Odisha
supply about 85-90% of country's
kewda essence with estimated
turnover of Rs. 35-45 crores.
 So far Kewda flowers are
collected from widely growing
trees on bunds, roadside and
Government
land.
However,
recently some farmers have taken
up cultivation and developed some
agro practices.
A fully grown "Kewda" tree lives
upto 40-45 years though flowering
starts from 5th year onwards.
 It is estimated that there are 2-3
million trees growing on about
5000 hectares and produce more
than 35 million male spidices per
year.
FLOWERING SEASON
About 70% of flowers are
produced in the months of June
and lasts upto September.
o
The remaining are picked mostly
in November, January and April.
o
CULTIVATION AND ECONOMIC
ANALYSIS
 The analysis of plants per hectare of
land reveals that it contains on an
average 250 plants in one hectare on its
boundaries.
 Each plant can produce 50-60 flowers
after 5 years of plantation and 100-120
flowers from 10th year onwards upto 3040 years.
STATUS
Today there are more than 130
number of units (Bhattis) operating with
more than 1000 stills for kewda
processing. It has resulted demand for
flowers manifolds.

Kewda
distillation in Odisha was first
started about 200
years back in
Berhampur and Chhatarpur region of
Ganjam District of Odisha by some
Muslims of earstwhile Punjab Province of
undivided India.


Thereafter
some
others
from
Kannauj, Gajipur, Lucknow and
other parts of North India entered
in this field.
It is estimated that 90% of total
production of kewda perfume in the
country with estimated annual
turnover of Rs. 35-45 crores is
being done in the Ganjam District
of Odisha.
PROCESSING TECHNOLOGY
 Hydro distillation technology is still in use for
distillation of kewda flower oil.
 Kewda water, attar and absolute oil i.e Rooh
are prepared by distillation of ripe spadices.
Distillation is carried out in the fire heated
still, using equipment of tradition type which
are preferred over improved ones and
existing method is stated to be the cheapest
of all other methods and quality of the oil is
also better.
 Fresh flowers after removing green
spinulose spathes, if any and the pointed
tips are removed then charged in a big
copper still (Deg) and water is added at the
rate of 60 litres per 1000 flowers.
 Inverted over the still is an earthern pot
(Handi) which is connected to the receiver
vessel (Bhabhka) by a bent bamboo pipe
(Chonga).
 The receiver vessel which is also made
of copper contain sandalwood oil for
absorbing the aroma of kewda is kept
cool by partially submerging in water
tank.
 The steam along with vapour of kewda oil
passes over the sandal wood oil before
condensing in the receiver vessel.
 The aroma of kewda thus gets absorbed
slowly in the sandalwood oil. Distillation is
continued for 4 to 5 hours and then receiver
vessel is removed.
 Several grade kewda attar is prepared
depending upon the number of flowers
distilled per kilogram of sandalwood oil
which normally varies from 1000 to 10,000
but can go upto one lakh flowers.
 Attar in sandalwood oil of 10,000 flowers
distilled into 5 kg of sandalwood oil called
Dus Hazara.
 Attar is being sold @ Rs. 20,000 to Rs.
30,000 per litre.
 Kewda water is prepared by distillation of
the flowers with water in similar manner and
collecting the distillate in an empty receiver
vessel. On an average 1000 flowers on
distillation yield about 10-18 litres of kewda
water. This is known as Ek Hazara.
 Kewda Attar and water are packed in air
tight galvanized iron drums and transported
to Kannauj, Lucknow and other places of
perfumery industry in northern India for
blending and manufacture of various types of
preparations.
 Kewda oil is extracted with the same
techniques by repeated the distillation of oil.
About one lakh flowers gives one kilogram of
kewda oil and this oil is being sold @ Rs.
2.25 to Rs. 2.50 lakhs per kg.
QUALITY CONTROL FACILITY

Unfortunately in absence of quality
standard malpractices have reached
threatening proportions as no standard
other than aroma is known for determining
the quality of Attar or other products of
kewra.

Generally the evaluation of quality of Attar
and Rooh of kewra is being done on the
basis of olfactory or by smelling by the
experience persons in the trade

Efforts has been made by O/o DC(MSME),
M/o MSME, Govt. of India and MSME-DI,
Cuttack to setup a quality control facility at
Behrampur which was setup based on the
report prepared by the officers by MSMEDI, Cuttack and the centre was setup under
Cluster Development Programme in the
year 2001-02.

This centre is now functioning as Extension
Centre of FFDC Kannauj providing training
and quality control services to the
enterprises engaged in this field.
DIVERSE USE OF KEWRA PLANT
1. THE INFLORESCENCE (MALE FLOWERS)




Production of kewra oil / attar / water
Anthers of male flowers are considered for
curing diseases of blood.
The juice or the inflorescence is useful in
rheumatic arithritis in animals.
The tender buds are sometimes eaten raw
or in a cooked form.
2. LEAVES



Used for covering huts, for making
mats, cardage, hats and baskets.
The fibres present in the leaves can be
utilised for papermaking.
Therapeutically the leaves are very
much valuable in the treatment of
leprosy,
smallpox,
scabies
and
leucoderma. The tender leaves are
valuable in curing diseases of the heart
and brain.
3. ROOTS


A good soil binder.
Long aerial roots contain very strong
fibres, which are mostly used for
making ropes and baskets. The fibres
are also useful for making high
quality handmade paper.
4. KEWRA OIL




Used as a stimulant.
Antispasmodic
Relieves headache
Anti Rheumatic.
5. KEWRA ATTAR


Blends with all types of perfumes.
Used for scenting clothes, bouquets,
lotions, cosmetics, soaps, hair oils,
tobacco, pan masala, agarbathi etc.
6. KEWRA WATER


Used for flavouring of sweets, syrups,
soft drinks etc.
Cures many skin diseases.
EXPORT POTENTIAL
 Kewda oil and its product is having
very good demand in Middle East
and
Arabian
countries
which
continues to be the big buyer of
traditional natural perfume used in
Pan Masala.