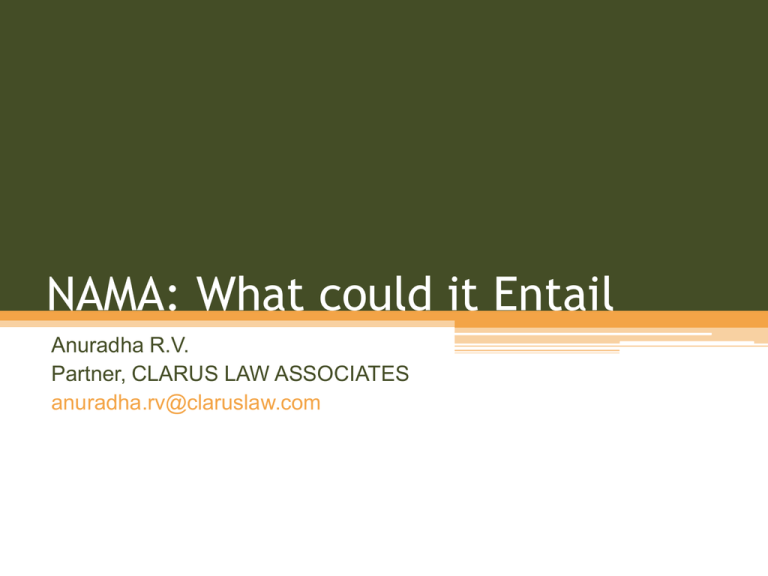 NAMA: What could it Entail
Anuradha R.V.
Partner, CLARUS LAW ASSOCIATES
anuradha.rv@claruslaw.com
2
Background
 Current balance of rights & obligations under the
UNFCCC:
 Emphasis on Common But Differentiated Responsibilities
 Recognition that share of global emissions originating in
developing countries will grow to meet their social and
development needs- that they have "legitimate priority
needs"
 Mandatory binding obligations only on Developed countries
 Developing country obligations- made contingent on
financial resources and transfer of technology from
Developed countries
 Recognition that within developing countries, several are
especially more vulnerable- LDCs, small island countries, &
those prone to environmental disadvantages.
3
Copenhagen & Cancun
• Recognition that Developing countries cannot be left
beyond scrutiny
• Move towards some form of measurable action of
commitments notified
• Cancun Agreements on Developing Countries:
Undertake nationally appropriate mitigation
actions (NAMA) aimed at achieving a deviation in
emissions relative to 'business as usual emissions'
in 2020
4
Cancun & Developing Countries
• Voluntarily provide information on NAMA which are
required to be "measured, reported and verified" ('MRV')
at the national level.
• Identify NAMA for which country would require
international support and costs for the same. All
internationally supported action will be subject to
"international MRV".
• Ensure periodic national communications based on the
format to be notified. There will be "international
consultation and analysis" ('ICA') of reports made to the
technical body of the UNFCCC, which would involve
"analysis by technical experts in consultation with the
Party concerned", and "result in a summary report."
5
Cancun – Open Issues for Resolution
• Framework and Guidelines for MRV and ICA
• Is this only aimed at 'transparency'?
• Who would the 'technical experts' be? Their mandate?
• Role of 'Summary Report'- unclear
• Safeguards indicated through terminology: 'Nonintrusive', 'Non-punitive'; 'Full respect for
national sovereignty'
• Mechanisms for operationalizing hold the key
6
Transparency Requirements: Other
examples
• Most international conventions/ treaties work
on principles of:
▫ Information Exchange
▫ Notification process
▫ Periodic Reviews
• Each defined based on objectives sought to be
achieved- ranging from rigorous scrutiny and
questioning; to simpler processes of information
sharing
7
Transparency Requirements under WTO
• Trade Policy Review: Member-driven, supported
by WTO Secretariat.
▫ Preparation of Reports
▫ Review and Discussions through Question-Answer
sessions
▫ Consolidation of Report based on Responses
• Notifications and Discussions on these under
Subsidies Agreement;
• Notification and Discussions on these under SPS
& TBT Agreements
8
SBSTTA under UNFCCC and CBD
• Open-ended intergovernmental scientific advisory body
known as the Subsidiary Body on Scientific, Technical
and Technological Advice (SBSTTA)
• SBSTTA
comprises
government
representatives
competent in the relevant field of expertise.
• SBSTTA provides the COP and its other subsidiary
bodies, with timely advice relating to the
implementation of the Convention. Its functions include:
▫ providing assessments of the types of measures taken in
accordance with the provisions of the Convention; and
▫ responding to questions that the COP may put to the body.
9
THANK YOU!