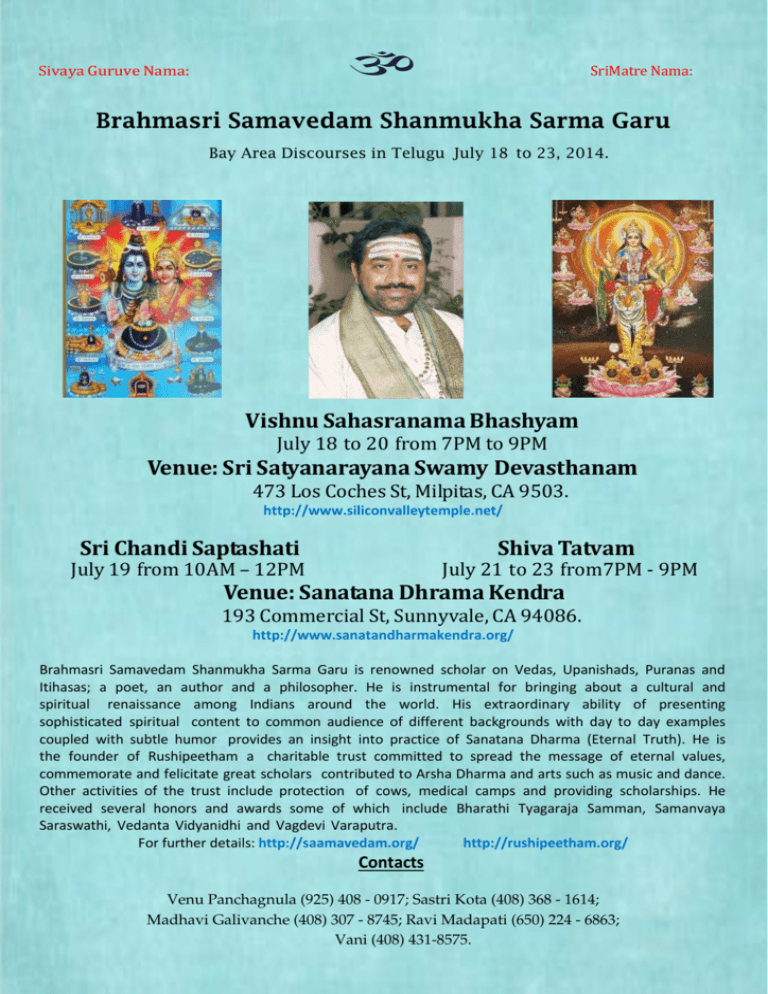 `
Sivaya Guruve Nama:
SriMatre Nama:
Brahmasri Samavedam Shanmukha Sarma Garu
Bay Area Discourses in Telugu July 18 to 23, 2014.
Vishnu Sahasranama Bhashyam
July 18 to 20 from 7PM to 9PM
Venue: Sri Satyanarayana Swamy Devasthanam
473 Los Coches St, Milpitas, CA 9503.
http://www.siliconvalleytemple.net/
Sri Chandi Saptashati
Shiva Tatvam
July 19 from 10AM – 12PM
July 21 to 23 from7PM - 9PM
Venue: Sanatana Dhrama Kendra
193 Commercial St, Sunnyvale, CA 94086.
http://www.sanatandharmakendra.org/
Brahmasri Samavedam Shanmukha Sarma Garu is renowned scholar on Vedas, Upanishads, Puranas and
Itihasas; a poet, an author and a philosopher. He is instrumental for bringing about a cultural and
spiritual renaissance among Indians around the world. His extraordinary ability of presenting
sophisticated spiritual content to common audience of different backgrounds with day to day examples
coupled with subtle humor provides an insight into practice of Sanatana Dharma (Eternal Truth). He is
the founder of Rushipeetham a charitable trust committed to spread the message of eternal values,
commemorate and felicitate great scholars contributed to Arsha Dharma and arts such as music and dance.
Other activities of the trust include protection of cows, medical camps and providing scholarships. He
received several honors and awards some of which include Bharathi Tyagaraja Samman, Samanvaya
Saraswathi, Vedanta Vidyanidhi and Vagdevi Varaputra.
For further details: http://saamavedam.org/
http://rushipeetham.org/
Contacts
Venu Panchagnula (925) 408 - 0917; Sastri Kota (408) 368 - 1614;
Madhavi Galivanche (408) 307 - 8745; Ravi Madapati (650) 224 - 6863;
Vani (408) 431-8575.