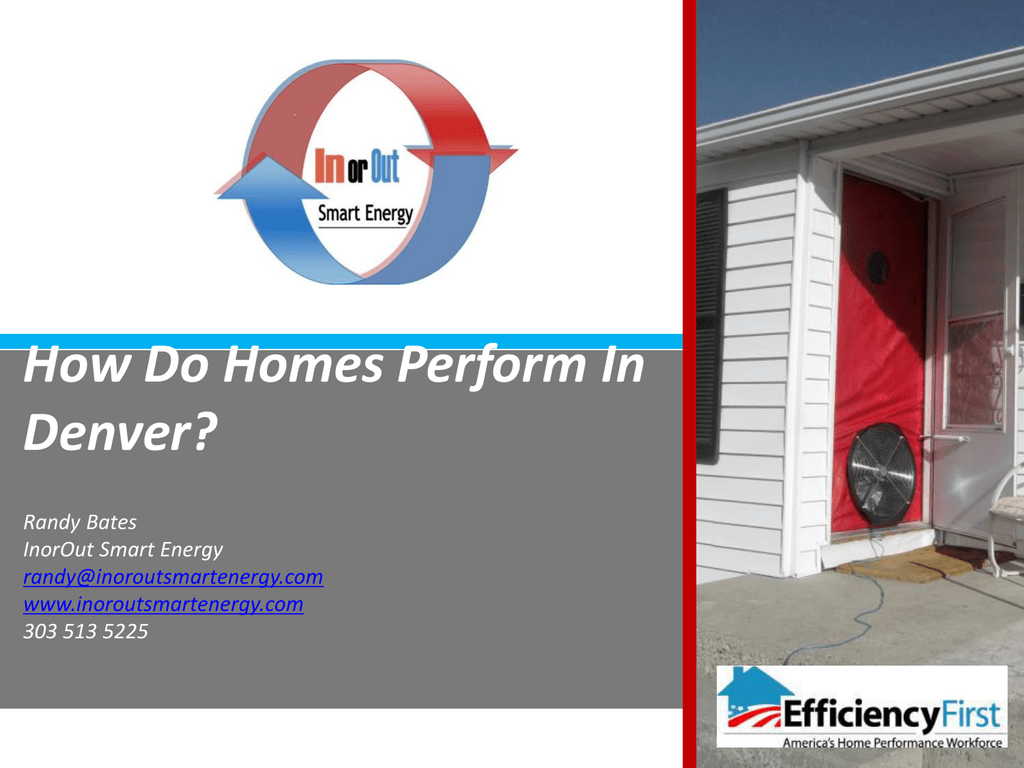 How Do Homes Perform In
Denver?
Randy Bates
InorOut Smart Energy
[email protected]
www.inoroutsmartenergy.com
303 513 5225
InorOut Smart Energy
• We are a Henderson Colorado based Home
Energy Auditing and HERS Rating Company.
• We provide energy efficiency, air quality and
comfort consultation for the home along with
contractor services for any recommendations
made.
About Efficiency First
• A nonprofit trade association that unites the
Home Performance workforce
• Promotes the benefits of efficiency retrofitting
to help the industry grow and meet demands
for residential energy improvements
• Represents its members in public policy
discussions at the state & national levels
STANDARDS: Raising the bar
• Efficiency First is raising the standards for our
industry, through:
– Stronger push for licensing requirements
– Building Performance Institute accredited auditors and
contractors
– Training through organizations recognized by the
Department of Energy & U.S. E.P.A.
– Differentiating a 'Home Performance Contractor'
from a 'furnace salesperson'
What is Home Performance?
Home Performance is a comprehensive whole-house approach to identifying and
fixing comfort and energy efficiency problems in a home
• Audit
• Solution
• Improvements
• Commissioning
• Quality Assurance
Sick? You Need a Diagnosis
Home Performance = House Doctor
Person
1. Checkup
2. Blood Test
3. X-ray
6
Home
1. Whole House Inspection
2. Blower Door Test
3. Infrared Camera
Energy Leaks Cause
•
•
•
•
High energy bills
Discomfort
Poor health
Green house gases
What is the solution?
Efficiency Improvement Loading Order
Fundamentals
Major Systems
•
•
•
•
•
•
•
•
•
•
•
•
Insulation
Air Sealing
Duct Sealing
Lighting
Appliances
Water Conservation
Plug Loads
Behavior
Heating
Air Conditioning
Ventilation
Water Heating
Renewables
•
•
•
•
Solar PV
Solar Thermal
Wind
Water Catchment
Reduce Then Produce
"What is all the fuss with
efficiency improvements? Why
can't we just put up solar
panels?"
Cost Per Ton of Carbon Abatement
"The Firepower of the Lowly Caulk Gun"
Wall Street Journal
http://online.wsj.com/article/SB123629700922046051.html
What is America's Largest Source of
Carbon Emissions?
Carbon Dioxide Emissions From Fossil Fuel Combustion
Industrial
25%
25%
Passenger
Cars
11.5%
Transportation
Residential
Buildings
Buildings
43%
43%
32%
32%
http://www.pewcenteronthestates.org/uploadedFiles/Climate%20Change%20101,%20Technological%20Solutions.pdf
http://www.pewclimate.org/docUploads/ustransp.pdf
21%
HOW MUCH ENERGY WILL YOU SAVE?
• American spend over $160
billion/year on home energy
• Home can save 20-40%
average
through energy efficiency
How Do Homes Perform in Our Area?