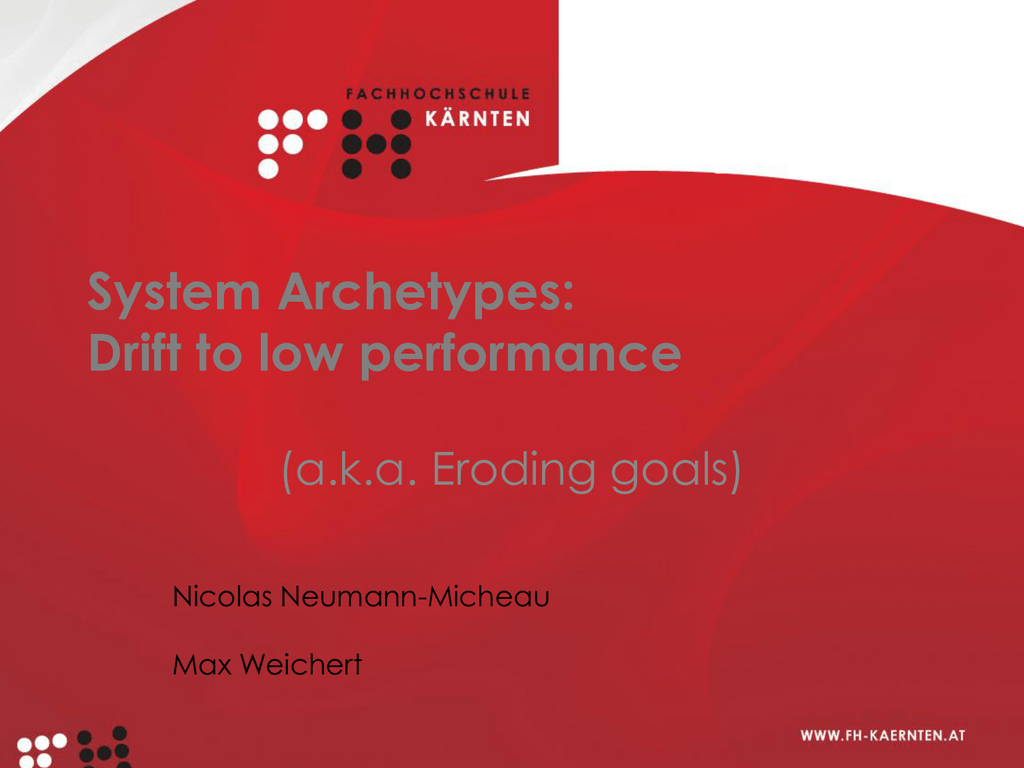 System Archetypes:
Drift to low performance
(a.k.a. Eroding goals)
Nicolas Neumann-Micheau
Max Weichert
The eroding goals archetype
This
leads to
two
possible loops:
actions:
Situation:
two
interfering
• rise effort
fundamental
solution made
•1st
based on predictions
or in the past about the future
• lower goal
• 2nd stating the actual situation
 symptomatic solution
deteriorates performance,
Problem:
rises
temptation
to repeatedly
Occuring
gap between
lower goals
previously defined goal and
actual state creates tension
Source: William Braun – The System
Archetypes (2002)
Consequences for lowering
goals
Repeated process leads to a lax goal
orientation within the company culture
Source: William Braun – The System Archetypes (2002)
Examples
• balancing the public debt
• sliding limits of environmental pollution
• performance of a group which is
inexperienced in project work
• people who lower personal goals to
achieve the feeling to be successful
more often
4/15
Solution – 7 steps
• Identify performance measure
• Identify goals conflicting with stated goals
• Identify standard methods for closing the
gap
• Examine past history of goal
•  anchor goal to conditions outside of
production process (e.g. industry standards,
costumer feedback)
• Create a vision for improvement involving
everyone
• Create transition plan
Reference
• William Brown – The System Archetypes (2002):
 http://wwwu.uni-klu.ac.at/gossimit/pap/sd/wb_sysarch.pdf
6/15
Thank you for your attention!