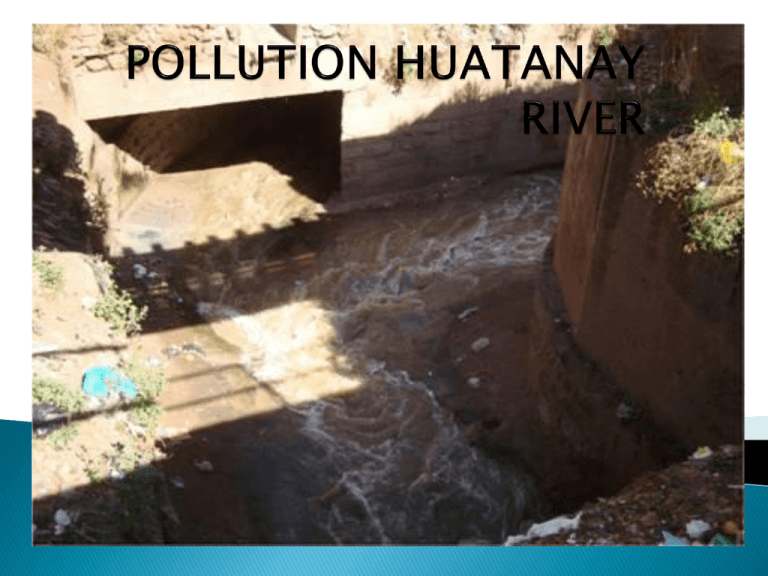 FAMILIES
POPULAR
MARKETS
HOSPITALS
COMPANIES









Tullumayo River
Saphy River
Huancaro – Chocco River
"Popular markets" as Huancaro, El Molino
Sipaspujio – Sajramayo
CachimayoHuillcarpay
Districts of Santiago, Cusco y San Sebastián
Kayra, Huaccoto, Huasao, Tipón, Huacarpay.
Ends at the River Vilcanota
Molino
consume water from the river
Law 28611
General
Enviroment
Law 17752
General Water
Law
Regional
Ordenance
N°016-2011-CRGRC-CUSCO
Law 29338 Law
about water and
resources
Supreme Decree
N°002-2008-MINAM
National Standars for
water environmental
quality
LAW OR
POLICY FOR
DEALING
WITH THE
PROBLEM OF
HUATANAY
RIVER
The Constitution
protects the water
It recognizes in
paragraph 22 of
section two of our
present constitution:
"the right to peace,
tranquility, leisure
and rest, and to
enjoy a balanced
environment suitable
for the development
of his life. "
Law or Policy
Adequate To Solve
The Problem.
ACT N º 28611: General
Environmental Law.
ARTICLE 120.1: Referred to the
protection of water quality.
ARTICLE 120.2: The State
promotes the treatment of
wastewater for reuse
Code of Environment and
Natural Resources. Legislative
Decree No. 613.
Law No. 27314, Solid Waste
Act, Title I, Article 2 ºand
regulation.
Disagreement here in Our Community About This Problem
and The Way It is Being Handled
 San Jeronimo, San Sebastian,
Saylla, Oropesa and lucre are tired
of the terrible pollution.
 the contaminated water Huatanay
are used by poor farmers to irrigate
fields.
 the waste problem are also coming
from the so-called "popular
markets" as Huancaro, "El Molino "
and other shopping centers near the
river.
Individuals, Group, or Organization With and Interest in The
Problem
SEDA CUSCO
IMA
MUNICIPALIDA
D DE CUSCO
GIRH
-Citizens.
-Municipalities.
-Cedacusco and IMA.
What are we
doing to
overcome this
problem?...