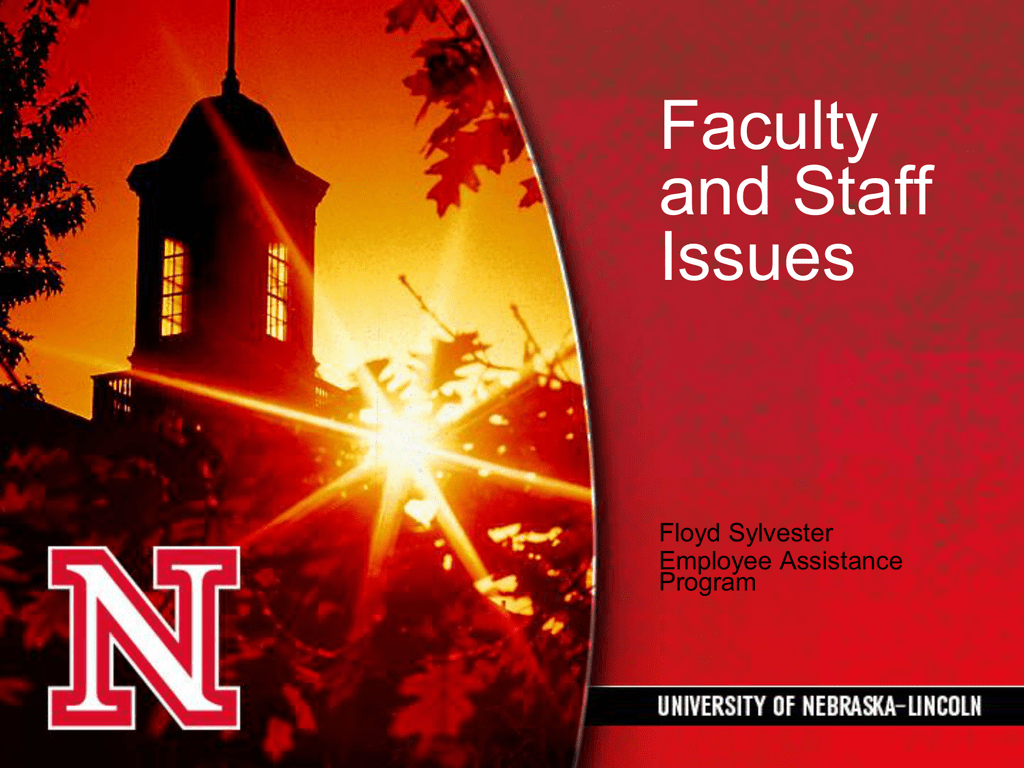 Faculty
and Staff
Issues
Floyd Sylvester
Employee Assistance
Program
Faculty Stressors
•
•
•
•
•
•
•
•
•
Teaching
Research
Publications
Grant writing
Managing grant money effectively
Working towards tenure
Managing staff and students
Working with colleagues
Personal life
Staff Stressors
• Economic Uncertainty
• Dealing with Evolving Demands on Campuses
UNL Employee Assistance Program
• Internal program, housed on-campus
• Benefits of healthy employees
– Happier
– Higher work performance
– Works more cooperatively
• Serve entities simultaneously
– Employee/client/family member
– Organization
• No cost
EAP Counselors
• Licensed MH Practitioners or Counselors plus work
performance specialists
• Understand underlying issues
• Develop a plan
• Short v. long-term process
– Chemical dependency
– Psychological issues
Roles of EAP
•
•
•
•
Manage an Employee Emergency Loan Fund
Employee evaluations
Employee terminations
Reduction in Force (RIF) assistance
– Secure new employment
– Maintain emotional/psychological stability
• UNL Threat Assessment Team
• Disaster Behavioral Health
• Educational training (i.e., dealing with stress)
Benefits of EAP
• Help employees and family members resolve issues
• Beneficial for both the university and the individual
• Employees who utilize services are less likely to pose
a threat
EAP Interventions
• Offer employees assistance through:
– Education
– Solution-focused coaching
– Counseling and/or referral as needed
• Evaluate safety concerns and develop a plan
Strategies for Assisting Faculty and
Staff
• Creating a detailed vision of how they want their life
to be.
– What are the steps needed to get to where they
want to go?
– Break it down to daily tasks, if possible
– Recognize each step accomplished
– Avoid self-criticism. Life gets in the way and there
will be days
Key Roles
• Partnership-Supervisor/EAP consultation and training
• Work performance focus
• Communication Liaison
– Supervisor/employee
– Referral source and organization re: work
performance
• Micro/Macro intervention
– Conflict Resolution between
employees/departments
• Training-educational topics regarding life and/or work
challenges
Integration: Threat Assessment Team
•
•
•
•
Managing Employee Termination
Assisting with voluntary terminations
Managing Conflict
Coordination of outside mental health resources
Floyd Sylvester LMHP, CEAP
Director, UNL EAP
402-472-3107
[email protected]
©2007 The Board of Regents of the University of Nebraska. All rights reserved.