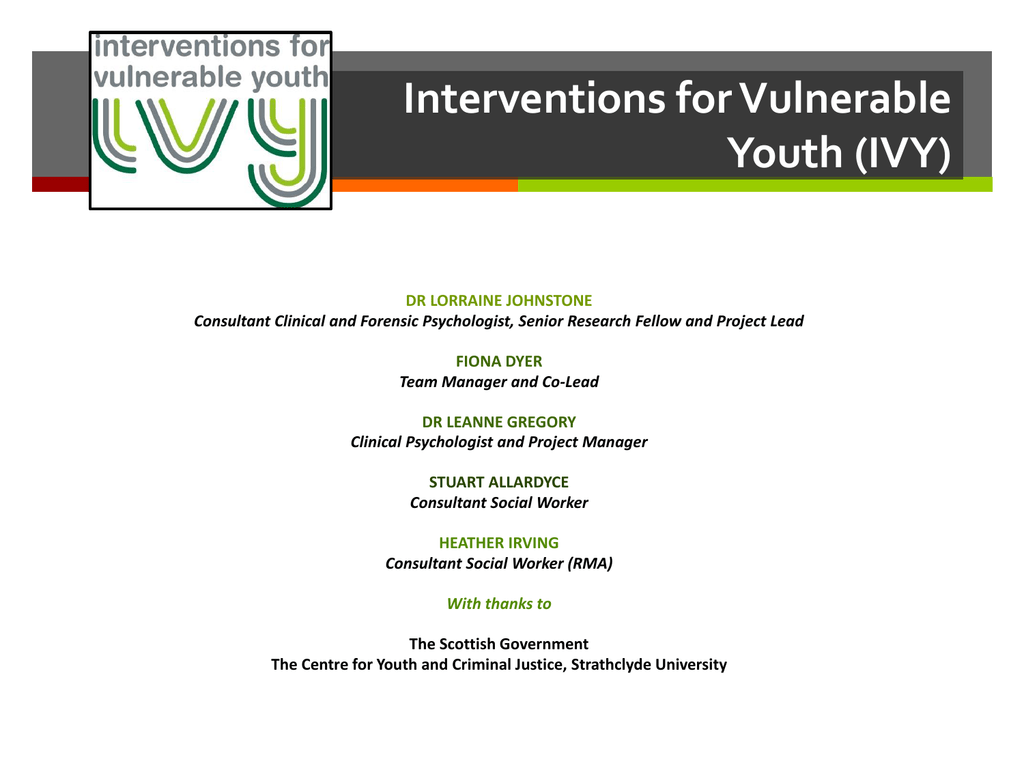 Interventions for Vulnerable
Youth (IVY)
DR LORRAINE JOHNSTONE
Consultant Clinical and Forensic Psychologist, Senior Research Fellow and Project Lead
FIONA DYER
Team Manager and Co-Lead
DR LEANNE GREGORY
Clinical Psychologist and Project Manager
STUART ALLARDYCE
Consultant Social Worker
HEATHER IRVING
Consultant Social Worker (RMA)
With thanks to
The Scottish Government
The Centre for Youth and Criminal Justice, Strathclyde University
Youth Violence: Nature and Scope
Interpersonal
Stalking
Extremist
Fire-raising
Sexual
Familial
Intimate partner
Scotland's Response
A Whole Systems Approach to Getting it Right for Every Child
Early and Effective
Intervention (EEI)
8-15
Diversion from
prosecution
The Children's
Hearing system
Address risks and
needs
Alternatives to
secure care
Supporting YP if
the do go to court,
aid decision
makers
Risk Management
by multiagency
partners
Support
reintegration after
secure care
Use supervision
requirements as
legal status
Youth Violence: Developmental Risk Factors
Family Factors
Developmental
Factors
Community Factors
Youth
Violence
Individual Factors
Peer Factors
But, challenges from espoused theory to routine practice…and a major challenge
getting psychological and mental health opinions and input
WHY?
• Conduct Disorder is an exclusion criteria in CAMHS
• Early indicators of forensic psychopathology might not be
identified or understood in terms of risk (e.g., paraphilias,
violent extremism, etc.)
• Competencies required to assess MH and risk – FMHA not
routinely available in the workforce
• Approaches to risk assessment not appropriate
• Only a small proportion of youth present with severe and
enduring violence risk…demand?
AND SO,
• Agencies often outsourcing expert assessments at
significant cost and for Tier 5 cases, refer to England…only
for admission…
• not getting at root cause and not addressing local service
provision
IVY: A Pilot Project
IVY Aims
 To provide an expert, evidence-based, efficient and
accessible service;
 Open to all local authorities, Police Scotland, and Health
Boards;
 Awarded >£100K to fund the project for 12 months;
IVY Model
Level 3:
Formulation-led, eclectic
treatment
Level 2:
Specialist Assessment
Level 1:
Consultation
Direct and Indirect Outputs
•Improved mental and psychological health
•Reduced risk by understanding risk
•Maintaining in the community
Individual
•Reduced risk of harm to significant others
•Improved family functioning / stabilised placement
•Engagement with education/occupation
•Improved relationships
Microsystem
•Decreased anxiety in wider system
•Shared understanding
•Reduced risk of harm to community
•Increased capacity of wider network
Exosystem
Macrosystem
•
•S
•E
•
Greater understanding of antecedents of crime
Sense of service provision and met need
Economical benefits – diversion from secure care
Reduced rates of crime
IVY: The Team
Four Consultants
 Consultant Clinical and Forensic Psychologist/Research Fellow
(Project Lead 0.2 WTE)
 Clinical Psychologist with Formal Training in Forensic
Psychology(1.8WTE)
 Social Work Consultant with expertise in SHB (0.2 WTE)
 Social Work Consultant with expertise in Violence Risk
Assessment (0.2 WTE)
Total years working with vulnerable youth/offenders = +60 years
Level 1 and 2: Paradigm
e.g., SAVRY, RSVP, START,
SAM, Northgate, I-AIM,
VERA, Suicide, literature
Structured
Professional
Judgement
Level 1: Consultation
Who:
All referrals – this is the minimum standard
Referral Form is submitted which provides relevant information on risk,
background, mental health, placements, etc.
As long as there is active risk of harm to others, a consultation is offered
Format:
Consultants, who are specialists, assist the consultee(s) to assist with the
case; consultants are active agents to achieving solutions
(understanding) and strengthening the consultee's competencies to
address similar issues in the future
2 hours per case
Report provided to lead professional within 2 weeks of consultation
Content: All aspects of the SPJ Paradigm
Level 2: Specialist Assessment
Who:
 Where there are significant information gaps
 Where specialist psychological/mental health assessments are
needed such as cognitive, attachment, trauma, diagnostic,
personality, psychosexual, etc. evaluations.
Format:
 Clinical psychologist completes the evaluation
 Revises formulation and risk assessment report
 Can span several weeks/months
 Updated report/supplemental report
Level 3: Formulation-led Txs.
Eclectic Model
Format
 Treatment proposed as per
stepped care pathway
 Where specialist
intervention is required, this
would be delivered by
clinical psychologist
IVY: Initial Projections



Funding £100K
Case Management
A maximum of 80 stage 1 cases;
A rolling caseload of 3 stage 2 assessments;
A rolling caseload of 5 stage 3 cases;
Research, Service Audit and Evaluation
Subject to ethical approval, produce high quality research papers
outlining key findings in relation to the issues detailed above
two conference papers
descriptive paper for publication relating to audit and evaluation
using the psychometrics and user-feedback questionnaire;
IVY: The Data
First 6 months:
25 referrals
1 police
5 health
19 social work
Referrals by region
2
1
1
2
1 2 2 1
3 5
1
4
LOCALITY/BOARD
Number
East Dumbartonshire
1
East Lothian
1
Dumfries and Galloway
4
Falkirk
2
Fife
2
Glasgow
2
Highlands
1
Inverclyde
1
Lanarkshire
5
Moray
2
North Ayrshire
1
Renfrewshire
3
Map of Scotland provided courtesy of
FreeVectorMaps.com
Demographics – Age & Sex
N= 25
Mean age = 15.5
Mode = 16
Range 12-17
Male = 19
Female = 6
IVY: Risks
Interpersonal
Sexual (contact)
Sexual (non-contact)
Fire-setting
Violent Extremism
Other victimisation
*64% co-morbid risk to other presentations
*approx 30% suicide/self-harm
IVY: Psychological/Mental Disorders
Diagnosed or Suspected Difficulty
Anger
Anxiety
Autism Spectrum Disorder
Attachment Disorder
Attention Deficit Hyperactivity Disorder
Communication Disorder
Complex Post Traumatic Stress
Deliberate Self-Harm
Dissociation
Eating Difficulties
Emotional Dysregulation
Learning Disability
Low Mood
Oppositional Defiant/Conduct Disorder
Psychosis
Sleep Difficulties
Substance Misuse Difficulties (Alcohol/Drugs)
Suicidal Ideation/Action
Unusual perceptual experiences
Number
7
1
6
5
6
1
6
7
2
2
6
2
2
2
2
2
7
6
3
N=17
MEAN = 4.4
IVY: Common Experiences

Multiple placement breakdowns

76% experienced domestic violence

88% experienced child maltreatment

Parental substance misuse

Parental separation/divorce

Behaviour problems in childhood

Poor school attainment

Absence positive/enduring friendships

Little sense of the future
IVY: Level 2
10 offered
9 accepted
Learning Disability
Personality
Mental Health
Diagnostic Review
Level 3: Status
 None offered at present
 Work is being done by local teams
IVY: Utility
"It's
"It'sexcellent
excellenttotobebe
able
abletotoaccess
accessthis
this
kind
kindofofsupport,
support,and
and
sosoquickly"
quickly"
"Having a minute
and risk assessment
within a fortnight is
unheard of, thank
you!"
"This group offers a very supportive
environment, where extensive
experience is shared from a
multidisciplinary team of practitioners.
This not only assists with the support
of young people but offers a realistic
way forward"
"The report is spot
on, excellent. It's an
excellent service"
"The consultation
was really positive
to help formulate a
better plan"
IVY: Direct Savings?

Direct Savings: If independent assessments costing social work services
between £2K to £10K (26 completed so between £52K and £260K)

Indirect Savings: Not quantifiable but…








Competencies in assessing risk
Promoting MDT working
Risk formulations
Risk sensitivity and specificity
Risk Management within 2 weeks….no long waits
Reduction of use of actuarial methods and reducing the ecological
fallacy
Only 1 referral been placed in secure care
Transitions from youth to adult services
IVY: Where next?
 Increase capacity for 6 months
 Additional psychologist to assist with level 2 and 3
 Data analysis
 User-satisfaction
 Profiles of young people referred to project
 Examination of risk assessment sensitivity and specificity
 But then what?????????????