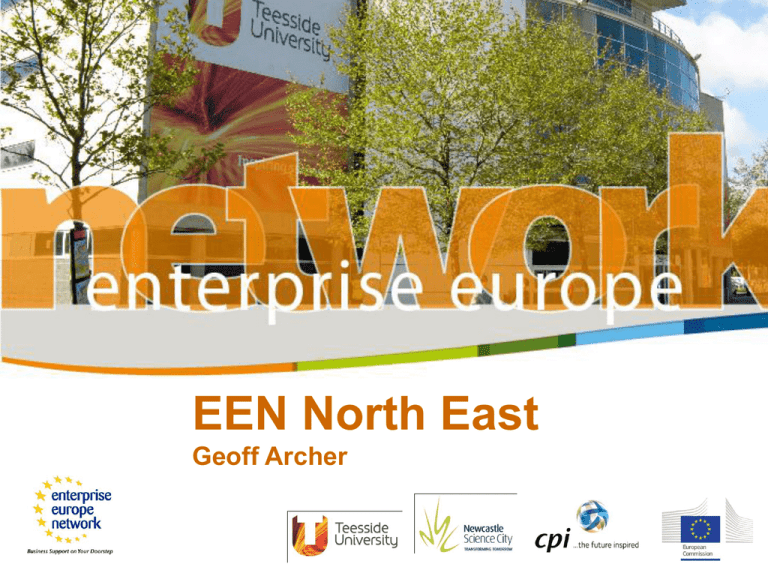 EEN North East
Geoff Archer
Enterprise Europe Network (EEN)
– what is it?
Aim: "one-stop shop" to meet all the information needs of SMEs
and companies in Europe.
• 600 different organisations encompassing over 4,000 staff in
over 40 countries
• Chambers of Commerce, RDAs or DAs or University
technology centres
• Designed for SMEs but available to all businesses, research
centres and universities across Europe
• A two-way network bringing the European Commission closer
to businesses and vice versa
In Brief
• Information on doing business in Europe,
European opportunities and the European
Commission
• Assisting technology transfer in and out of
North East England
• Increasing the R&D funding coming into
North East England
Enterprise Europe Network (NE)
• 3 Partners
 Teesside University
 Centre for Process Innovation
 Newcastle Science City
• Complementary Expertise and Networks
EEN – how we help?
• Info on:
• EU Directives, Regulations and Standards
• Public Sector Procurement and Contract
Opportunities
• Grant Finding
• Trading in Europe
• Feedback concerns and problems to the Commission
• Conduct Impact Assessment studies and consultation
exercises on specific policies and legislation
EEN – how we help?
Support for innovation and technology transfer:
• Dissemination and exploitation of research results
• Identifying client technology 'needs' and/or
technology 'offers'
• Finding suitable partners for further development,
commercialisation, joint ventures etc.
• Facilitating the technology/knowledge transfer
process.
• Providing Brokerage services across Europe
• Facilitating access to collaborative R&D Funding
EEN – how we help?
EU / TSB Funding:
• Awareness raising events
• Call identification
• Partner searching
• Proposal reviews
Thank you
• Any questions?
• Please complete the questionnaire in
your pack.