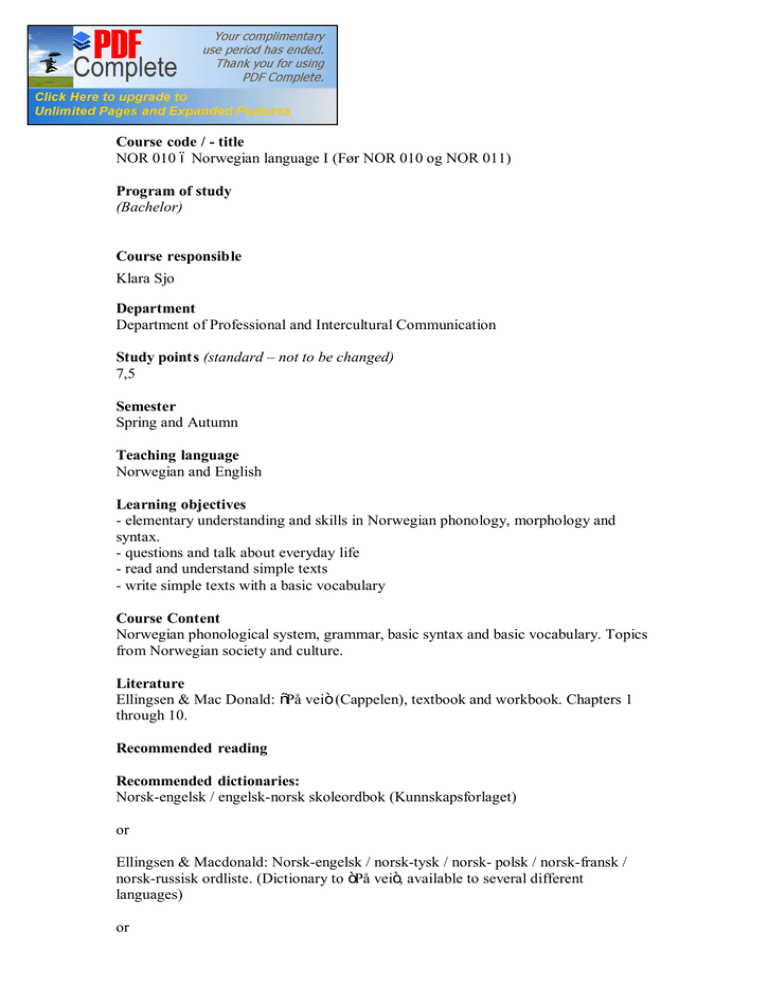 NOR 010 – Norwegian language I
Course code / - title
NOR 010 – Norwegian language I (Før NOR 010 og NOR 011)
Program of study
(Bachelor)
Course responsible
Klara Sjo
Department
Department of Professional and Intercultural Communication
Study points (standard – not to be changed)
7,5
Semester
Spring and Autumn
Teaching language
Norwegian and English
Learning objectives
- elementary understanding and skills in Norwegian phonology, morphology and
syntax.
- questions and talk about everyday life
- read and understand simple texts
- write simple texts with a basic vocabulary
Course Content
Norwegian phonological system, grammar, basic syntax and basic vocabulary. Topics
from Norwegian society and culture.
Literature
Ellingsen & Mac Donald: "På vei" (Cappelen), textbook and workbook. Chapters 1
through 10.
Recommended reading
Recommended dictionaries:
Norsk-engelsk / engelsk-norsk skoleordbok (Kunnskapsforlaget)
or
Ellingsen & Macdonald: Norsk-engelsk / norsk-tysk / norsk- polsk / norsk-fransk /
norsk-russisk ordliste. (Dictionary to "På vei", available to several different
languages)
or
Einar Haugen: Norwegian-English Dictionary: A Pronouncing and Translating
Dictionary of Modern Norwegian (Bokmal and Nynorsk) with a Historical and
Grammatical Introduction
Topics
Norwegian phonological system, grammar, basic syntax.
Everyday life in Norway. Basic geography and demography.
Computer requirements / tools
Teaching
The course lasts for 12 weeks with two lectures à 2 hours per week. The course is
organised with a mixture of lectures and oral and written group exercises. Oral
exercise is a very important part of the course and active participation is a prerequisite.
Use of multimedia lab is also integrated into the course.
Requirements for course approval
To take the examination the student must have written and passed at least five written
assignments before the appointed date.)
Evaluation
Grade: Pass /fail
Exam:
Written 3 hours school exam.
Oral exam, about 10 minutes duration.
Both the oral and written part must be passed in order for the course to be approved.
Other remarks
Classes are restricted to 30 students per class.