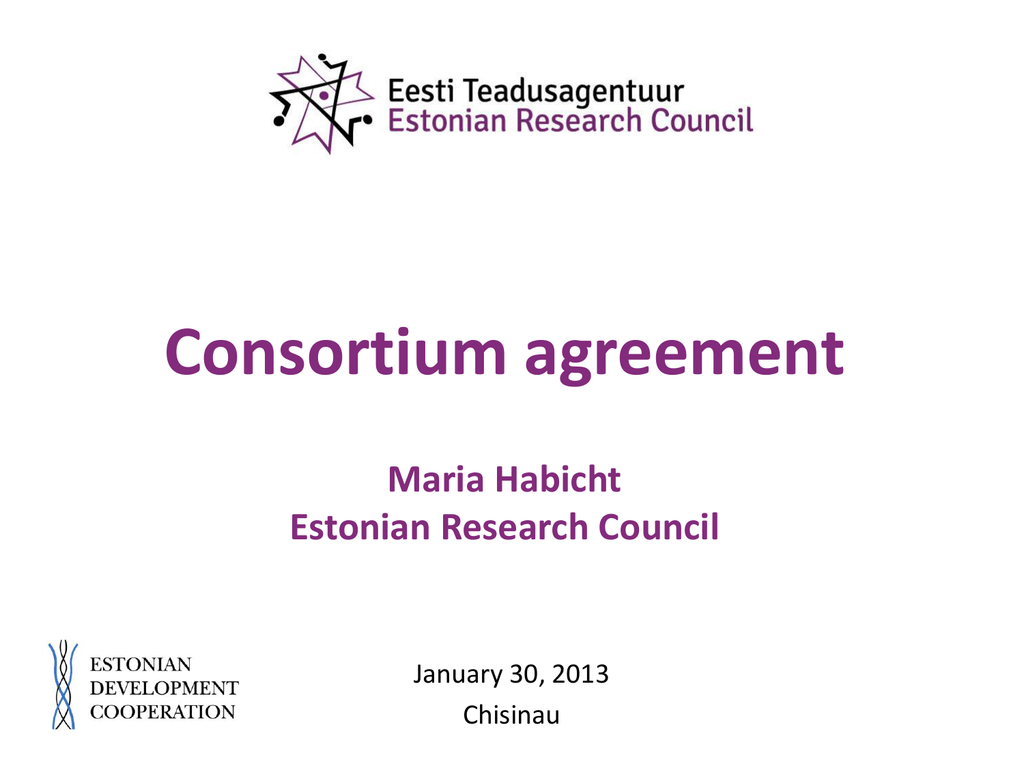 Consortium agreement
Maria Habicht
Estonian Research Council
January 30, 2013
Chisinau
• Letter of Commitment
• Memorandum of understanding
• Confidentiality or non-disclosure
agreement
• Consortium agreement
Secuence of activities
Conf. agreement
Call opens
Memorandum of
understanding
Submission
Draft CA
CA signed
Evaluation
GA signed
https://ec.europa.eu/research/participants/portal/page/fp7_documentation
ftp://ftp.cordis.europa.eu/pub/fp7/docs/fp7-consortium-agreement-checklist-2011v2_en.pdf
http://www.desca-fp7.eu/latest-version-of-desca/desca-30/
Consortium agreement - models
•
EICTA -IPCA Integrated Project Consortium Agreement
–
–
•
Model proposed as a reference for ICT and electronic projects
http://www.digitaleurope.org/
EUCAR
–
–
•
Model of the European car industry
http://www.eucar.be/
ASD -IMG4
–
–
Model of the European aeronautic industry
http://www.aerosme.com/
Consortium agreement:
•
Is obligatory in FP7
•
Must be signed by ALL partners
•
Commission is not involved at this stage
•
May have different dates than Grant agreement
•
Must treat all partner equally
•
No partner can expect 'special treatment'
Consortium agreement:
•
Gives the list of project consortium members
•
Defines the meaning of used terminology
•
Specifies entry into force, duration and termination of the
agreement
•
Defines relations between the partners, their role, rights
and obligations
•
Describes the project management structure
Consortium agreement:
•
Describes the distribution of Commission funding
between the partners and gives an overview of
management costs
•
Specifies access to intellectual property and rules for
dissemination of deliverables and project results
•
Fixes the rules for ammendments and problem solving
•
May include confidentiality issues if appropriate
•
Gives a list of involved in-kind resources and conditions
of their use
 Consortium agreement is
the coordinator's major
tool to control the project
team and the process of
implementation!
 Read the draft carefully
and protect your rights as
a partner to be able to
fulfill your obligations!