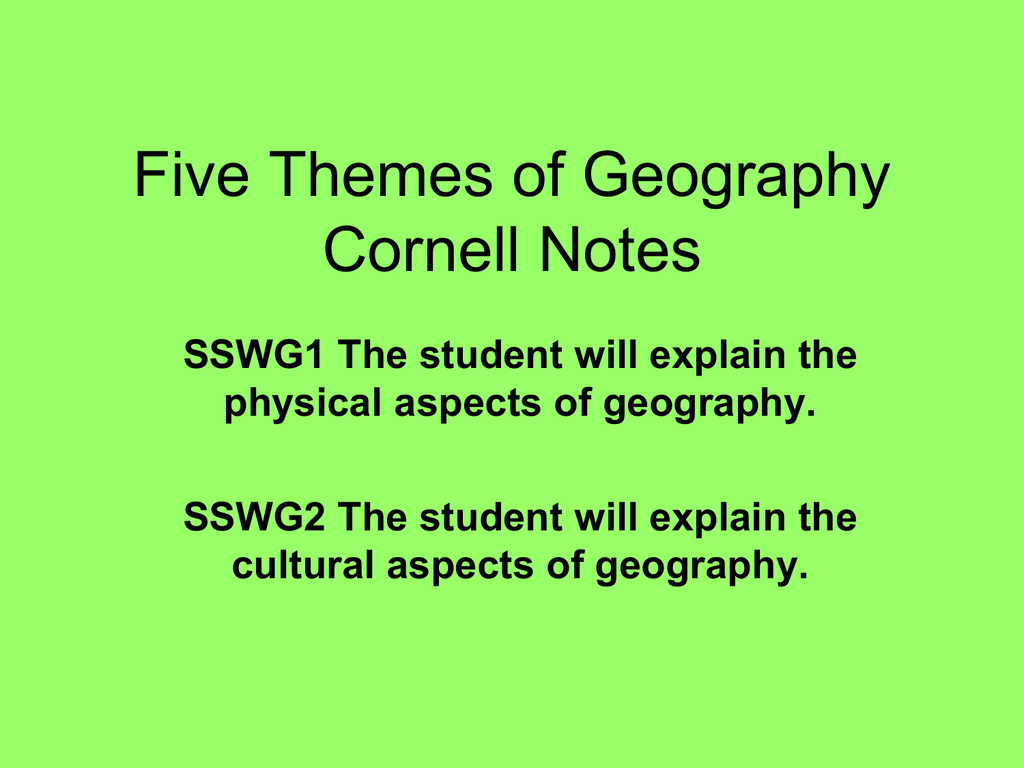 Five Themes of Geography
Cornell Notes
SSWG1 The student will explain the
physical aspects of geography.
SSWG2 The student will explain the
cultural aspects of geography.
• Geography is the study of the
distribution and interaction of
physical and human features
on the earth.
• Physical geography includes
landforms, bodies of water,
climate, soils, vegetation and
animal life.
• Cultural geography includes
traditions, customs, and other
aspects of a group of people's
daily lives.
• There are 5 themes of
geography:
–Location
–Place
–Region
–Movement
–Human-Environment
Interaction
• Location E?
– "Where is it?"
• 2 types of location
– Absolute-exact location
– Relative-in relation to other
things
• Absolute location
– Uses latitude and longitude
– Latitude measured N & S
– Longitude is measured E & W
• Relative Location
– Uses landmarks, distances,
etc.
– Used more often by general
population
• Place E?
– "What is it like?"
• Place includes physical and
cultural characteristics
• Places are set apart from
each other by physical
features
• Place can also be described
by ways that people have
changed the land
• Region E?
– "How are places similar and
different?"
• Defined as an area of the
world with similar
characteristics
• Not limited to political
boundaries
• 3 main types of regions
– Formal
– Functional
– Perceptual
• Movement E?
– "How do people, goods, and
ideas move from one location
to another?"
• Distance
– Linear
– Time
– Psychological
• The theme of movement is
closely connected with
economics.
• Globalization has influenced
movement in the 21st century.
• Human-Environment Interaction
E?
– "How do people relate to the
physical world?"
• To survive, people must use their
environment
– Use as is—fishing in a river
– Change positively—creating a dam
to control flooding on a river
– Change negatively—creating
industrial pollution in a river
• People also must learn to live with
aspects of the environment that
don't change
– Climate, soil, etc.
• Interaction between people and
their environment can shape
cultures.