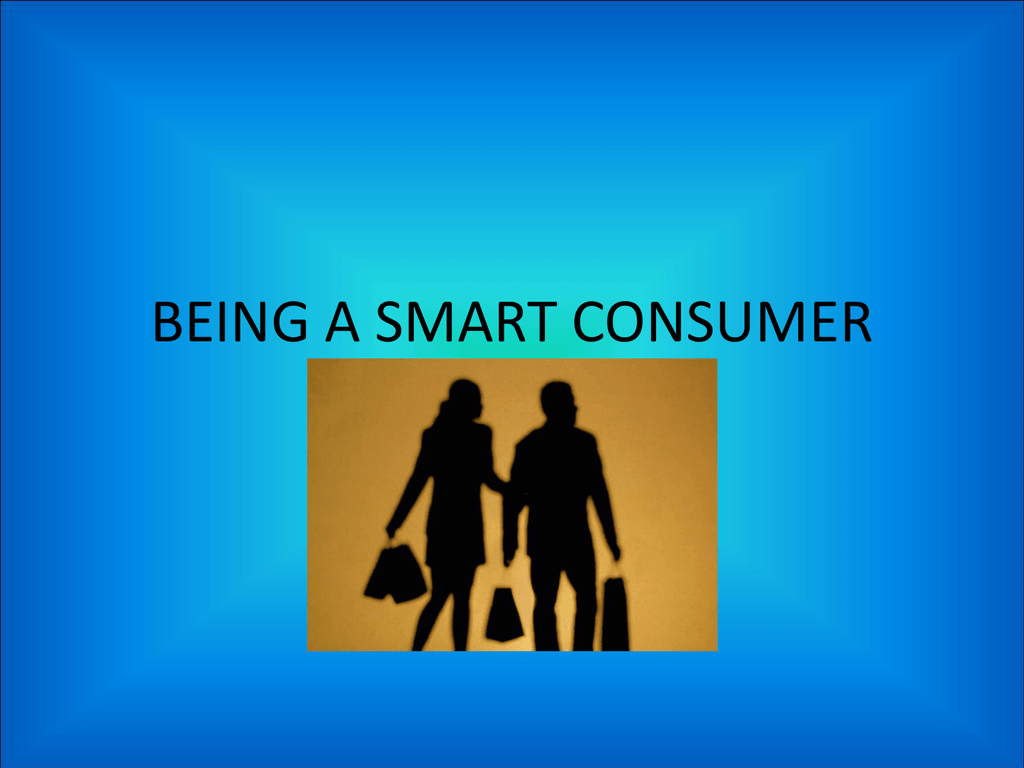 BEING A SMART CONSUMER
DEFINITIONS
• Consumer – someone who uses goods or services
Goods – products
Services – Actions performed by people
Management – using available means to reach
goals
Resources – means used to reach goals
Human Resources – comes from within people, ex:
time, talents, knowledge, skills
Definitions Cont.
• Nonhuman Resources – material items, ex:
money, possessions, public facilities, parks,
schools. Includes air, water, land.
• Rights – claims to power
Management Process
• 1. Set a goal
• 2. List available resources
• 3. Choose which resources
you will use.
• 4. Form a plan of action
• 5. Follow a plan
• 6. Evaluate the results
Decision Making Process
• 1. State the problem
• 2. List the alternatives
• 3. Consequences of each
alternative (pro and con)
• 4. Choose an alternative
• 5. Carry out the decision
• 6. Evaluate the decision
ADVERTISING APPEALS
• Factual appeal – describes a product's
features, where item is sold
• Wholesome appeal – suggests health, family
life, environmental conditions will be
improved by use of this product.
• Comparison – product features compared to
competing product. "New" "Improved"
compared to earlier version.
• Testimonial – experts, celebrities make
product claim seem believable.
• Attention getter – uses humor, bizarre images,
unusual techniques to make consumers aware
of product
• Special offer – contests, rebates, bonus, sale $
• Sex appeal – will be more popular or attractive
is you use this product
• Bandwagon – everyone uses the product
• and invites you to become part of the crowd
by using it too
• Snob appeal – using the product will
• increase your social status
ASSIGNMENT – DO RIGHT NOW!!!
• Look in magazines and find two different
advertising appeals. Cut the ads out and
label each with the type of appeal being
used.
CONSUMER RIGHTS
• Right to safety – protection from products &
services that are hazardous to your health.
• Right to be informed – provided with useful
and truthful product facts (labeling, ads)
• Right to choose – wide selection of goods &
services at a fair price
• Right to be heard – right to a voice if you have
a problem, developing goods & services.
• Right to redress - $ or other benefits that a
consumer receives as fair compensation.
• Right to education – right to access programs and
information that help make better buying
decisions
• Right to healthy environment – to live & work in
an environment that doesn't damage your health
• Right to have basic needs met – access food,
water, shelter
RESPONSIBILITIES
•
•
•
•
•
•
•
Safety – Use products safely
Information – Use information wisely
Choice – choose carefully
Be heard – express concerns to those who can help you
Redress – seek it!
Education – learn!
Healthy Environment – consume in a way that
promotes healthy environment
• Basic needs – consume sustainably (considerate
choices & impact on others)
AGENCIES
•
•
•
•
•
FDA –
FTC –
CPSC –
Lemon Law –
Toy packaging label –
• Recall –
•
Why used?