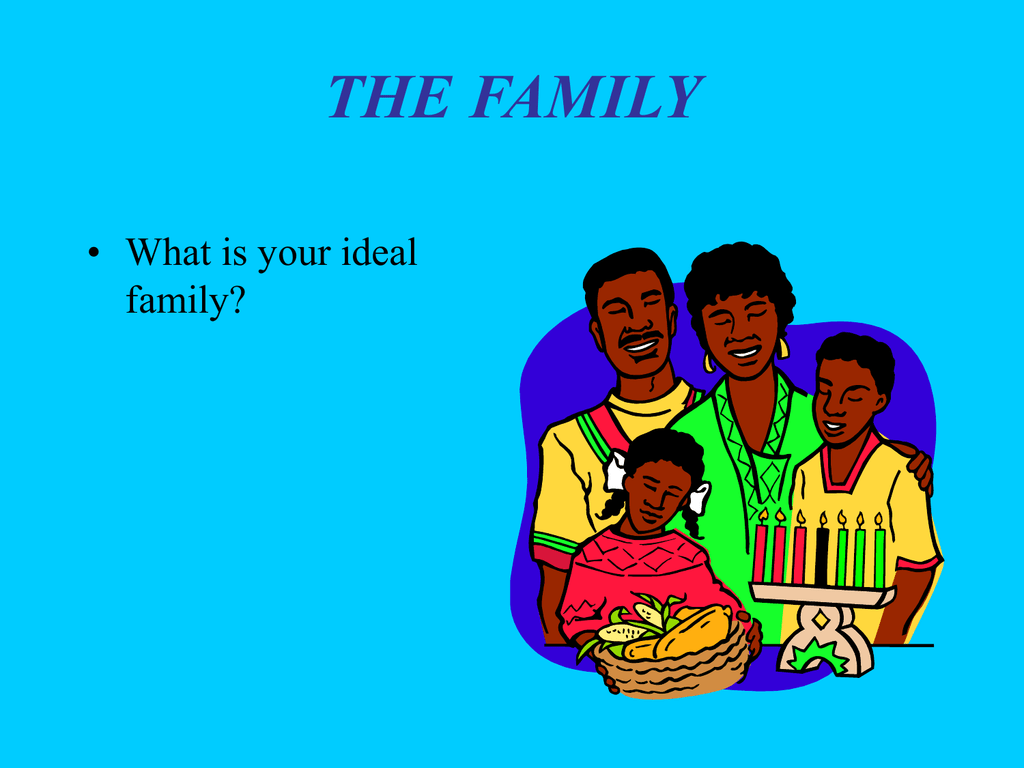 THE FAMILY
• What is your ideal
family?
• In groups of 4 or 5 students
you will prepare and then
make a 3-5 minute
presentation to your
classmates on your ideal
family.
• You will have two lessons where you are
given information and opportunities to
develop your ideas. In the third lesson each
group will make their presentation. You
may include pictures or charts to support
your talk if you wish. Every member of the
group must say something as part of the
presentation.
THE FAMILY
• All families are different but some look the same.
For example, two students in the same class may
both have a mother, a father and one sister. They
will be different in the way the parents and the
children talk to each other, the things they do
together, and the way the students behave with
their sisters. Let's see how many families in this
class look the same.
• How can we do that?
THE FAMILY
We can carry out a survey and then draw a
chart or graph.
ACTIVITY 1
• In groups of 4 or 5, make around 6 questions to
ask other students in your class to find out what
their family looks like.
• Each person in your group will ask all the students
of one other group so that at the end of the activity
your group has asked every student in the class.
• Complete the chart to show how many families in
your class look the same.
• Prepare one neat chart for your group.
THE FAMILY
• Your chart could look something like this:-
CHART OF FAMILIES
5
4
3
East
West
North
2
1
0
Mother
2 parents
2+sister
ACTIVITY 2
Now we are going to look at how we get on
with our families.
Look at the following questionnaire. Discuss
each point in your group and circle one
number that your group agrees on.
Make notes of any interesting points from
your discussions that you may want to
include in your presentation.
ACTIVITY 3
• Here is some information taken from an
article in the South China Morning Post of
17 May 2001. You have 10 minutes to scan
it for information you could use in your
presentation.
THE FAMILY
• Here are some web sites you may find useful
if you want to include extra information in
your presentation:• www.familiesonline.co.uk/topics/family_matters/si
blings.htmwww.familiesonline.co.uk/topics/family
_matters/siblings
* www.youthinformation.com/familyrelationships
THE FAMILY
• You will need to spend some time now
preparing your group presentation.
• Remember you can include pictures, charts
or anything relevant you want.
• Everyone in the group must be involved and
must say something as part of the
presentation.
THE FAMILY
• You now have 10 minutes to make any final
preparations for your presentations.
• Make sure that every member of your group
in involved and says something.
• The whole class will judge which group
made the best presentation and there will be
a prize for that group.