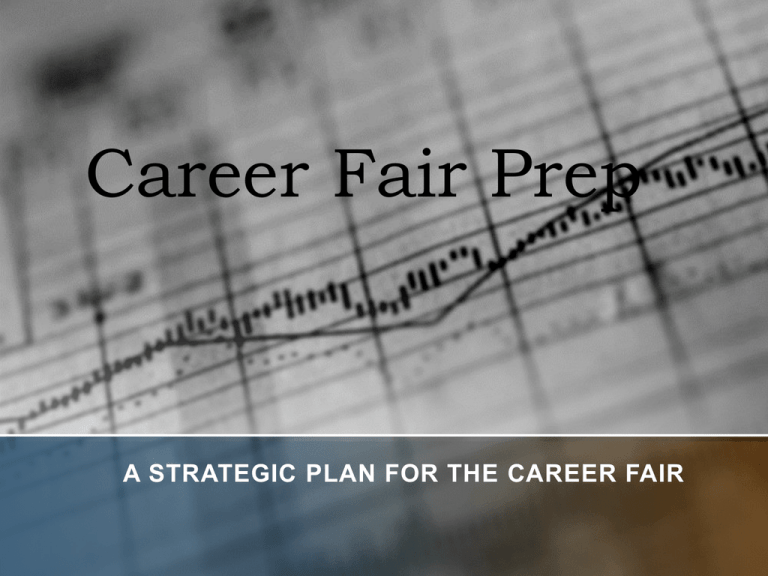 Career Fair Prep
A STRATEGIC PLAN FOR THE CAREER FAIR
2012 Fall Career Fair
WHEN: OCTOBER 2, 2012
WHERE: SDC MULTIPURPOSE ROOM
TIME:
12 PM – 6 PM
Why do companies come all this way?
Employers are looking for the answer to three
questions:
 Does the job-seeker have the skills and abilities
to perform the job?
 Does the job-seeker possess the enthusiasm,
positive attitude and work ethic that most
employers expect?
 Will the job-seeker be a team player and fit into
the organization?
And they just can't get those answers from a piece
of paper or job application
Utilize Campus-wide Career
Development Educational
Programming…
• Career Services provides numerous and
diverse Career Development Educational
programs to help you prepare for success at
the Career Fair.
–
–
–
–
Check your hand-out
Open your Career Services emails
Check the schedule on www.career.mtu.edu
Call 487-2313 for information
Before:
 Target 10 companies (go to
www.career.mtu.edu for full list of attendees)
 Research each to identify:




What products and services they provide
Location and Size
What they're working on
What's being said about them
 List your 3 greatest strengths and how you
can add value to their company
 Develop 2 intelligent, informed questions
Utilize HuskyJOBS
 Post your resume
 Search your target companies and
apply for the jobs they've posted
BEFORE the Career Fair
 Check Information Session schedule
During:
 What to bring to the job fair?








Copies of resumes
Professional notepad/pen and notes
A smile and firm handshake
Practiced, confident 60-second Infomercial
Your calendar
Research on the companies
Confident and enthusiastic attitude
A polished, professional appearance
A Solid Resume
 CCC - Clean, Concise, Clear
 Highlight your "hands-on" experience first
 Give specific details - evidence of what you
have done
 Talk about leadership and teamwork
experience
 List interesting activities/hobbies
Dress for Success
Dressing Tips For Men
• Suit: Dark blue, brown or gray
• Shirt: White, light blue
• Tie: Contrasting (with some red)
• Shoes: Black or Brown
• Belt: Matches shoes and socks
(socks match slacks)
• Hair: Trimmed or pulled back
Avoid:
• Earrings
• Hats
• Heavy cologne
Dress for Success
Dressing Tips For Women
• Skirt/Slacks: Dark blue, brown, gray
• Blouse: Light colored, not floral
• Shoes: Conservative
• Hair: Pulled away from face
Avoid:
• Tight or revealing clothing
• Shoes with straps, high heels, light
colored
• Excessive jewelry, perfume and
make up
Your approach…your
introduction…your 60second infomercial
You have one chance to make a
good impression
The "60-Second Infomercial"
First…say "Thank you" for coming
Develop and memorize a 60
second introduction:
20 seconds about you
20 seconds about co-op, internship,
school
20 seconds about what you know
about the company
After
 Give another firm handshake, a smile, look
them in the eye and thank them for their
time and information
 Ask them for their card (or, at least, their
last name)
 Write it down immediately when you step
away
 Write down 2 things you talked about
during your visit
 Send a thank you note within 48 hours,
even if they don't interview you at this time
After…
• Have your schedule ready and be close to your
phone, so you can schedule multiple interviews
for the day after the Career Fair
• GOOD LUCK!