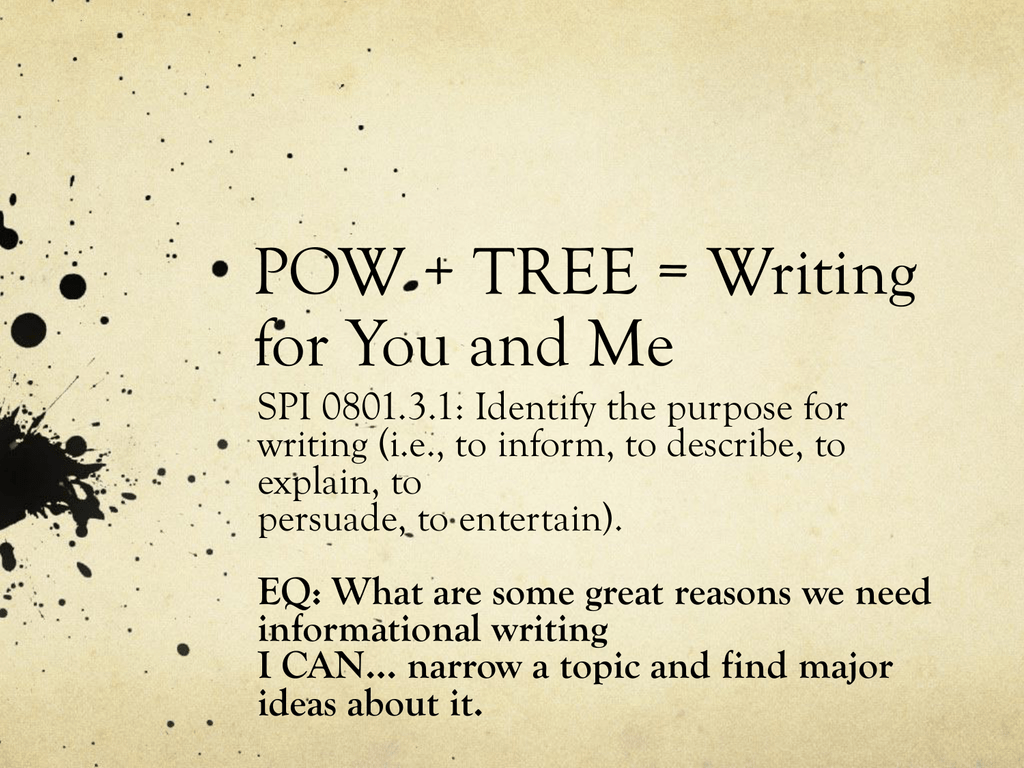 POW + TREE = Writing
for You and Me
SPI 0801.3.1: Identify the purpose for
writing (i.e., to inform, to describe, to
explain, to
persuade, to entertain).
EQ: What are some great reasons we need
informational writing
I CAN… narrow a topic and find major
ideas about it.
Imagine…
You have an audience with Congress
to make changes in our legislature.
There are so many topics to discuss.
But you choose…
https://www.youtube.com/watch?v=
ur2lF-LlIQQ
P
P: Pick out your topic to write about (this
time, we aren't looking at a thesis – we're
looking at a topic sentence that we're going to
explain).
Remember: in an argumentative essay, we make
an argument. In an informational essay, we're
explaining information in a helpful way.
O
O: Organize and generate notes and ideas for
your paper using TREE:
T – Topic Sentence: what's this about?
R – Reasons: these support the topic sentence (3)
E – Explanations: let us know why these matter.
E – Ending: formulate a summary statement
Graphic organizers are essential to good writing!
Check #1
List some good examples of graphic organizers.
1.
2.
3.
W
W: Write! Once you
know what to say, how to
say it, and the right order
to say it in, then you're
ready to
All we have left to do is
proof and rewrite.
Check #2
On your whiteboards:
1. How do I decide on a topic?
2. What are the best ways to organize my
thoughts before I start writing them?
3. I support reasons with ___________.
Research Topics
Ebola
Circadian Rhythms
Density
Addiction (Any kind)
Mental Diseases
Overpaid athletes
Civil Rights Movement
Vocabulary
Research
Informational
Explicit
Explanatory
Topic Sentence
Graphic Organizers
Activity
In pairs: choose a topic to write about, and
then have each person draw up a separate
graphic organizer to put their ideas into. Use
the TREE method while doing this.
Each write a separate paragraph about the topic
using each other's organizer, and then switch
paragraphs to peer edit the work. Be sure to
use proofreading marks (up on the wall).
Reflection
Come up with your own graphic organizer!
As you complete the writing process for this essay,
write the same information with a couple of different
graphic organizers.
This will help you check to see if you liked what you
wrote, and help you better decide what info goes
where.