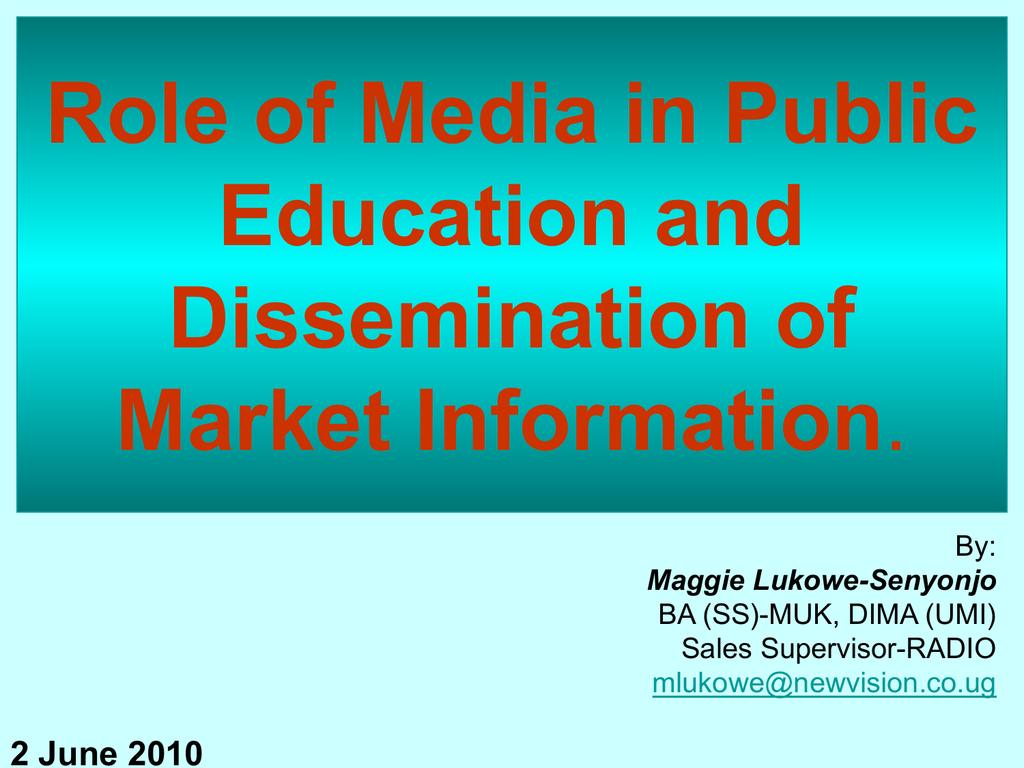 Role of Media in Public
Education and
Dissemination of
Market Information.
By:
Maggie Lukowe-Senyonjo
BA (SS)-MUK, DIMA (UMI)
Sales Supervisor-RADIO
[email protected]
2 June 2010
"Media" refers to various means of
communication. For example, television,
radio, and the newspaper are different types
of media.
Market info…For what and for who?
• what is happening in the market ?
• what quantities are arriving? and
• what prices are quoted for different
commodities?
• Improves decision making for farmers,
strengthens their bargaining power.
• Sources of inputs and services.
• Cross market linkages.
• For buyers and agricultural produce
dealers.
The media is a partner
• Provide greater capacity to strengthen the
media in fully capturing market information and
ably disseminate it.
• How do you perceive yourself, how does the
media perceive your service? A compromise
on this key aspect leads to effective market
information dissemination.
Action:
• Greater efforts are required at national level to
support media in agricultural business
development.
Strengthen communication links between the
media and other stakeholders in the agricultural
business sector; and then identify programmes to
support the media.
Media Partnership – Dissemination Strategy
• Active involvement in the preparation
stages of the market information.
• Media applies tact and skill that often
eludes the generators of this market
information
• Gate keeper of receiving feedback from
the audience.
Action:
Help the media to be well informed!
Success Stories:
• Nekolera Gyange –Radio
Syndicated programs
• Harvesting Money
• Infotrade 8555
Strengthen the partnership
• Stimulating private companies to
disseminate agricultural information
through advertising.
 More efforts to involve the media in
networks,
partnerships
and
multistakeholder platforms.
 Media to have the willingness to promote
investigative reporting. This will give
Agricultural business/development news
priority.
Partnership…cont'd
 Farmers should trust Media to
ease extraction of information.
 Learn from successful models
and up scale.
 Advocacy for government to
appreciate funding for agricultural
information dissemination.
Conclusion
There is power in the media.
Innovation in the use of media
to communicate market
information is a worthy
investment.
Thank you!