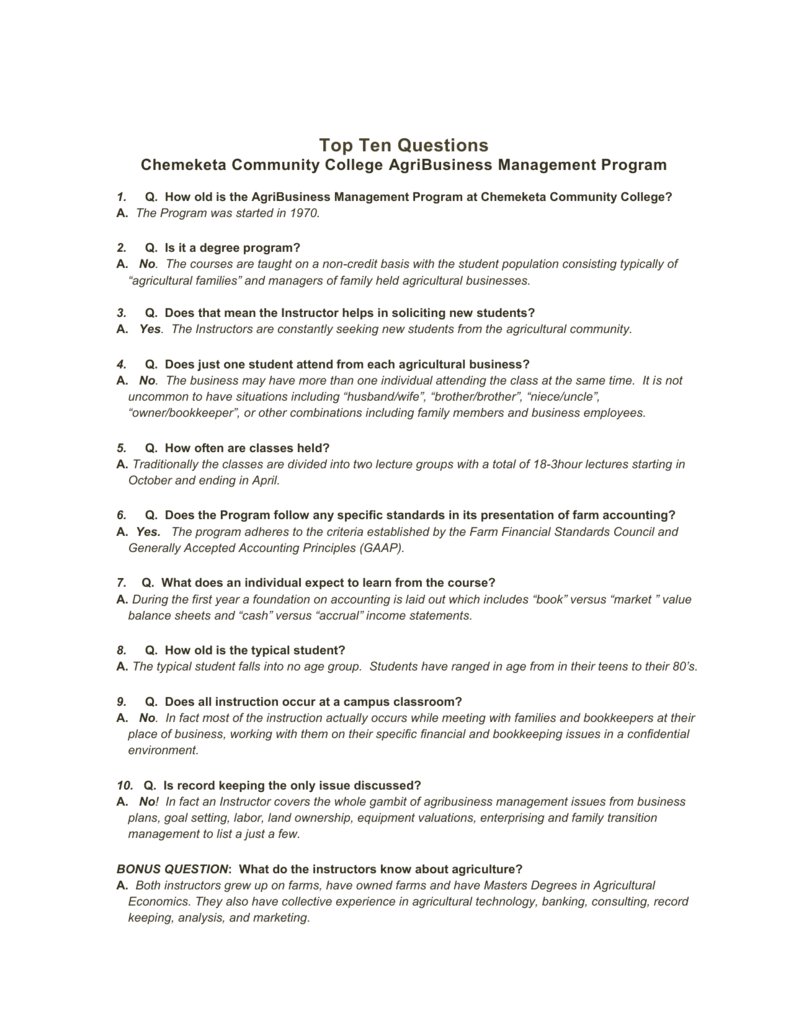 Top Ten Questions
Chemeketa Community College AgriBusiness Management Program
1.
Q. How old is the AgriBusiness Management Program at Chemeketa Community College?
A. The Program was started in 1970.
2.
Q. Is it a degree program?
A. No. The courses are taught on a non-credit basis with the student population consisting typically of
"agricultural families" and managers of family held agricultural businesses.
3.
Q. Does that mean the Instructor helps in soliciting new students?
A. Yes. The Instructors are constantly seeking new students from the agricultural community.
4.
Q. Does just one student attend from each agricultural business?
A. No. The business may have more than one individual attending the class at the same time. It is not
uncommon to have situations including "husband/wife", "brother/brother", "niece/uncle",
"owner/bookkeeper", or other combinations including family members and business employees.
5.
Q. How often are classes held?
A. Traditionally the classes are divided into two lecture groups with a total of 18-3hour lectures starting in
October and ending in April.
6.
Q. Does the Program follow any specific standards in its presentation of farm accounting?
A. Yes. The program adheres to the criteria established by the Farm Financial Standards Council and
Generally Accepted Accounting Principles (GAAP).
7. Q. What does an individual expect to learn from the course?
A. During the first year a foundation on accounting is laid out which includes "book" versus "market " value
balance sheets and "cash" versus "accrual" income statements.
8.
Q. How old is the typical student?
A. The typical student falls into no age group. Students have ranged in age from in their teens to their 80's.
9.
Q. Does all instruction occur at a campus classroom?
A. No. In fact most of the instruction actually occurs while meeting with families and bookkeepers at their
place of business, working with them on their specific financial and bookkeeping issues in a confidential
environment.
10. Q. Is record keeping the only issue discussed?
A. No! In fact an Instructor covers the whole gambit of agribusiness management issues from business
plans, goal setting, labor, land ownership, equipment valuations, enterprising and family transition
management to list a just a few.
BONUS QUESTION: What do the instructors know about agriculture?
A. Both instructors grew up on farms, have owned farms and have Masters Degrees in Agricultural
Economics. They also have collective experience in agricultural technology, banking, consulting, record
keeping, analysis, and marketing.