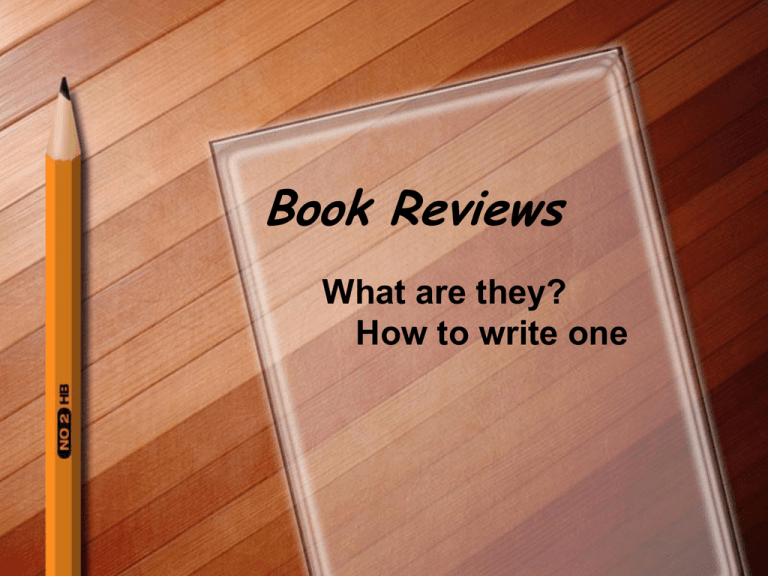 Book Reviews
What are they?
How to write one
Why Write a Book Review?

One way to share a book you've read
• Different from a book report because it includes your
opinion

To let others know that you enjoyed the
book or not, and why

Helps a person to make an informed
choice
What Does a Book Review Consist of?
 It has three parts which includes facts and
opinions supported by reasons.
• Introduction
• Body
• Conclusion
Introduction
Grab the attention of the reader by:
 Including a quote from the book
 Telling something about the author
•
•
•
Purpose for writing the book
Intended audience
From what point of view the story was written
 Telling the genre of the book
•
fiction, nonfiction, mystery, romance, etc.
Body

Give a summary of the plot.

Include information about the setting and
main characters.

You can include a hint about the ending,
but don't give away the best part!

Make the book sound as exciting and
interesting as possible!
Conclusion

Give your opinions, and the reasons
for your opinions.
• Be honest, don't be afraid to say if you didn't enjoy the
book.

Reading recommendations
• Who might or might not like the book
• What is the intended age group
6th Grade Book Review
7th Grade Book Review
8th Grade Book Review
Before you begin writing...
Plot Diagram
Directions: Outline the plot of the story before writing your summary.
Sample Book Review

Diary of a Wimpy Kid – The Ugly Truth
"See, when you're a little kid, nobody ever warns you that you've got an
expiration date. One day you're hot stuff and the next day you're a
dirt sandwich."
Greg Heffley has always been in a hurry to grow up. But, is getting older
really all it's cracked up to be? Greg suddenly finds himself dealing
with the pressures of boy-girl parties, increased responsibilities, and
even the awkward changes that come with getting older—all without
his best friend, Rowley, at his side. Can Greg make it through on his
own? Or will he have to face the "ugly truth".
This is the fifth book in the Diary of a Wimpy Kid series. Whatever I
expected about this book, it was not the book I read. I was expecting
a book that cracked me up at moments I laughed at some parts of the
book, but not at as many as some other books in the series. I liked
the other books in this series much better than this one. I believe
that the author could have made the plot a little more interesting.
Some of the characters changed personalities.
The book wasn't a complete letdown, and there were interesting parts. If
you're a fan of the Wimpy Kid series you will want to read the book.
Another Sample Review
Among the Hidden
Among the Hidden is a great novel. The book is full of suspense.
You are always surprised at what happens. The story is set in the
future. The government has laws about how many children a
family can have. It is illegal to have more than two children.
Since Luke is the third child in the family, he has to spend his
entire life in hiding. If anyone finds out about him, the Population
Police will punish his whole family.
Luke discovers that the new neighbors have a third child, too. Her
name is Jen. Luke sneaks over to her house to meet her. There
he learns that Jen has been organizing a rally for hidden children.
She urges Luke to attend. Will he be brave enough to go?
This story is unforgettable. The characters are realistic and brave.
Anyone who reads this book won't be able to put it down.
Another Sample Review
The House on Mango Street
My school made me read this book, I would otherwise not have gotten past the first
page, it was so boring. I would call it a circular story but for the fact that it never
goes anywhere in the process of getting back to where it started. The book
sounds like Cisneros wrote what was published as it came to her(and I mean in
order), and never looked back to edit;` it is filled with little segments that could
have made a great back ground for a story if used as such instead of focused on.
The first half sounds like what you would get if you asked a seven year old about
there life; there is no unifying theme except for a main character(Esperanza), and
there is no plot to speak of. In the second half it becomes evident that Esperanza
is more than seven.
The second half does, in fact, have many good ideas that could have made the story
interesting if they had been more them brushed against for a page or two before
she moved on. If one of these many ideas had been allowed to develop until it
was more than and idea, or all of them together, mingled in a way that made
them one, then this book could be called a story. As it is, I see it only as the diary
of a seven year old who says she wants a house all her own more than anything
else, but who is not working towards that goal in any way, is discontent with her
life, but doesn't try to change it, and thinks herself special because she doesn't
like where she's at, knows where she's going, and expects to get there just by
wanting.
In short, I hated it from beginning to end, and can not for the life of me understand
what so many people think is so great about it.