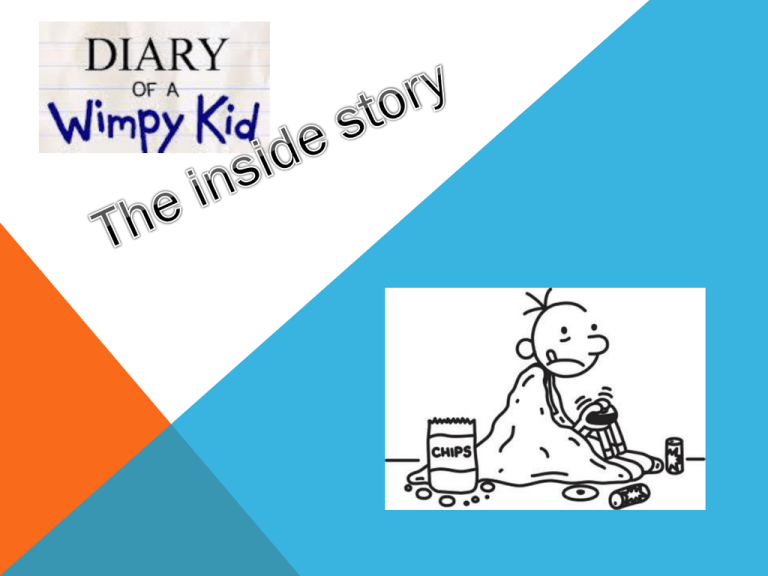 SELECTION
•
What is diary of a wimpy kid?
•
Greg
•
Rowley
•
Fregley
•
The Heffleys
•
Lights, cameras, action!
•
Bibliography
WHAT IS DIARY OF A WIMPY KID?
Diary of a wimpy kid is a massively popular book series authored by Jeff
Kinney an online game creator.
It is about a boy named Greg Heffley and his best friend Rowley Jefferson
starting middle school 'with a bunch of morons' and only just surviving
the year until they have to go forth and tackle seventh grade.
It has also been made into three movies Diary of a wimpy kid 1,2 and 3 with
Zachary Gordon starring Greg, Robert Capron being Rowley and many
other actors along with them.
GREG
Greg Heffley is the main character in Diary of a wimpy kid, His best friend is
Rowley Jefferson. Greg is rude and selfish to his friends but for some
reason they still think of him as a god or something like that.
His first appearance was in the first book and movie, as him being the
main character he is seen in all books and movies
He is 13 years old and is mostly seen with a white shirt and black shorts
ROWLEY
Rowley is Greg's best friend in diary of a wimpy kid, he is loyal but foolish.
His family always goes on trips to countries all over the world, since his
family is extremely rich Rowley gets a lot of really expensive stuff
including a giant bed shaped like a rocket, a lot of different clothes from
different countries and much more.
He is the same age as Greg and always either has a open happy face and
open sad face
FREGLEY
Fregley is the weird kid at Greg's school he is sent home for hygiene issues
at least once a month.
His mum makes all of his clothes, some of his clothes are made of old
pyjamas but I don't think Fregley even knows that.
Fregley has his own made up language like when he needs to go to the
restroom he shouts "juice juice!" but I don't think the teachers fully
understand him and usually end up sending Fregley home for shouting
words that don't make sense.
He is 13 and always has a gaping mouth.
THE HEFFLEYS
There are 5 people in the heffley family: Greg, Rodrick, Manny, Frank and
Susan heffley
Susan Heffley is Greg's mum in the books, she is played by Rachel Harris.
Frank Heffley is Greg's Dad in the books , he is played by Steve Zahn.
Rodrick Heffley is Greg's older brother in the books, he is acted by Devon
Bostick.
Manny Heffley is Greg's younger brother in the books, he is played by
Connor and Owen Fielding
LIGHTS, CAMERAS, ACTION!
Getting diary of a wimpy kid to become a movie was a great task, first they
found the director Thor Freudenthal.
Then they had to do a nationwide search for the actor of Greg, they finally
found Zachary Gordon whose birthday wish was to have the part of
being Greg. After they finally got the rest of the actors, they set to work
finding A place to film since it doesn't tell you in the books where Greg
lives, they decided the best American town was actually in Canada.
Vancouver is well known for being filmed in, so it's nickname is 'Hollywood
North' so that is why most of the actors in diary of a wimpy kid are
Canadian including Devon Bostick (Rodrick).
They then started filming for about 8 months, then left the editors to do the
final touches . it was then sent to the big screen for the first time.
BIBLIOGRAPHY
•
Wikipedia
•
Diary of a wimpy kid wiki
•
Google images
THANKS FOR WATCHING!
I hope you enjoyed my presentation!