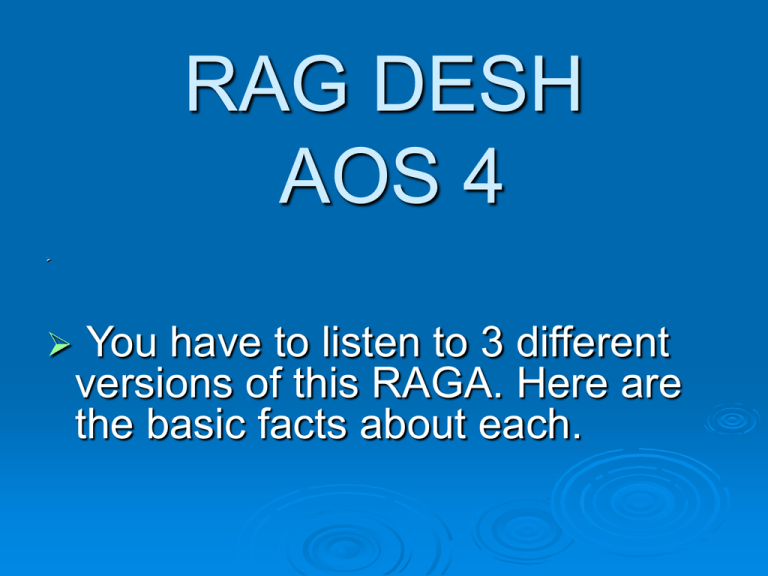 RAG DESH
AOS 4


You have to listen to 3 different
versions of this RAGA. Here are
the basic facts about each.
First a bit about the RAG
 It
is called RAG DESH
 The tonic or main note is C
 This is traditionally a NIGHT raga
 It is also linked to the rainy seasons or
MONSOON
ANOUSHKAR SHANKAR
 This
uses SITAR & TABLA
 There is an ALAP & Gat 1 and GAT 2
 The tala used is JHAPTAL in Gat 1 then
TINTAL in Gat 2
 In the final part the sitar strums the
DRONE stings – we call this JHALLA
MHARA JANAM MARAN by
CHIRANJI LAL TANWAR
 This
uses VOICE, SARANGI,CYMBALS
,TABLA,SAROD & PAKHAWAJ
 There are 2 sections – the ALAP and then
the bandish a Hindu song called a
BHANJAN
 The tal used is KHERWA
 The SAROD & SARANGI take solos
BENJY WERTHEIMER & STEVE
GORN
 This
uses BANSURI,ESRAJ,TAMBURA &
TABLA
 This has 3 sections – the ALAP,GAT 1
(slow), GAT 2 (fast)
 The TALA used is RUPAK
What can you remember?
 1.Name
the raga used
 2.What is this raga associated with?
 3. Name a sitar player
 4.Which instrument plays the drone?
 5.What is a GAT called when it is sung?
 6.Name 3 types of TALA
 7.What type of instrument is a BANSURI?
 8.What is the playing technique called
when you slide between notes?