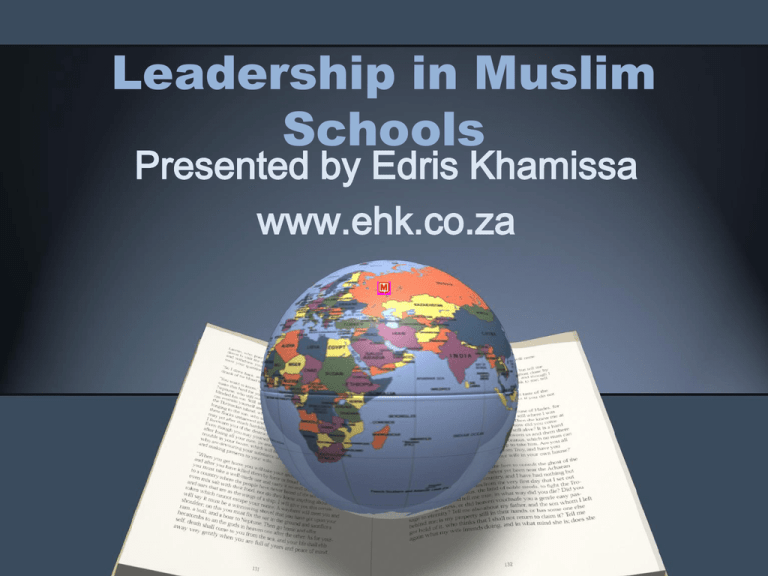 Leadership in Muslim
Schools
Presented by Edris Khamissa
www.ehk.co.za
CONTEMPORARY ISSUES-AN
INTERNATIONAL PERSPECTIVE
Edris Khamissa
www.ehk.co.za
Contemporary Issues
1.
2.
Giving children and young people an
understanding of the role of Islam in the modern
world. The main challenge is to present a range of
Islamic perspectives on local and global issues in a
holistic and comprehensive manner without
prejudice.
The quality of teachers in terms of their Islamic
and wider knowledge and commitment to the
holistic Islamic development of children.
Contemporary Issues
3.
4.
5.
6.
Teachers feeling overwhelmed by government
initiatives and losing the essence of their teaching.
Managers being driven by national policy as
opposed to implementing an Islamic approach in
terms of curriculum and pedagogy.
Bringing Arabic and Classical Islamic texts into our
educational approach is a challenge.
Providing adequate facilities for Physical
Education
Absent parent syndrome
Contemporary Issues
7.
8.
9.
Do we teach Arabic as a language to be spoken,
and written as well as read, or do we focus on the
students reading the Qur'an with understanding?
The result for most students at the present time is
that they are learning neither.
In many Islamic schools there is a lack of
organization, a lack of higher priorities, and a
lack of professionalism.
Teachers ill-equipped to reach out to students –
Contemporary Issues
10.
11.
12.
We need to motivate, to help sculpture, and most of
all to inspire. But this should not be done on an
individual basis as an educator, but as part of a
system that endeavors to provide an atmosphere
where the best, most comprehensive Islamic learning
can take place.
Educators never give up on any student.
Board Members lacking cohesion and commonality of
purpose-well meaning but not educationalists.
Contemporary Issues
13.
14.
15.
16.
17.
18.
Money is tight, so staff are recruited on a 'can
afford' rather than on a 'can-do' basis.
Lack of qualified teachers
Inadequate resources and insufficient funding
Weak leadership and management
Lack of coherent and Islamic and Arabic curriculum
Social,personal and spiritual development
relegated to the background-vision often ignored
Contemporary Issues
19.
20.
21.
22.
23.
24.
Limited parental engagement
Curriculum lacks Islamic focus and no standard
definition of Islamisation
Unclear measures of determining true achievement
Lack of clear vision,ineffective leadership and weak
organisational structure.
Inadequate curriculum resources and provision for
teaching and learning.
No emphasis on independent thinking.
Contemporary Issues
25.
26.
27.
28.
29.
Methodology and content not aligned to address
the needs of students.
Learning and teaching for examinations and
assessments rather than empowering for life.
Motivating students at a time when many of their
hearts and minds are seduced by the world.
Promoting excellence in all aspects of education
especially when mediocrity has become a norm.
Using modern day technology in our classes as a
means and not as an end unto itself.