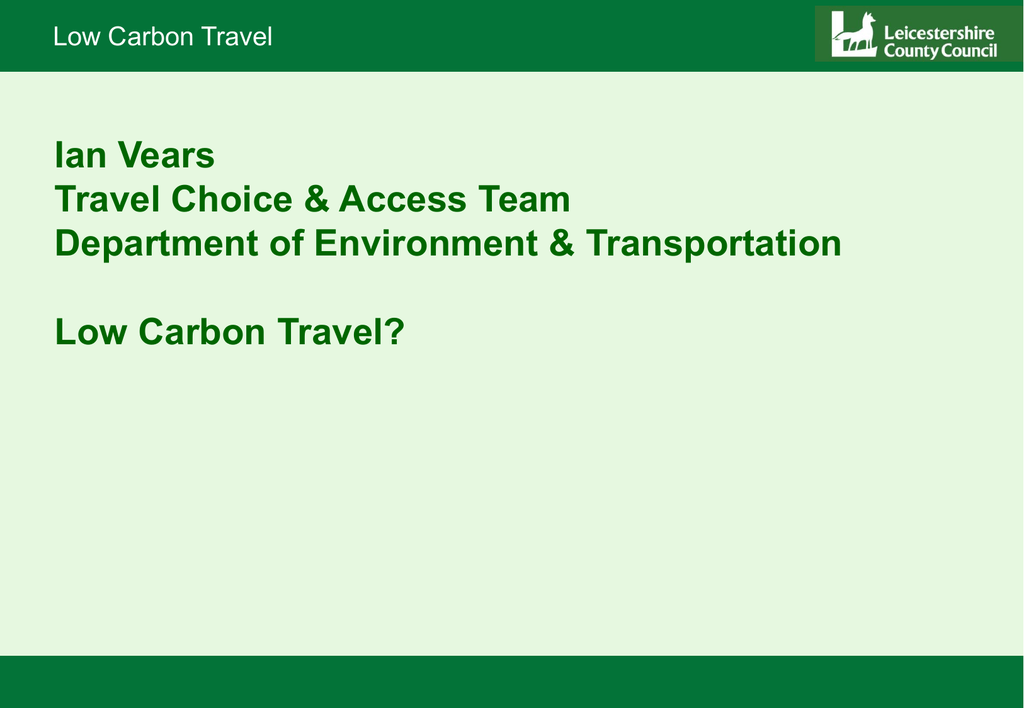 Low Carbon Travel
Ian Vears
Travel Choice & Access Team
Department of Environment & Transportation
Low Carbon Travel?
Low Carbon Travel
Work shop outline







What do you want from today
Definitions
Benefits of changed Travel Behaviour
The Alternatives and ways to get change
Why people don't Change
What would you do exercise
Conclusions
Low Carbon Travel
What do you want from the session?
Low Carbon Travel
Definitions




Low Carbon Travel
Active Travel
Sustainable Travel
Smarter Choices
Low Carbon Travel
Benefits of Change Travel Behaviour





Time
Health
Money
Hassle
Environment
Low Carbon Travel
The Alternatives & ways to get change
Alternatives
 Don't travel
 Public transport
 Walk
 Cycle
 Car share
Ways to get change
 Travel Plans
 Personalised Travel
Plans
 Information provision
 Events
 Incentives
 Trial periods
 Training
 Infrastructure
Low Carbon Travel
Why people don't change




They don't see (denial, insight etc)
They don't know
They don't know how
They don't care
Low Carbon Travel
What does it take?
 Give then insight – if you can just make them see, then they
will change
 Give them knowledge – if people just know enough, then they
will change
 Give them skills – if you can just teach people how to change,
then they will do it
 Make then "concerned" – if you can just make people feel bad
or afraid enough, they will change
Low Carbon Travel
Ambivalence
 A conflict between two courses of action each of which has
perceived costs and benefits associated with it
 Unresolved ambivalence is often the reason why people get
stuck
 How you handle ambivalence influences the outcome.
Low Carbon Travel
What would you do exercise
 3 year plan
 Carrots & sticks
 Outputs & Outcomes
 15 minutes and feedback.