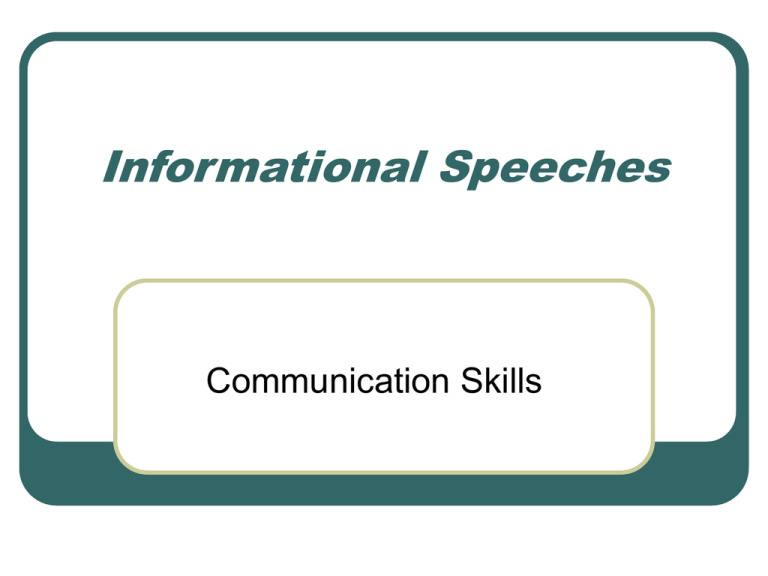 Informational Speeches
Communication Skills
Informative Speeches
Describe an object
 Explain a process
 Clarify a concept

You are giving information on
a specific topic!
The Six Cs of Informative Speaking






Be clear
Be concise
Be complete
Be correct
Be concrete
Connect
Be Clear




Know your audience!
Define terms: define important terms
(but not if they are common knowledge).
Make distinctions: tell what something is
and is not.
Avoid being ambiguous.
Be Concise



Avoid redundancy
Use precise language: choose the word
that best fits your meaning
Use specific language: don't use a broad
term ("tree") if you can use a more
specific one ("oak")
Be Complete



Understand that you can't cover all of the
material!
Create a sense of completion for the
audience.
Keep it organized! Present your three
main points in the order you list them in
your thesis!
Be Correct

Do your research! Know your subject!

Check and double-check the accuracy of
the information you present.

Tell where you found your information
("According to ___" or "A survey by BYU
research institute found…")
Be Concrete

Focus on the immediate and the actual.

Use real people, places, and things –
real examples.

Try to make the information REAL for
your listeners.
Connect



Analyze your audience.
Imagine how the world looks to someone
else (i.e., your audience).
Consider what your audience knows and
doesn't know.