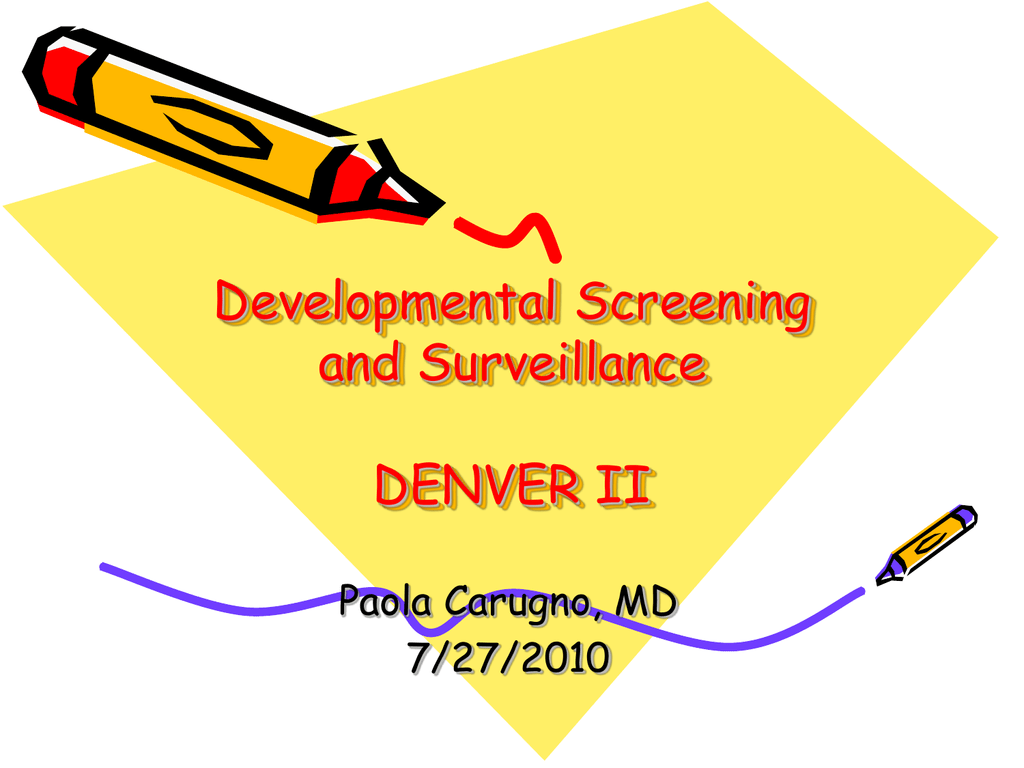 Developmental Screening
and Surveillance
DENVER II
Paola Carugno, MD
7/27/2010
Why me?
• MDs have access to young children
and families.
• Familiarity with social, familial
factors.
• Professional guidelines: AAP
Committee on Children with
Disabilities, Bright Futures.
Development in WCC
• Surveillance
• Screening
• DDST II
Surveillance
• "… a flexible, continuous process in
which a knowledgeable professional
performs skilled observations of
children during child health care"
• USE IT AS A GROWTH CHART
Screening
Process of testing whole populations
of children at various set ages to
detect those at high risk for
significant, unexpected deviations
from normal.
Screening
• Process of identifying children with
an atypical development.
• About 16% of children have
disabilities.
• Early identification will improve
outcome.
How to screen?
Variety of techniques currently in use:
• Reviewing developmental milestones.
Informal collection of age-appropriate
tasks.
• "Clinical judgment" based on history, exam.
• Formal screening with standardized
testing.
Screening
•
•
•
•
ASQ
PEDS
PEDS:DM
DDST
Surveillance
• Components:
– Eliciting/attending to parents' concerns
– Obtaining a relevant developmental
history
– Skillfully observing children's
development (not estimating)
When to screen?
• At least 3 times before age 3:
– 9 month
– 18 month
– 24-30 month
• Screening tests should be done when
suspicions of delay arise
DDST-R
• Revised, re-standardized in 1988
• Sensitive, but with limited specificity and
predictive value (high referral rate)
• Use it to aid monitoring
• Use in second stage screening (following a
parents' questionnaire)
• Interpret the results in context of child's
functioning and circumstance.
Denver II
•
•
•
•
•
0 to 6 years
Not an IQ test, not predictor of outcome
Cannot generate a diagnosis
Not a substitute for testing
Just compares children of the same age
Denver II
• 4 Areas of function:
–
–
–
–
Personal-Social,
Fine Motor-Adaptive,
Language,
Gross motor.
Calculating age
• Date of test
• Date of birth
If needed, borrow:
year month day
year month day
12
30
• Adjusting for prematurity (if born
more than 2 weeks early, and younger
than 24 months)
Age of the child, - weeks early (in months and days)
Introduction
• Reassure caregiver
– Test is not an IQ test
– The child is not expected to pass all
items
– Determine developmental status
Administration
• Flexible
• Score what you see
• Follow a certain order: First do items
(R), less active participation, easier
tasks, same materials on the table.
Administration
• 3 items to the left and
– Every item crossed, OR
– Every item until 3 failures are recorded
(Ceiling).
– If the child fails, then continue testing
items to the left until 3 items are
passed (Basal).
Administration
• Up to 3 trials
• Test behavior
• Item scoring: P (Passing), F (Fail),
N.O. (no opportunity), R (refusal)
Interpretation
• Advanced items: Child passes an item to
the right of the age line
• Normal items: Child can pass, fail or
refuse an item between the 25th and 75th%
• Caution: refuses or fails an item between
75th and 90th %
• Delayed: refuses or fails an item
completely to the left of the age line.
Follow up
• Normal: no delays and a maximum of 1
caution. Routine follow up.
• Questionable: 1 delay and/or 2 or
more cautions. Offer stimulation
suggestions and repeat in 3 months
• Abnormal: 2 or more delays, or fails
twice 3 months apart. Refer to EI.