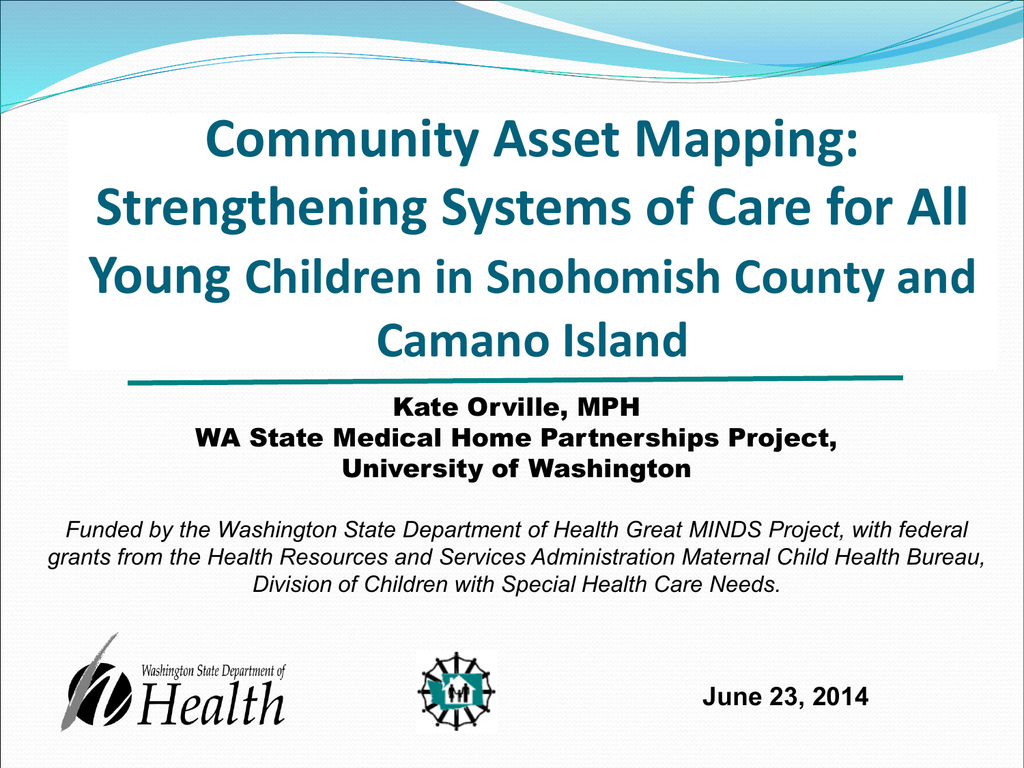 Community Asset Mapping:
Strengthening Systems of Care for All
Young Children in Snohomish County and
Camano Island
Kate Orville, MPH
WA State Medical Home Partnerships Project,
University of Washington
Funded by the Washington State Department of Health Great MINDS Project, with federal
grants from the Health Resources and Services Administration Maternal Child Health Bureau,
Division of Children with Special Health Care Needs.
June 23, 2014
UW / DOH CAM Technical
Assistance Team
University of WA
Dept of Health
Kate Orville, MPH
[email protected]
206-685-1279
Sherry Trout
[email protected]
360-236-3523
Amy Carlsen, RN
[email protected]
206-685-1293
Carol Miller, MPH
[email protected]
360-236-3572
Kathy TeKolste, MD
[email protected]
Thank You!
ChildStrive
 Mary Cline-Stively
 Terry Clark
The CAM Steering
Committee, including
 Angie Ahn-Lee
 Sugely Sanchez
 Judy Ward
Community Asset Mapping
(CAM) Goals
Develop, or enhance existing community
coalitions of families and professionals caring for
children to improve:
 Awareness of child development milestones
 Coordinated, universal standardized
developmental screening for all children
 Timely referral to appropriate early intervention
resources & services
CAM Goals Continued….
• Assure access to services
for young children with
developmental delays and
their families
• Identify training
opportunities for families,
child care providers, and
professionals in the
community on evidencebased developmental
screening, assessment and
intervention strategies
Tiers to Neurodevelopmental Diagnosis and Referral for Services
Diagnosis
Intervention/Treatment
Plan,
Care Coordination
Comprehensive
Developmental Assessment
Medical Evaluation & IDEA Eligibility Determination
Focused Developmental Screening
(Autism, Motor, Language, other)
General Developmental Screening
(all Children)
Child Development and Milestone Awareness
The Process – Pyramid as Organizing Tool
• Community stakeholders
participate in facilitated
discussions and
brainstorming to ID assets,
capacity, and gaps in
service at each level
• ID 2-3 priorities to tackle
• Work groups meet on a
regular basis to further this
work
Background
• WA Combating Autism Advisory Council
(2009-11) – Autism diagnosis delays
• Great MINDS Training (Medical Homes
Include Developmental Screening) (2011-14)
• Dept of Health Universal Developmental
Screening (UDS) focus:
• WA UDS Partnership Committee (2009 )
• County health departments (2013)
 UDS CAM: Clark and Spokane (2013)

Snohomish County (2014)
Community Asset Mapping
Communities
Pend
Oreille
Whatcom
San Juan
Okanogan
Ferry
Skagit
Stevens
Island
Clallam
Snohomish
Chelan
Jefferson
Kitsap
Grays
Harbor
Lincoln
King
Mason
Grant
Kittitas
Madigan
Thurston
Pacific
Spokane
Douglas
Adams
Whitman
Pierce
Franklin
Lewis
Yakima
Garfield
Benton
Columbia
Cowlitz
Asotin
Skamania
Wahkiakum
Walla Walla
Klickitat
Clark
Community Asset Mapping
Possible
Outcomes
 Partnership and clear communication among families,
health care providers, and educators around developmental
screening and early ID
 More people know where and how to refer for early
intervention services and the process is streamlined
 Families know the steps for accessing developmental
screening and assessment, and have support navigating
these steps
Examples from Other Communities
 "Roadmaps" for parents & providers
 Annual conferences specific to
community needs
 Collaboration between
school/medical personnel
 Trainings for childcare providers
and physicians in developmental
screening and how to talk to
families
 Play groups and support groups for
families
Let's Dig In!