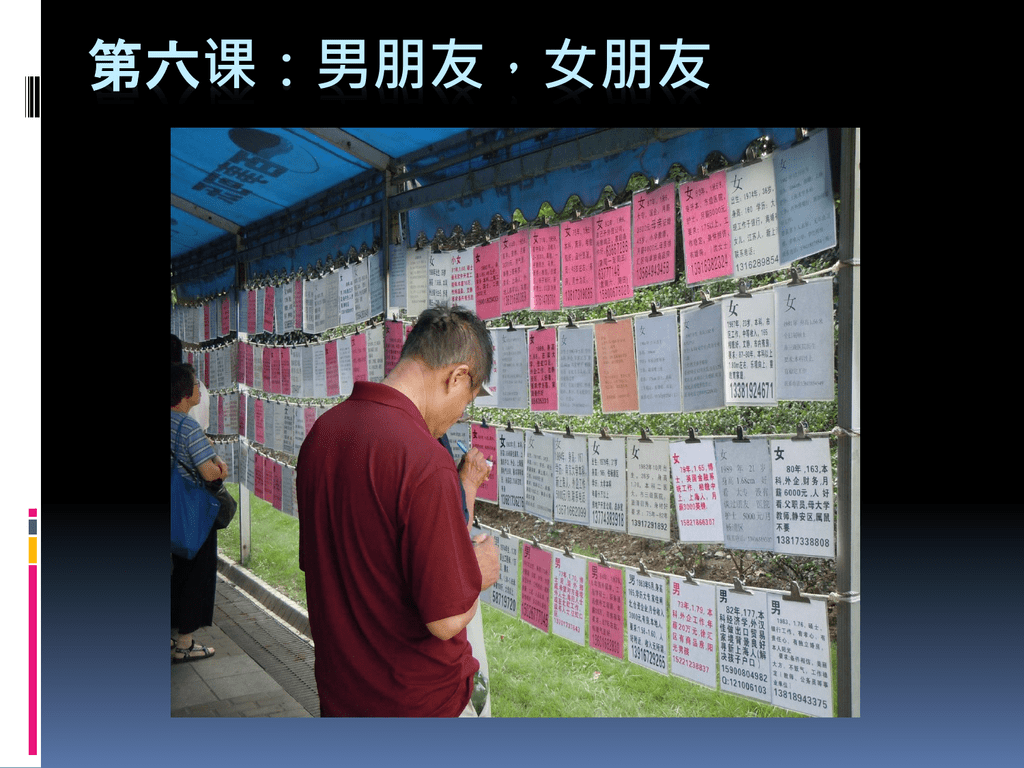 第六课:男朋友,女朋友
生次:一些动词
 闹别扭—nàobièniu, to be at odds
 张天明跟丽莎闹别扭了。
 相处—xiāngchǔ, to get along
 虽然他们的爱好不同,但是相处得很好。
 发生—fāshēng, to occur
 什么事发生了?
 陪—péi, to accompany
 我今天晚上陪你去看电影。
 提
 别提了!
生词 :一些动词
 吹—chuī, to end a relationship
 因为他根本不在乎我,所以我真想跟他吹了。
 吵架—chǎojià, to quarrel
 记仇—jìchóu, to bear a grudge
 分手—fēnshǒu, to break up
 交朋友—jiāo péngyǒu, to make friends
相亲—blind dating
 单身公主相亲记: Single Princesses and Blind
Dates
 Watch segment: http://www.hulu.com/single-princesses-and-blinddates#
八妹—the tomboy
统统—the girl who works at an event
planning agency, specializing in weddings
Carey—rich girl who is the boss of a PR firm
生词:形容词
 开朗—adjective, extroverted, happy disposition
 马虎—adjective, careless, mediocre
 吹—A + 跟 + B + 吹了。
 陪—A + 陪 + B + verb
 道歉—A + 给 B + 道歉
生词:四词
 一干二净




Completely, thoroughly, spotless
上个学期的汉子他已经忘得一干二净了。
他把房间打扫得一干二净。
张天明把演会的事忘得一干二净。
 丢三拉四




Scatterbrained, forgetful
我哥哥这么丢三拉四,他的房间很乱!
你这么丢三拉四的,难怪你的女朋友很生气!
忘这忘那
(在)。。。上
 "In terms of…"
 Needs to be used with an abstract noun
 在兴趣上,丽莎跟天明不太一样。
 我最近在学习上有很多问题,所以心情不太好。
 在性格上,他以前的男朋友比现在的男朋友开
朗多了。
Verb 来 Verb 去
 Repetitive action
 小王病了,她的男朋友来看她,可是医生正在给她检查,
不能进去。他在外边()地走来走去,不知道什么时候
可以进去。
 老王常常忘这忘那,东西乱放,昨天() 不见了,想来想
去原来在冰箱里。
 这个问题很大,公司里的人考虑来考虑去还是没办法解
决。
 妹妹快大学毕业了,找来找去,最后决定找工作不念研
究生了。
地
 Adverb, English equivalent is –ly
 老教师慢慢地走进了教室。
 他高兴地答应了。
 她男朋友高兴地说"跟我来中国吧!"
的,得,地
 地=used as an adverb, followed by a verb




小朋友高兴地说"你好,妈妈!"
拼命地工作。(desperately)
专心地听老师讲课。(whole heartedly)
Adverb +地 +verb
 的= used with attributes, followed by a noun
 王李是很高兴的人。
 可爱的小狗。
 Adjective + 的+ noun
 得=used to describe how a verb is done, followed by a
complement
 1. verb + 得 + adjective (试考得很好)(写得不清楚)
 2. adjective + 得 + verb (result) (高兴得跑起来)
http://www.chinese-forums.com/index.php?/topic/3114-grammar-3%E7%9A%84%E5%BE%97%E5%9C%B0/
一些例子: 的,地,得
 He is a very happily dispositioned person.
 We quietly studied Chinese in the library.
 You drive too quickly!
 I did well on my recent Chinese test.
原来
 Two meanings:
 Discovery of new information, "turns out"
 "In the past"
 原来他也有马虎的时候。
 房间里热得很,原来窗户没开。
 我还住在原来的公寓。
 他原来住在学校的宿舍,后来搬到校外去了。
 她原来吃肉,现在吃起素来了。
到底
 What on earth, What in the world
 Used in questions to press someone for information
 Real life usage: watch 单身公主相亲记: Episode 10,
32:00 in
 他们两到底为什么分手?没有人知道。
 A: 你明天去看演唱会吗?
 B: 我想去可是。。。
 A: 你到底去不去?
根本
 At all, simply
 Often used in negative circumstances
 老师今天介绍的语法我根本不懂。
 他们两闹别扭的事我根本没听说,别问我。
 你根本不认识他,别说那些事。
 我心里根本没有我,我们得分手。
难怪
 "It's no wonder that…"
 你的男朋友怎么这么马虎,难怪你心情不好!
 难怪他不知道这件事,他根本不看报纸!
 难怪他申请念研究生,他找不到工作了。
 难怪这两天他心情不好,原来他女朋友跟他
吹了。
实际上
 实际上柯林跟天明差不多,常常忘这忘那,
丢三拉四的。
 很多人以为我同屋比我大,实际上我比她
大多了。
 我以为学中文很难;汉字很难写,再说说
中文不太容易,可是实际上学中文挺容易
的。
一会儿。。。一会儿。。。一会又。。。
 他一会忘了我的生日,一会找不到钥匙一会
又。。。有的是候真让人着急。
 我哥哥很麻烦,一会叫他洗衣服,一会叫他
出去买东西,一会又叫他做饭,我根本不能
做自己的事。
 这几天天气很奇怪,一会很冷,一会很热,
不少人都感冒了。
让/叫
 When used in the sense of "making someone
do something" 让 and 叫 are interchangeable.
 他让我很生气
 他叫我很生气。
 让 can also mean "to make" or "to allow"
 他让我觉得他很忙,可是实际上他没有事。
 老板不让我休假
中国有一句话:
 "小两口吵架不记仇"
 意思是:如果有天不吵了说不定你们就真
的会分手。
谈恋爱
 Dating is taken a little more seriously in China than it is in the
United States.
 Girls and boy are often just friends. Having a significant
boyfriend/girlfriend (more often than not) means that the
relationship is headed towards marriage.
 While dating culture in China is gradually changing, children
still tend to date someone that their family will approve of.
 Both female and male friends in China will be seen in public
holding hands, walking arm in arm etc. Boyfriends and
girlfriends restrain themselves more though, as to not seem
disrespectful or too over the top with their feelings.
Dating, Personal Ads

What: "Dating Market"

Where: People's Park, Shanghai

Why: Parents put up signs about
their children (name, age, height,
job, etc) and hope that suitors, or
other parents will people notice.

Cost: 5,000-10,000元 for a date

If there seems to be a match, the
children will go on a date. Some
people take it seriously, some
think it is more fun than anything.