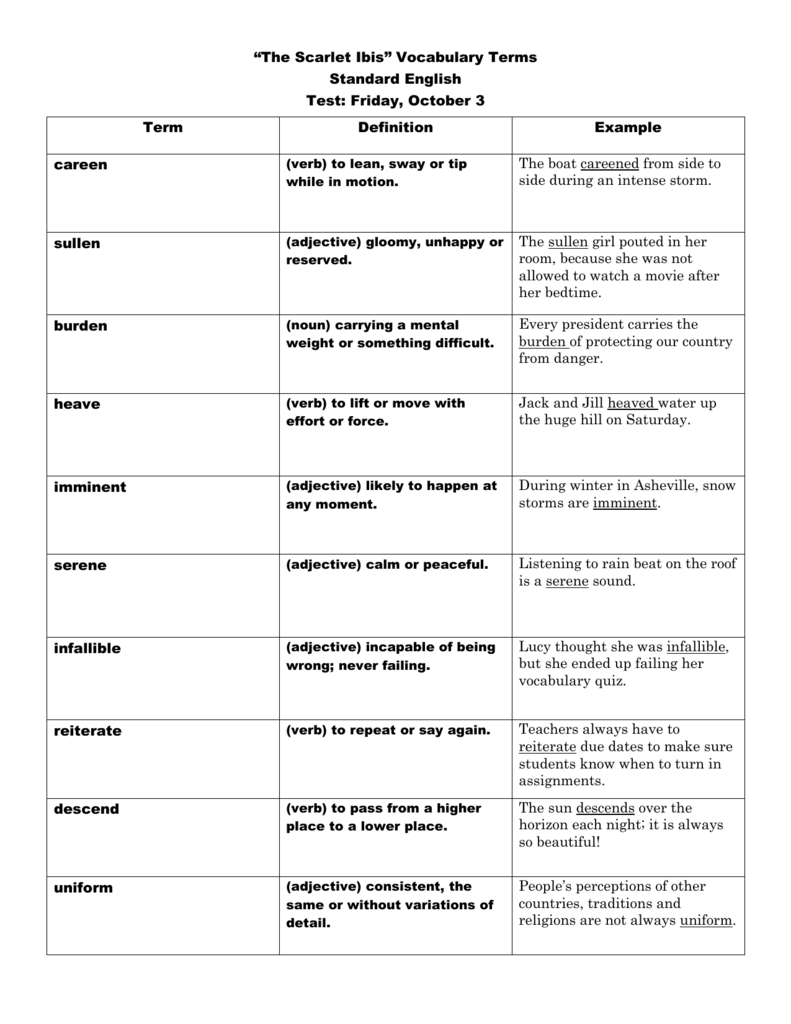 "The Scarlet Ibis" Vocabulary Terms
Standard English
Test: Friday, October 3
Term
Definition
Example
careen
(verb) to lean, sway or tip
while in motion.
The boat careened from side to
side during an intense storm.
sullen
(adjective) gloomy, unhappy or
reserved.
The sullen girl pouted in her
room, because she was not
allowed to watch a movie after
her bedtime.
burden
(noun) carrying a mental
weight or something difficult.
Every president carries the
burden of protecting our country
from danger.
heave
(verb) to lift or move with
effort or force.
Jack and Jill heaved water up
the huge hill on Saturday.
imminent
(adjective) likely to happen at
any moment.
During winter in Asheville, snow
storms are imminent.
serene
(adjective) calm or peaceful.
Listening to rain beat on the roof
is a serene sound.
infallible
(adjective) incapable of being
wrong; never failing.
Lucy thought she was infallible,
but she ended up failing her
vocabulary quiz.
reiterate
(verb) to repeat or say again.
Teachers always have to
reiterate due dates to make sure
students know when to turn in
assignments.
descend
(verb) to pass from a higher
place to a lower place.
The sun descends over the
horizon each night; it is always
so beautiful!
uniform
(adjective) consistent, the
same or without variations of
detail.
People's perceptions of other
countries, traditions and
religions are not always uniform.