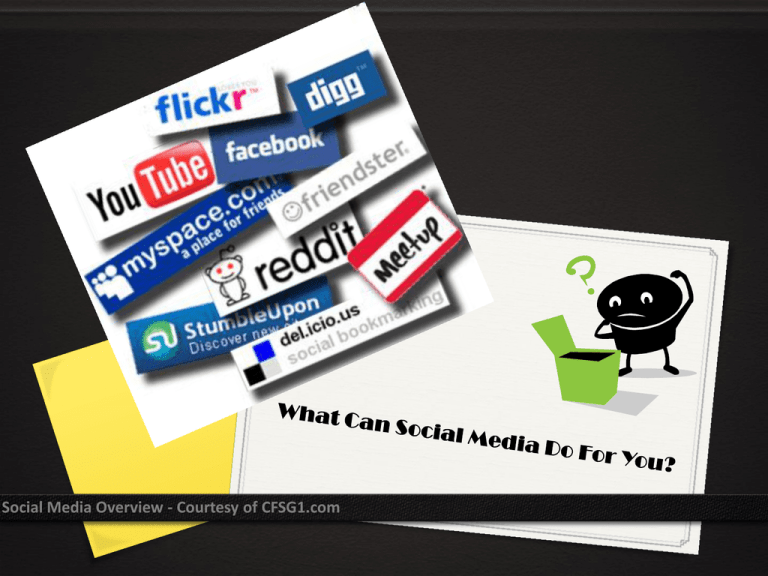 Social Media Overview - Courtesy of CFSG1.com
What Social Media Can Do For Your
Business…
Think of social media as a bridge - one that connects you and your company to
consumers, investors, media and other outlets that you previously didn't have
access to. Social media networks facilitate conversations that, were once, by
invitation only.
Social media:
 Allows your business the ability to build a global network, faster and easier.
 Provides a platform to promote and build your personal brand.
 Offers access to raw journalism, often times not available in mainstream media
outlets.
 Gives your company an outlet to be heard and to reach out to consumers,
allowing you to engage in conversations that weren't possible in the past.
 Provides your company with instant access to communities, networks and
consumers, investors, etc. at anytime, anywhere.
Informative Social Media Stats
Courtesy of Edison Research, TheSocialSkinny & Baer
 Did you know that 75% of Internet consumers make purchases based on peer
recommendations, whereas only 14% trust advertisements?
 By 2015, brands will be generating 50% of their online sales through social
media; mobile platforms are projected to generate $30 billion!
 66% of online adults are connected to one or more social media platforms.
 In February 2012, Facebook had 850 million users and 47% say Facebook has
the greatest impact on purchase behavior.
 Every single day, 4.7 billion minutes are spent on Facebook.
 In February 2012, LinkedIn had 135 million users. There are 2 million
companies on LinkedIn and American users spend an average of 17 minutes
on the site.
 Does your business have a blog? It should; 2 million blog posts are currently
written (enough posts to fill TIME magazine for 770 million years).
 Sales via social commerce are expected to reach $30 billion within five years.
 In February 2012, Twitter had 500 million registered users (approx. 200m
active) and Twitter users send 175 million tweets each day. Are you Tweeting?
In the past year alone, 12 million more Americans are using social networking
many times daily. Research also shows that users that follow brands on social
media increased 106% from 2010 to 2012. The percentage of Americans
following any brand on a social network has increased from 16% to 33%. This
is a sharp increase and there is still a tremendous amount of room for growth.
If your brand or company is not taking advantage of social media, now is the
time to get started!
CFSG1,Social Media and You:
How Can We Help?
1. Monitoring Your Current Situation:
 Take an inventory of any current social
media channels, content, resources,
networks, etc. If no channels are
currently in place, the CFSG1 team can
create these accounts for you.
 Monitor what is currently being said
about your brand/business and how
your competitors are reaching out to the
public.
 Define social media needs – Our team
can help you decide which channels will
give your brand/business the best social
media presence, and how to best
position your product, service or
business to the public.
2. Educating Your Business
 Let CFSG1's team provide you with the
basics with our Social Media 101
instruction via Skype or conference call.
3. The Strategy Phase
 Arrangements can be made for our team
to help with editorial strategies,
planning and scheduling for all of your
social media channels. We can also help
you decide on any optimization, buying
ads, etc.
 We can help identify relevant themes
and topics specifically targeting your
fans, consumers, investors, groups, etc.
CFSG1,Social Media and You:
How Can We Help? Continued…
4. The Creative Endeavor
 Deciding on appropriate social media
channels and integration. Building
necessary blogs, Facebook fan and group
pages, LinkedIn groups, Twitter pages,
YouTube Channels, Wikipedia, Flickr,
Meetup, etc.
5. Additional Promotion
 Helping with the content creation of
electronic press kits, videos, slideshows,
etc.
 Managing your community participation
– creating online contests, reviews,
coupons. Setting up interviews, webcasts
or webinars, etc.