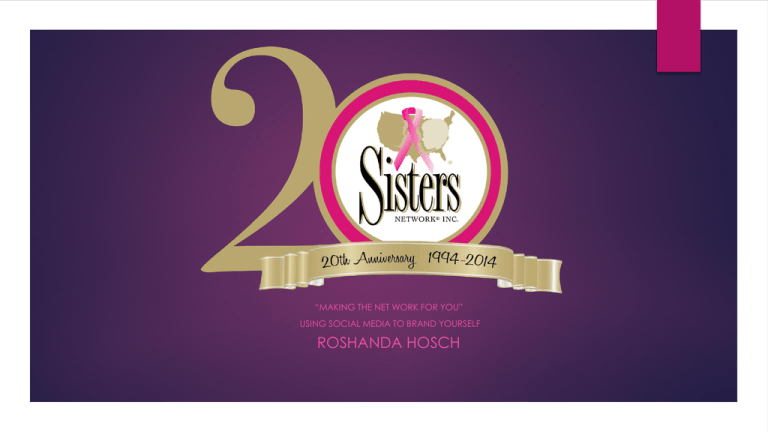 "MAKING THE NET WORK FOR YOU"
USING SOCIAL MEDIA TO BRAND YOURSELF
ROSHANDA HOSCH
What is Social Media?

Social Media is the social interaction among people in which they
create, share or exchange information & ideas in virtual
communities & networks.
Who uses social media?
Popular Social Media Sites
How Accessible Is Social Media?

Social media can be accessed on any device with internet or wireless
connection.

Mobile phone

iPad or Tablet

Laptop

Desktop

Digital camera with internet connection
Incorporating Social Media Into Your
Marketing Plan

WHEN – Social media should be integrated at the beginning of the planning
process to create overall continuity with your marketing campaign.

WHERE – Establish your brand awareness & credibility by using social media on
all forms of marketing collateral. Even if it means placing social media icons on
your products.

WHY – Spread your message, build your brand & gain instant feedback with
this fast & effective way of promotion.
Social Media Calendar

Develop weekly, monthly and quarterly social media campaigns

Use a social media management tool such as Hootsuite or SproutSocial to
schedule your posts

Manage your social media sites on your time
How Can I Keep My Audience
Interested?
Audience Engagement



Post a video with a special message
from you to your audience.
Direct audience to a website using a
link.
Keep your content up to date &
interesting for your consumers.
Audience Interaction

Ask a question requesting a response.

Contests with special incentive or
offer.

Use a personalized hashtag for a
social media campaign.
Social Media Ideas For Branding
Facebook gives you the opportunity to expand your marketing efforts by
sending public updates & posting special offers just like a business page.
Use Twitter to send out tweets & start a conversation with your
followers about your brand & what you have to offer.
Instagram offers an informal behind the scenes of your business giving a
more intimate client-customer relationship.
Create your own Pinterest board with pins that express your areas of
interest & some of your own work.
Use a YouTube channel with fun informative videos to showcase your
products or services for your online business.
Gaining Audience Insight Using Social
Media Management Tools

Find out who your audience is & how to effectively communicate to them

Create customized reports to show in-depth insight

Gender

Age

Location: Country, State, City

Language

Content

Reach
Create Content Integration On Your
Website
Social Media Icons
YouTube video
Nefertiti Clavon
Social Media Coordinator
Sister Network Inc.
Sisters Network Email
______@sistersnetworkinc.org
Sisters Network E-blast
DataCoordinator@sistersnetworkinc.org
Sisters Network Social Media
 Facebook
 Twitter
 Pintrest
 Instagram
 Breast
Cancer Survivor Social Network
How To Get Posted On The National
Social Media Pages?

Contact Nova: Nova.L.Davis@SistersNetworkInc.org


National Events Calendar on SNI Website
Contact Nefertiti: SocialMedia@SistersNetworkinc.org

Facebook

Twitter


Breast Cancer Survivor Social Network Events Calendar
Please Provide @NAMES in email if you are requesting Twitter/Facebook
Q&A
THANK YOU!