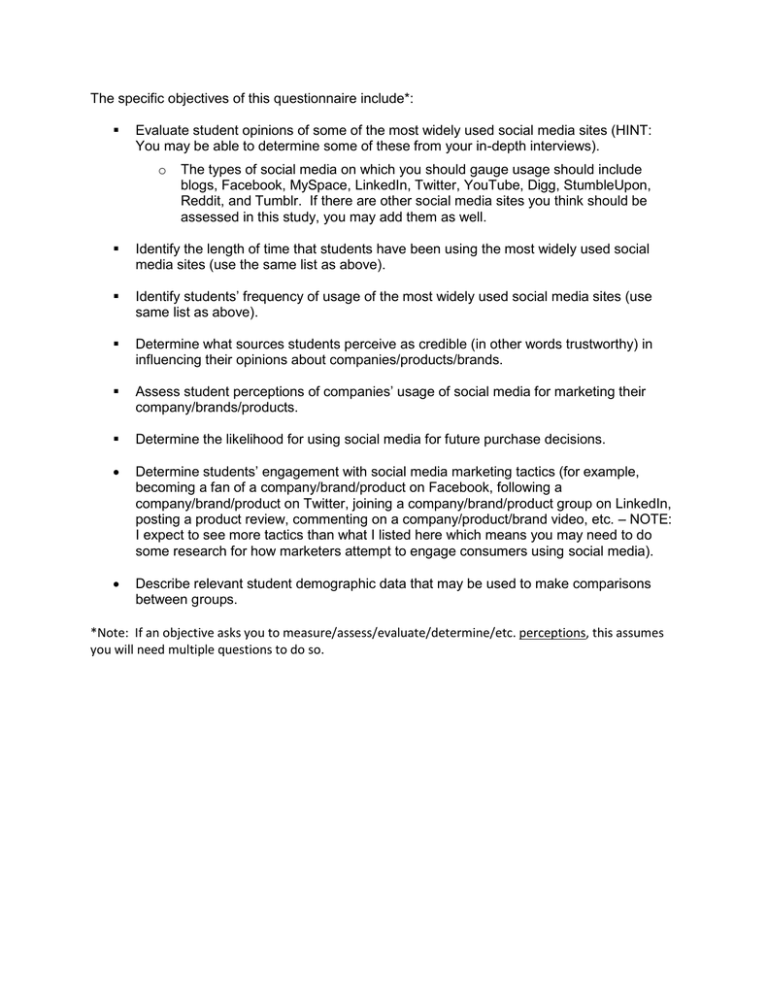 The specific objectives of this questionnaire include*:

Evaluate student opinions of some of the most widely used social media sites (HINT:
You may be able to determine some of these from your in-depth interviews).
o
The types of social media on which you should gauge usage should include
blogs, Facebook, MySpace, LinkedIn, Twitter, YouTube, Digg, StumbleUpon,
Reddit, and Tumblr. If there are other social media sites you think should be
assessed in this study, you may add them as well.

Identify the length of time that students have been using the most widely used social
media sites (use the same list as above).

Identify students' frequency of usage of the most widely used social media sites (use
same list as above).

Determine what sources students perceive as credible (in other words trustworthy) in
influencing their opinions about companies/products/brands.

Assess student perceptions of companies' usage of social media for marketing their
company/brands/products.

Determine the likelihood for using social media for future purchase decisions.

Determine students' engagement with social media marketing tactics (for example,
becoming a fan of a company/brand/product on Facebook, following a
company/brand/product on Twitter, joining a company/brand/product group on LinkedIn,
posting a product review, commenting on a company/product/brand video, etc. – NOTE:
I expect to see more tactics than what I listed here which means you may need to do
some research for how marketers attempt to engage consumers using social media).

Describe relevant student demographic data that may be used to make comparisons
between groups.
*Note: If an objective asks you to measure/assess/evaluate/determine/etc. perceptions, this assumes
you will need multiple questions to do so.