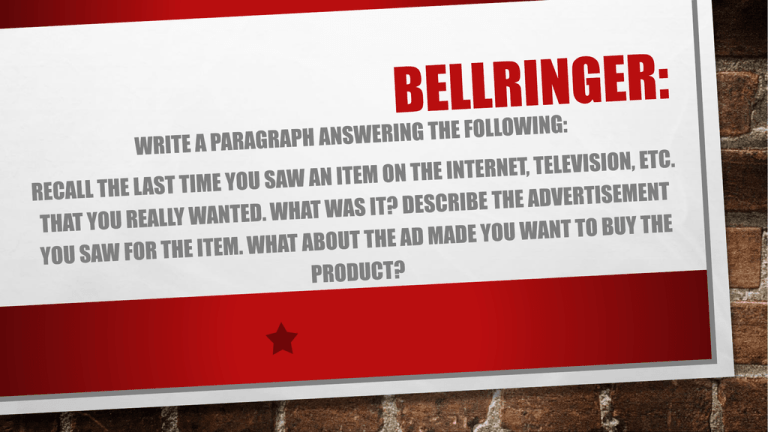 INTRODUCTORY PARAGRAPHS: WHY ARE
THEY IMPORTANT?
• THE INTRODUCTORY PARAGRAPH IS LIKE AN ADVERTISEMENT FOR YOUR ENTIRE ESSAY.
• WE USE INTRODUCTIONS TO CAPTURE THE READER'S ATTENTION AND "SELL" THEM OUR IDEAS.
•HOW???
HOOKS!
• WHAT IS A HOOK?
• THIS IS THE VERY FIRST SENTENCE IN YOUR INTRODUCTORY PARAGRAPH.
• WRITERS USE THE "HOOK" TO CAPTURE THE READER'S ATTENTION AND PERSUADE THEM TO CONTINUE
READING.
HOW DO I HOOK MY AUDIENCE???
GLAD YOU ASKED….
Here are a few techniques you can use…
SHOCKING STATEMENT
STATEMENTS/STATISTICS ARE GREAT HOOKS BECAUSE:
1.
THEY EXPOSE READERS TO A NEW IDEA
2. DRAW THE AUDIENCE'S ATTENTION TO AN UNFAMILIAR
FACT
3. LEARNING SOMETHING NEW SPARKS READER'S
CURIOSITY
EXAMPLE:
•RECENT STUDIES SHOW THAT LOUISIANA HAS THE LARGEST
CHILD HOMELESSNESS RATE IN THE NATION. THERE ARE
THOUSANDS OF CHILDREN ON THE STREETS OF OUR STATE THAT
HAVE NO MEANS FOR FOOD OR SHELTER, MUCH LESS THE
OPPORTUNITY FOR A GOOD EDUCATION…
QUOTATION
ALLOWS THEM TO SEE THE PERSPECTIVE OF
SOMEONE ELSE
HELPS ESTABLISH YOUR CREDIBILITY
SPARK INTEREST BECAUSE OF A "FAMILIAR"
NAME
USEFUL IN MOST ESSAY TYPES
EXAMPLE:
• ACTRESS, AMANDA BYNES ONCE STATED ON HER TWITTER, "I KNOW I LOVE
DRAKE BECAUSE IF HE GOT PARKINSON'S OR GOT IN SOME SORT OF
ACCIDENT HE'D STILL BE THE ONLY ONE I WANT." THOUGH, HER LOVE FOR
DRAKE WAS UNSTABLE, AT TIMES, HER AFFECTIONS WERE NOT MISPLACED.
DRAKE IS ONE OF THE GREATEST ARTISTS OF OUR GENERATION…
PERSONAL STORY/ANECDOTE
ALLOWS YOUR AUDIENCE TO RELATE TO/TRUST YOU
MAKES YOUR IDEAS MORE RELATABLE
USEFUL FOR (NARRATIVE, PERSUASIVE]
EXAMPLE:
• WHEN I WAS FIVE, I HAD A FAVORITE STUFFED ANIMAL THAT I NAMED TIPPY. SHE WAS A
FLUFFY LITTLE STUFFED DOG WITH FLOPPY, BROWN EARS. SHE WAS MY BEST FRIEND
UNTIL THE DAY THAT THE SCHOOL BULLY THREW HER OVER THE FENCE OF THE
PLAYGROUND. BULLYING SITUATIONS LIKE MINE HAPPEN ON PLAYGROUNDS ALL THE
TIME...
POINTED QUESTION
ENGAGES READERS BY INVOLVING THEM IN
THE TOPIC
MAY HELP THE AUDIENCE TO RELATE TO THE
IDEAS PRESENTED BY THE WRITER
GOOD FOR (PERSUASIVE, EXPOSITORY,
ARGUEMENT)
EXAMPLE:
• HAVE YOU EVER TRIED EXOTIC FOODS? IF NOT, YOU ARE MISSING OUT ON
SOME VERY DELICIOUS CUISINE! FOODS FROM COUNTRIES LIKE ASIA, INDIA,
AND OTHER FOREIGN COUNTRIES PROVIDE A DINING EXPERIENCE THAT IS
BOTH UNIQUE AND CULTURAL...
• GOOD HOOK:
LET'S PRACTICE...
• STUDENTS TODAY HAVE ACCESS TO
MORE INFORMATION THAN EVER BEFORE
IN HISTORY, THANKS TO THE WORLD
WIDE WEB.
• BAD HOOK:
• I'M GOING TO BE TALKING ABOUT
WHY IT IS GOOD TO LET STUDENTS
USE THEIR SMART PHONES IN
CLASS.
IMAGINE YOU ARE WRITING A PERSUASIVE ESSAY IN WHICH YOU MUST CONVINCE
YOUR AUDIENCE TO JOIN YOUR FAVORITE SOCIAL NETWORKING SITE. BASED ON
THIS PROMPT, WHICH HOOK WOULD YOU CHOOSE?
HOOK #1
• I BECAME HOOKED ON TUMBLR
FROM THE FIRST MOMENT I LAID
EYES ON A GIF OF THREE OLD LADIES
TWERKING IN FRONT OF THE
SUPERMARKET.
HOOK #2
• WITH OVER FOUR BILLION DAILY
VISITORS, TUMBLR HAS BECOME
ONE OF THE MOST POPULAR SOCIAL
NETWORKING SITES ON THE WEB!
PEER REVIEW INSTRUCTIONS:
• SWAP PAPERS WITH YOUR PARTNER AND CAREFULLY READ THROUGH THEIR INTRODUCTION.
• UNDERLINE THE HOOK AND THESIS STATEMENTS IN THEIR PAPER
• ANSWER THE FOLLOWING QUESTIONS ON A SEPARATE SHEET OF PAPER:
• 1. WHAT TECHNIQUE IS USED IN THE HOOK?
• 2. DOES THE HOOK CATCH YOUR ATTENTION?
• 3. FROM THE THESIS STATEMENT CAN YOU CLEARLY SEE THE DIRECTION OF THE ESSAY?
• 4. WHAT DO YOU LIKE ABOUT THE INTORDUCTION?
• 5. DO YOU HAVE ANY SUGGESTIONS FOR IMPROVEMENT?