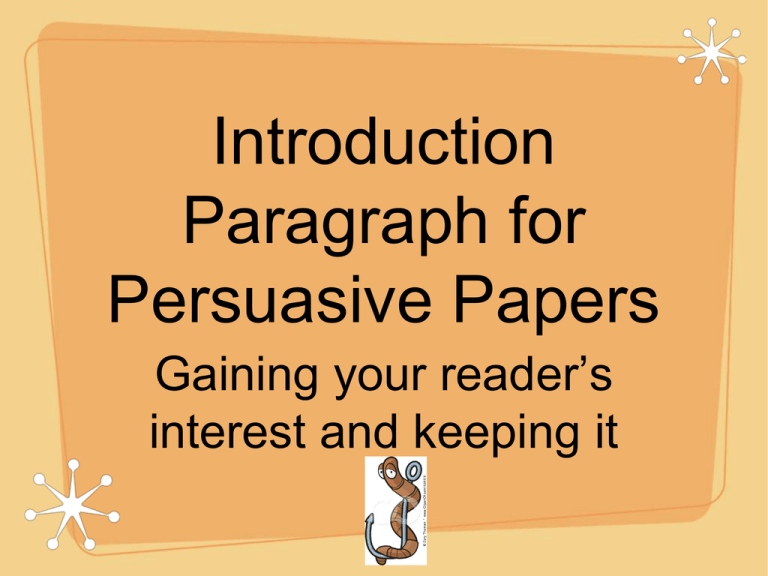 Introduction
Paragraph for
Persuasive Papers
Gaining your reader's
interest and keeping it
Key Elements
Hook
Thesis Statement
I'm HOOKED!
What is a hook?
Effective ways to HOOK your
reader:
Anecdote (Personal Short
Story)
Startling Statistic
Interesting Quote
Anecdote
Use imagery
Use figurative language
Communicate a POSITIVE
or NEGATIVE tone based
on your position (black or
white)
Example HOOK
When a person turn on the news nowadays, it
seems as though crime and violence are always
the top stories. Some communities are plagued
by these elements. Would you want to move to
such a community? The obvious answer to that
question is no. I have heard, however, that the
school board is considering changing to a fourday school week, a decision which will inevitably
result in our community becoming like those on
the news.
Thesis Statement
Includes your position on the topic
State it clearly! BLACK or
WHITE!!!
Includes a general overview of your
reasons
Format:
I (advocate or denounce) the
topic because 1, 2, and 3.
1, 2, and 3 are your REASONS
Example Thesis
Statements
(Position)
(Topic)
I unquestionably denounce making the
switch to a four-day school week
because teachers will lose instructional
time(1),parents will have to absorb the
cost of the fifth day(2), and mischievous
teens will have opportunities to engage
in crime and violence(3) .