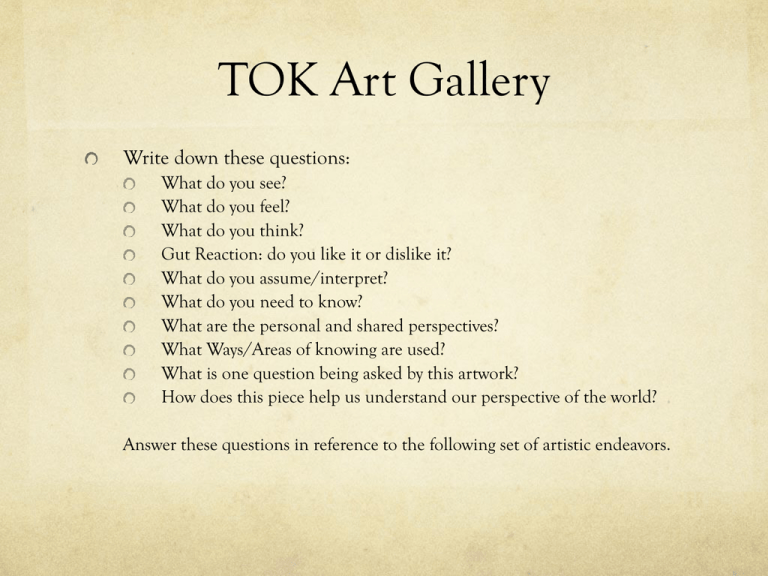 TOK Art Gallery
Write down these questions:
What do you see?
What do you feel?
What do you think?
Gut Reaction: do you like it or dislike it?
What do you assume/interpret?
What do you need to know?
What are the personal and shared perspectives?
What Ways/Areas of knowing are used?
What is one question being asked by this artwork?
How does this piece help us understand our perspective of the world?
Answer these questions in reference to the following set of artistic endeavors.
1.
Ai WeiWei Dropping a Han Dynasty Urn (1995)
2.
3.
Inukshuk—Inuit Sculpture
4.
Frizzell. Wine Country. 2012.
5.
Terracotta Warriors of the Emperor Qin. China.
6.
Maud Lewis, Cat and Two Kittens, 1952
7.
Simone Martini, The Annunciation. Italy. 1333
8. Andy Warhol. Marilyn. 1962
9.
Artemisia Gentileschi's "Judith Slaying Holofernes", 1620
10.
Michelangelo.
David. Italy.
1504
11.
Tiles, arabesque
pattern, Mosque of
Cheykhoun. Egypt.
1877
12.
13.
Salvador Dali, Hallucinogenic Toreador, 1970
14.
Yang Fuhua Shanghai Red Square, 2009
15. Wolfgang Amadeus Mozart - Piano Concerto No. 21 Andante http://www.youtube.com/watch?v=df-eLzao63I
16. Bach, Toccata and Fugue in D minor, organ
http://www.youtube.com/watch?v=ipzR9bhei_o
Aesthetics Final Assignment
Find the remaining 4 pieces, on your own. Attach an
image, description or a link so that I can
see/hear/experience. Respond on the yellow sheet to
the pieces. You could even go to a gallery (a brick and
mortar one) if you wanted!