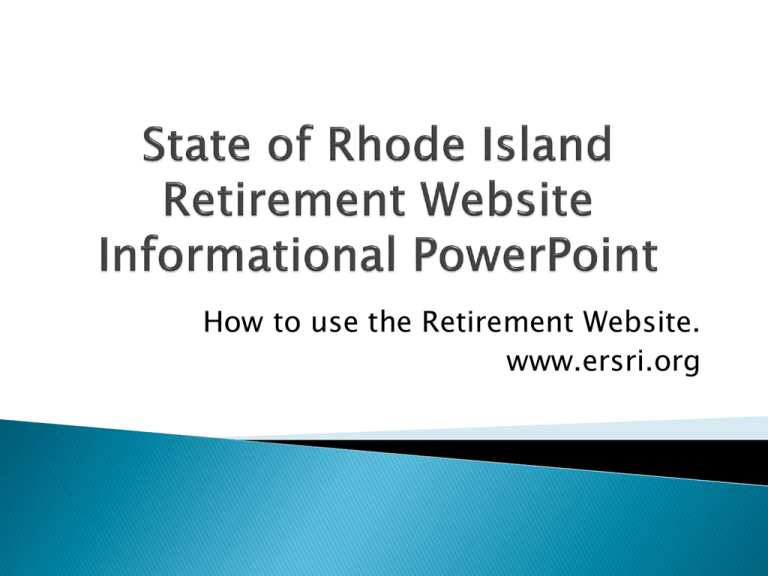 How to use the Retirement Website.
www.ersri.org
1. To create a web account you will need the
following information – last two paychecks,
social security number, date of birth, and a
valid email address.
2. Go to: www.ersri.org
3. Click on create an account.
4. Read agreement and click on I agree.
5. Manage your login account – Part I – click on
Member. Click on next.
6. Read instructions to create an account. Have
personal data ready. Click on next.
7. Complete Demographic Information. Use
email address and password that you can
access and remember. Your email address will
become your Username for entering the
website. Click on next.
8. Account Verification- Select a check from the
pull down box and enter the amount of your
retirement contribution for that pay period.
Click on next.
9. Your account has now been successfully
created.
10. Click on login.
11. You will be asked to enter the information
required to send a confirmation email.
1. Go to your email system..
2. An email will come form ERSRI. (It normally
takes 5-10 minutes for the email to arrive.)
3. Open the email and click on the web link.
4. You will be returned to the ERSRI login page.
5. Enter your Username ( Your email address)
and Password.
6. You should now be in the system.
1. Click on the tab that says My Account.
2. All of the information on your account up to
this year will be displayed.
3. To obtain detailed year to year information
click on the tab for Account Details located in
the lower middle portion of the page.
4. Click on the tab that says My Estimate. This
will allow you to determine your eligibility date
and estimate your monthly amount.