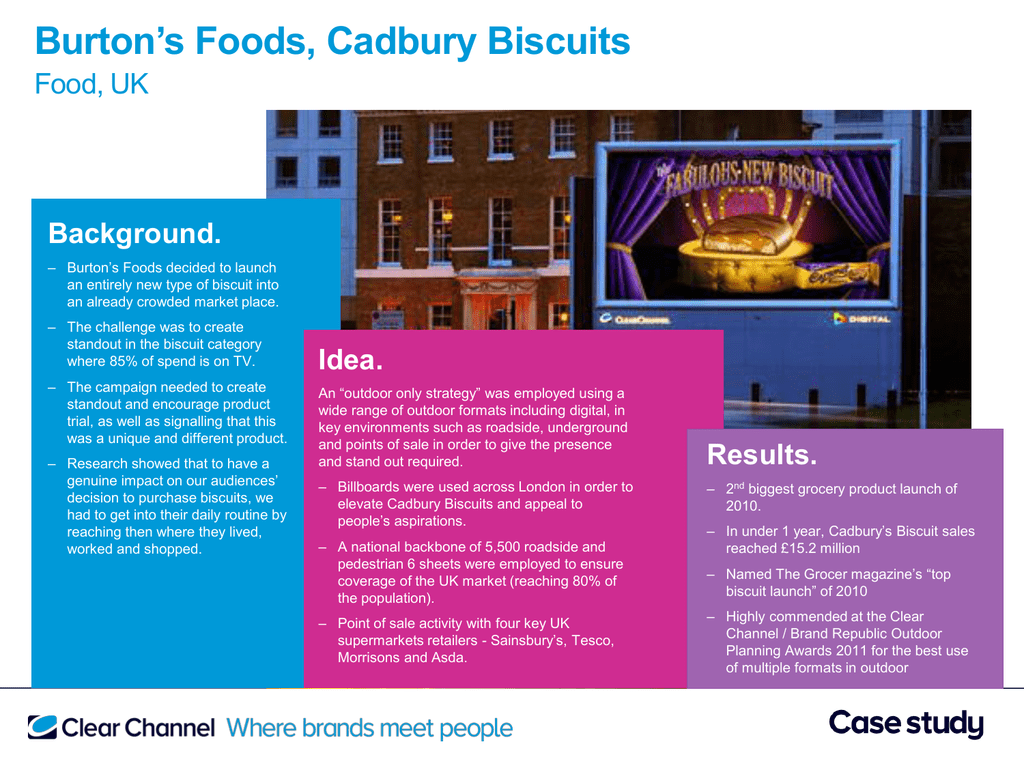 Burton's Foods, Cadbury Biscuits
Food, UK
Background.
– Burton's Foods decided to launch
an entirely new type of biscuit into
an already crowded market place.
– The challenge was to create
standout in the biscuit category
where 85% of spend is on TV.
– The campaign needed to create
standout and encourage product
trial, as well as signalling that this
was a unique and different product.
– Research showed that to have a
genuine impact on our audiences'
decision to purchase biscuits, we
had to get into their daily routine by
reaching then where they lived,
worked and shopped.
Idea.
An "outdoor only strategy" was employed using a
wide range of outdoor formats including digital, in
key environments such as roadside, underground
and points of sale in order to give the presence
and stand out required.
– Billboards were used across London in order to
elevate Cadbury Biscuits and appeal to
people's aspirations.
– A national backbone of 5,500 roadside and
pedestrian 6 sheets were employed to ensure
coverage of the UK market (reaching 80% of
the population).
– Point of sale activity with four key UK
supermarkets retailers - Sainsbury's, Tesco,
Morrisons and Asda.
Results.
– 2nd biggest grocery product launch of
2010.
– In under 1 year, Cadbury's Biscuit sales
reached £15.2 million
– Named The Grocer magazine's "top
biscuit launch" of 2010
– Highly commended at the Clear
Channel / Brand Republic Outdoor
Planning Awards 2011 for the best use
of multiple formats in outdoor
Burton's Foods, Cadbury Biscuits
Campaign details
"The only way to truly stand out in a category is to challenge the
expected, and behave completely differently to everyone around
you. Only then, will people stop and take note, and only then, will
you be able to provide the biggest biscuit launch in over a
decade!"
Cadbury's Caramel Biscuit launch
"Makes me want to buy or try it"
80%
Universal McCann
64%
56%
Coverage
National
Media agency
Universal McCann
Creative agency
-
Specialist agency
IPM
Environment & formats
Number of faces
– Digital and static 48 sheets
– 6 sheets
-
Target audience
Women 25-44
Audience
figures/Research
(Reach, Frequency)
-
30%
Source: Clear Channel Research Monitor
(UK) 2010
Norm
10/05/2010 – 23/05/2010
All Adults
Women 25- Any positive
45
Sales uplift
(During)
Sales uplift
(Post)
Cadbury Duals
+24%
+13%
Cadbury Crunchie
+21%
+8%
Cadbury Caramel
+32%
+20%
Food Norm
+15%
+9%
NPD Norm
+19%
+10%
Cadbury Duals over-performed
vs. Food catergory and NPD
campaign norms.
Source: Litmus (UK) 2010
Media share of spend
100% outdoor
Date & Duration
A huge increase in purchase
consideration, with Crunchie
performing +10% better than the
industry average.