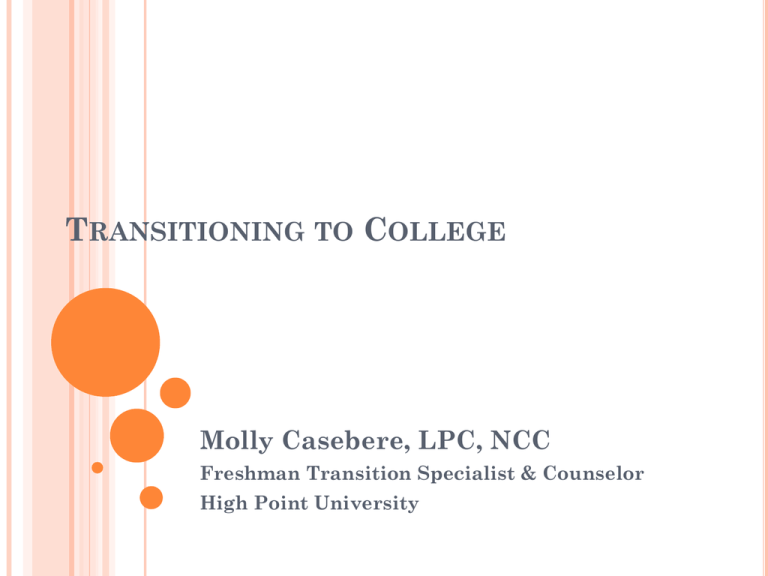 TRANSITIONING TO COLLEGE
Molly Casebere, LPC, NCC
Freshman Transition Specialist & Counselor
High Point University
GETTING TO KNOW EACH OTHER
WHAT COMMON TRANSITION ISSUES DO YOU
SEE WITH YOUR STUDENTS?
GETTING CONNECTED

Finding resources





Disability support office
Physical support
Advisor and professors
Counseling Center
Student Life
Finding a mentor
 Making friends (not so easy!)

Friend group may change multiple times
 Encourage student to be self

CREATING STRUCTURE
Going from complete structure to no structure
 Set up regular meetings with support resources
 Set weekly schedule
 Go to class
 "school day" or "work day"
 Be sure to include social activities, free time,
meals, etc
 Time management and organization

HOMESICKNESS
Get out of room
 Make school more homelike

activities involved in
 room

Balancing "old life" with "new life"
 Mourning "old life" and accepting "new life"
 Setting boundaries with parents
 Fill student's "bucket"
 They are not the only one feeling like this

SELF ADVOCACY


Student needs to take responsibility for their
success (and failures)
Helping students without enabling them
MENTAL & EMOTIONAL HEALTH

Get student connected to counseling
Legal implications if you don't share this info?
 How to ensure they follow up with counseling?


Do students get accommodations if they aren't
treating illness/disorder?


Behavior contracts?
A mental health diagnosis is not an excuse, it is a
guide for treatment
MENTAL & EMOTIONAL HEALTH
Stay on medication during transition
 Counseling is support, not punishment
 Don't wait until it's too late


Mentally healthy students struggle with
transitioning, so any complicating factors will
make it that much more difficult
WHAT DO WE SEE IN THE COUNSELING
CENTER?

EVERYTHING!









Depression
Anxiety
Relationship issues
Previous abuse
Substance abuse/dependence
Suicidal thoughts
Obsessive Compulsive Disorder
Psychotic Disorders
Family issues
WHO DO WE SEE IN THE COUNSELING
CENTER?

EVERYONE!






High and low achieving students
Campus leaders
Athletes
High and low SES
"trouble makers" and "good students"
Some mental illness, but mostly mentally and
emotionally healthy students struggling with some
type of adjustment, grief, or developmental challenge
HOW TO RECOGNIZE WHEN A STUDENT IS
STRUGGLING WITH TRANSITION
Not sleeping or eating normally
 Isolating self
 Not following through with commitments
 Not doing work they are capable of
 Ask professors or other university staff members
 Share this information!

DISCUSSION


What struggles do you face as a professional in
trying to help your students transition?
Questions?