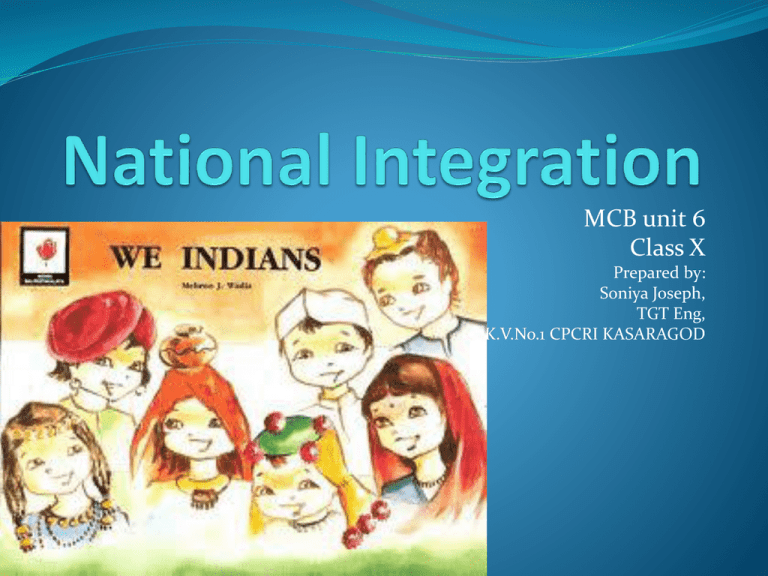 MCB unit 6
Class X
Prepared by:
Soniya Joseph,
TGT Eng,
K.V.No.1 CPCRI KASARAGOD
Our patriotic sense and national consciousness
are triggered on occasions like:
 When the national flag was hoisted on Mount Everest
for the first time on 29 May 1953
 When the national anthem was played during
Olympics
 Mention a few more such occasions…
Multi lingual, multi cutural……
costume
caste
India-
cuisine
a multitude of
creed
culture
colour
Unity in Diversity
 Travel across India, you'll find commonalities like:
 Festivals dedicated to seasons and harvest though
they vary from culture to culture , region to region.
 Which is the festival associated with 'harvest'
celebrated in your locality?
Can you name at least 15
languages spoken in India?
Name 10 dishes available at
various states in India, for e.g..
 Pongal- Tamilnadu
 What is meant by
CUISINE /kwizi:n/ ?
Let's play a game….
 Name the state to which the given picture is associated
with:

Answers
1. U.P 2. T.N 3. Assam
4. Gujrat 5. J&K 6.
Kerala 7. Rajastan 8.
Orisa 9. A.P 10.
karnataka
In a verse from 'GITANJALI'
 Tagore prays the almighty to lead his country to a state





which is free from NARROW DOMESTIC WALLS and
DREARY DESERT SAND OF DEAD HABITS.
Let's discuss…
1. what are the narrow domestic walls refer to?
2. why are they narrow?
3. what are the dead habits? what is symbolised by dreary
desert ?
(keep in mind: terrorism, castism…, selfish,
nonprogressive, social evils, do not cause any
development..)
Read the extract of Dr. Kalam's childhood
taken from his "Wings of Fire"
 Major points:
 His best friends were from Hindu Brahmin families. As
Children, none of them ever felt any difference among
themselves because of their religious differences
 His father used to provide all aids for the local temple
festivals. – communal harmony
 Kalam possessed positive qualities of honesty, free
thinking, hard work etc.
 The country needs more and more people like kalam's
science teacher Sivasubramania, kalam's mother and
grandmother because they fed whoever hungry
irrespective of any religious considereations. The
science teacher paved way for Kalam's progress and
scientific thinking.
 we should never be narrow minded like the teacher
who tried to separate Kalam from the Brahmin friends.