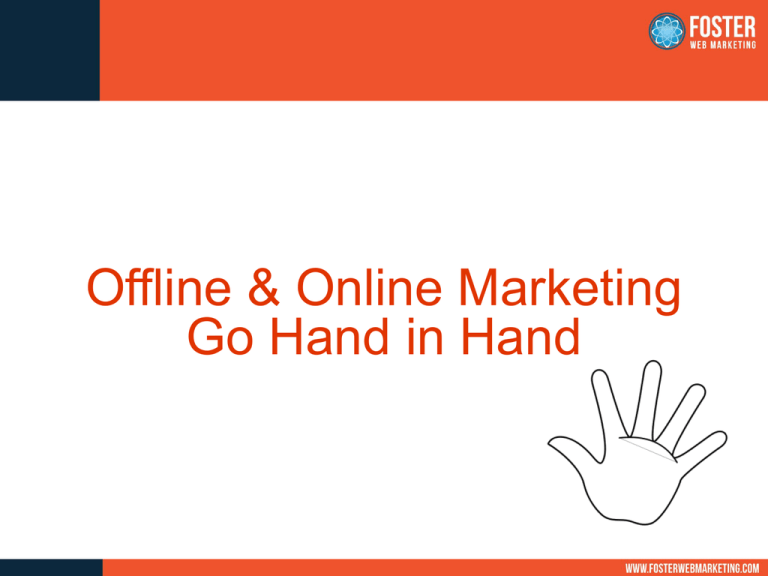 Offline & Online Marketing
Go Hand in Hand
What?! Not Everything Involves the Web??
Offline & Online Marketing
Offline marketing still works:
– Newsletters
– Public relations
– Back-end campaigns
– Community involvement
– Book promotion
– Good old fashioned networking
Offline & Online Marketing
What is so great about marketing is that all of
your online activities can be coordinated with
your offline marketing tactics.
Offline & Online Marketing
Public relations:
– Secure appearances on TV shows
– Get interviewed on radio programs
– Be quoted in the newspaper
– How do you get in front of the media?
Reach out to them!!
Offline & Online Marketing
Take full advantage of your offline PR:
– If you were quoted in a local newspaper,
make sure that you write a blog about
the news piece and post it on your
website.
– Send a tweet on Twitter, or post a
comment about it on Facebook.
– Get a link from the news site, if you can.
Offline & Online Marketing
Branding:
– Branding is a bit unique in that it can apply
to both your online and offline strategies.
– Remember that you are a brand!
– Focus on what makes you different from
your competitors...there has to be
something.
– Your marketing materials, advertisements,
and even company culture must reflect your
brand and how you want to be perceived.
Offline & Online Marketing
Community & Charity Involvement:
– Are you active in the community or in a
local charity? If not, you should be for a
variety of reasons.
– Not only is there the goodwill factor of
helping others around you—our
responsibility as good citizens—but
there is also a marketing impact.
– These activities increase media
attention.
– You may be able to get a link too!
Offline & Online Marketing
Back-end campaign:
– A back-end campaign that follows up
with your contacts is essential.
– Your most valuable asset isn't your
office, furniture, computers or staff.
– The database that you maintain of
prospects and clients is the real "gold" of
your business.
– Your follow up marketing shouldn't be
limited to offline or online materials only.
Offline & Online Marketing
Book promotion:
– If you don't have a book yet, you need
one.
– Make sure you have a hard copy that
can be distributed.
– Promote your book to the media—send
mailers and emails...make phone calls.
– Leave copies at related businesses.
– Get on Amazon too with a Kindle
version! (https://kdp.amazon.com/selfpublishing/help)
Offline & Online Marketing
Network online and offline.