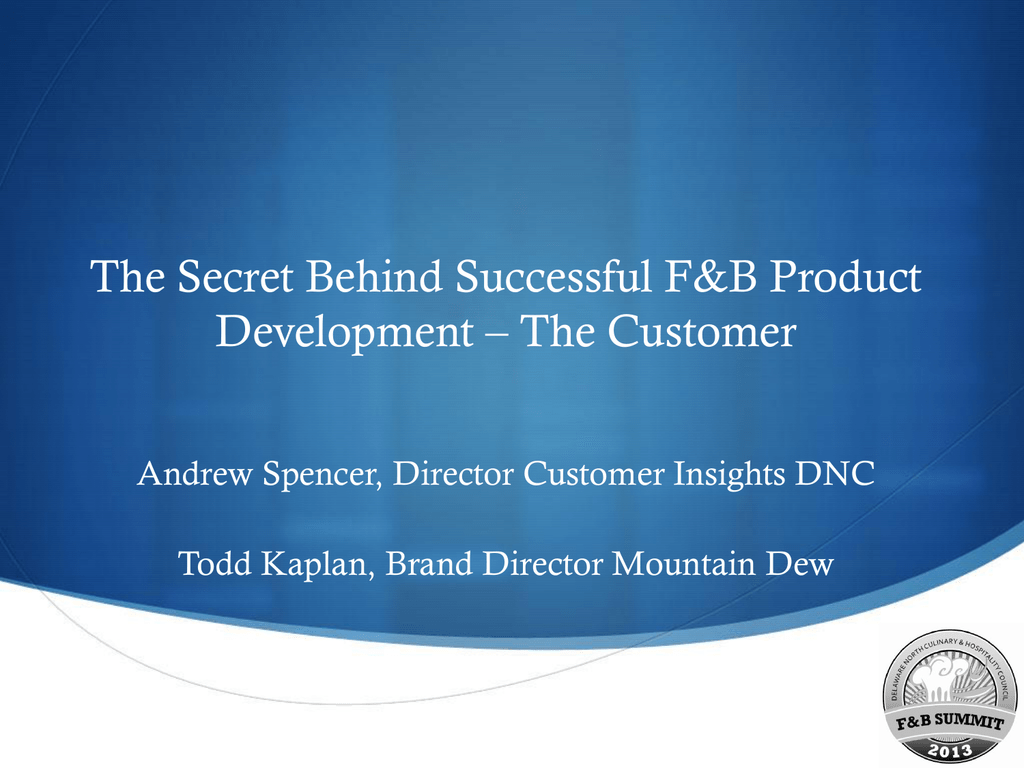 The Secret Behind Successful F&B Product
Development – The Customer
Andrew Spencer, Director Customer Insights DNC
Todd Kaplan, Brand Director Mountain Dew
S
Being Focused on Customer adds Value
Innovation Overview
There are no new ideas…
…yet we are living in an era of perpetual innovation
Innovation Overview
Why do some succeed?
…and others fail?
Innovation Overview
We know it isn't as easy as...
LANDING ON A KEY INSIGHT
HAVING A GREAT
TASTING PRODUCT
GOING WHERE
NOBODY ELSE IS
LETTING THE
PROPOSITION
SELL ITSELF
GETTING A
NEW LOOK
BEING FIRST
Innovation is HARD
We will continue to learn, try new things, and evolve as we go
through the innovation process at PepsiCo
Looking at products that have done well, the stars have
generally been aligned around 5 core elements…
1. KEY CONSUMER INSIGHT
2. PRODUCT DEVELOPMENT
3. PROPOSITION AND IMAGE
4. MARKETING PLAN
5. EXECUTION
1) Unearthing a Key Insight
•
Opportunity exists to revive morning occasion at C-Stores
•
•
2nd largest occasion
Trips and $ per trip declining
•
Millenials not satisfied with current morning offerings
• Millenials + Gen X make up more than half of morning occasion
• Hot Coffee and Juice account for more than half of occasions
• Millenials under-index on hot coffee and juice
•
CSDs under-index on AM occasion
Key Considerations:
•
•
•
•
Know the consumer
Understand the true need
Understand the barriers
Recognize the current
landscape
2) Getting An Optimal Product
Kickstart Formula:
•
•
•
•
•
Dew + 5% fruit juice
Caffeine > Dew
Vitamins C & B
Mid-Calorie (80/can)
2 Flavors:
• Orange Citrus
• Fruit Punch
Key Considerations:
•
•
•
•
•
•
Taste
Efficacy
Ingredients
Calories
COGS
Testing
3) Nailing the Proposition and Image
Creating a Sub-Brand:
•
•
•
Position around AM occasion
Establish role of name / Dew
Rigorous Consumer Testing
• Dew users significantly
interested in trying KS
• Strong projected repeat
• Projected incremental to
LRB and CSD category
Key Considerations:
•
•
•
•
•
•
•
•
Cannibalization
Occasion
Package Type
Package Size
Brand Hierarchy
Name
Role of Ingredients
Graphics
4) The Marketing Tidal Wave
Integrated Campaign:
• TV, OOH, Digital
• PR: Over 500MM+
earned media
impressions
• March Madness
Promo with ESPN
• Mike & Mike
Integration
• Over 2MM+ samples
• Digital 'Dawn Patrol'
Key Considerations:
•
•
•
•
•
•
Awareness
Trial
Creative
Media Mix
Timing
PR
5) Executing with Excellence
Getting it on Shelf:
•
•
•
•
•
•
Line Priced with 20oz
Over 65 ASPs
Multiple IRCs for trial
Meal Deal Partnerships
Right Equipment / Tools
Precise System
Communication
Key Considerations:
•
•
•
•
•
•
•
Distribution
Pricing
Bundling
On Shelf Execution
Equipment
Value
System Focus
The Results
• Kickstart is the biggest PepsiCo beverage
launch in the last 10 years!
• #1 LRB Category Innovation in 2013
• Projected to reach over $180MM in Year 1
• Achieved its distribution targets across all
channels in first 2 weeks
• In C&G Kickstart dollar sales are bigger than
Coke Zero 20oz and 6x bigger than Dr
Pepper 10
• Among highest repeat rates of any recent
beverage launch – 48% vs. 32% avg
• 153 index to LRB, 137 CSD
• Highly Incremental:
• 85% incremental to TM Dew
• 75% incremental to PEP CSDs
• 43% incremental to CSDs
• 10% incremental to LRB
Where do we go from here?
Kickstart your
Night…
…coming soon
in 2014!
Questions
DNC Tools for gathering
Voice of the Customer data
S
Delaware North is investing in processes and systems
to capture more VOC more efficiently
Internal
Total Listening™ process
provides us with 360⁰
degrees of gathering
customer insights
Integrating Multiple Sources
- Primary Research
- Social
- POS
- Insights and Trends
Delaware North using community panel to talk
directly with NHL fans
Total Listening™ Community Panel
652 NHL Panel Members
• Understand challenges
and problem areas
750
500
250
212
242
Nashville
Columbus
Boston
• Direct Feedback on
Concepts, food
preferences and local
options
198
0
Fast
• Understand Site by Site
what is missing
Flexible
Focused
Highly flexible tool to gather insights...
What is most inconvenient about ordering or buying food/
beverage at the arena?
"Transporting can be tricky, so I take that
into consideration when purchasing my food.
Food vendors on the first level, while they
have a better variety of food, transporting to
get the condiments or to find a place to sit can
be tricky."
- Nashville Female STH
…and create innovative packaging that solves the
problem and captures more of the budget
Two Andrew Spencers at DNC
Contact:
Andrew Spencer (Corp)
[email protected]
716 858 5127
Andrew Spencer
Thank you very much Todd & Pepsi!