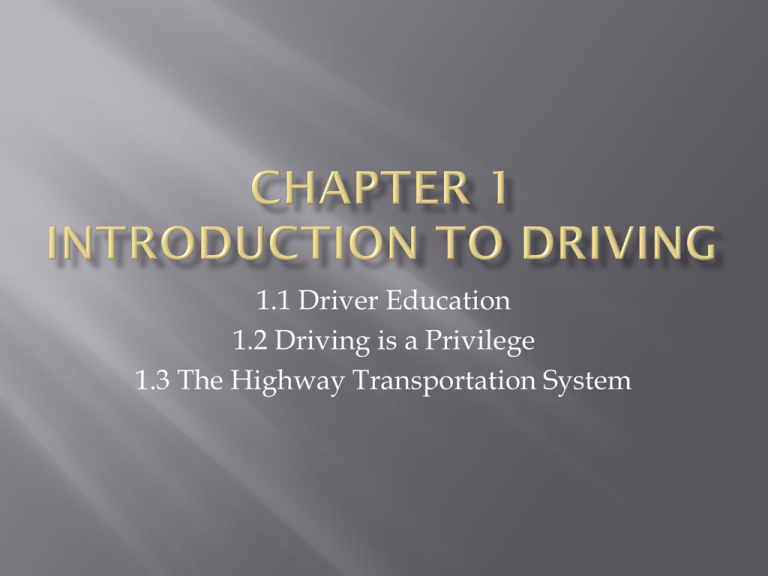 1.1 Driver Education
1.2 Driving is a Privilege
1.3 The Highway Transportation System
Do you think you have the "right" to drive?
Why/Why Not?

Designed to help unlicensed drivers become
familiar with basics

Upon completion, education is not done!

You will not learn everything here

Components

In-class instruction
 30 hours of classroom driver's education

Behind-the-Wheel training
 6 hours of BTW instruction
 50 hours with parents
 This is where you learn to drive!
Driving is a privilege, not a "right".
–Jesse White




Legal Duties
 Obey the law
Financial Obligations
 Pay for accidents
Courtesy to Others
 Watch other vehicles and pedestrians
 Don't disrupt the flow
Protecting your Passengers
 All passengers wear safety belts


Know your vehicle
 What your car can/cannot do?
 Regular maintenance
Being ready to drive
 Emotional
 Physical
 Mental
Highway Transportation System

People
 The people who use the HTS by driving, walking, or riding are
called ROADWAY USERS

Vehicles
 Cars, Trucks, Semi-Trucks, Motorcycles, Farm Vehicles, Buses,
Campers, Etc…..

Roadways
 Classifications
 Conditions
 Function
 Free or Pay Toll

Regulating the HTS

Federal, State, Local
 Federal – National Highway Safety Act – set of traffic safety guidelines
 State and Local Governments - Enforce guidelines

National Guidelines
 Vehicle Code
 Federal and State laws that regulate the HTS
 Enforcement Agencies
 Assure that laws are obeyed
 Motor Vehicle Depts
 Set rules that assure driver and vehicle standards are met
 Courts
 Decides whether drivers are violating laws
 Highway Traffic Engineers
 Plan, Build, and Maintain the complex system of roadways


Drivers create most of the problems
Failures in itself



Poorly designed plans
Construction
Overall, the United States and Canada have
one of the best and most efficient roadway
systems in the world.