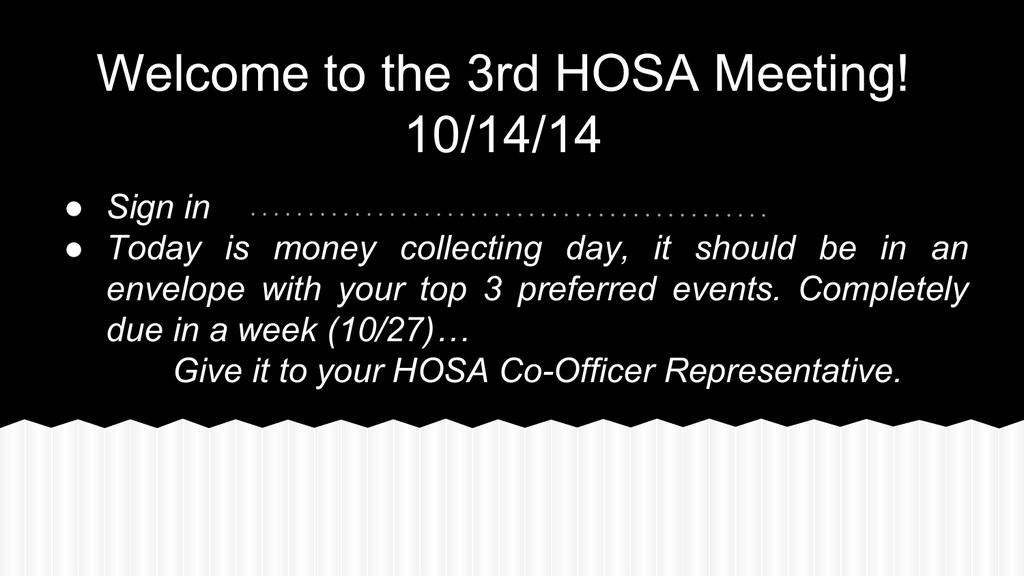 Welcome to the 3rd HOSA Meeting!
10/14/14
● Sign in
● Today is money collecting day, it should be in an
envelope with your top 3 preferred events. Completely
due in a week (10/27)…
Give it to your HOSA Co-Officer Representative.
If this is your first time here or you have not been assigned
to a Co-Officer Representative;
Let us know until the end of the meeting.
If you missed past meetings be sure to check
Ms Clark's Teacher Website/Google Classroom/Co-Officer
Important Dates
Please keep these dates in mind if your event requires
an online test before area competition
●
●
●
●
November 12 Online Sign Deadline
$5 Due before Ms. Clark can Sign you up
December 8, 9, 10 Online Testing at the school
Ms. Clark will coordinate and assign a time slot
Teacher Appreciation
We'll be making Goodie Bags for teachers.
Your officer will assign you and your group a treat to buy and
bring in for the goodie bag.
Date: TBA
Upcoming Activities...
6th Annual Addis Faith 5K Walk
Fundraiser for pediatric brain cancer research
● Sunday, November 9, 2014 & Register by: October 29th
● Price: $27
● Registration Process:
o Register Now>
o I agree>
o Join a team>
o Select Team Alexia>
o Create username/password>
o Fill out information>
o Select "Adult Non-Competitive" 5k Run/Walk
http://walkbyfaith5k.kintera.org/faf/help/helpEventInfo.asp?ievent=1112239&lis=1&kntae1112239=EF4
90D37AC904DBAB831C34CB3ABE621
Trunk or Treat
Best Buddies will be organizing Trunk or
Treat; basically like Trick or Treating except
instead of going house to house the people
will be going Trunk to trunk (of a motor
vehicle). & HOSA will be participating!
Saturday, November 1st
6-8 pm Face Painting and Candy!
Thanksgiving Feast
We will serve community
November 22nd
10:30am - 2pm
@ Brookdale Nursing Home
AT LEAST 30 PEOPLE
Other Fun HOSA Activities! You Choose!
● Light The Night Walk Sunday November 2 @ The Woodlands 4:30pm /6:15 (walk
begins) 9595 Six Pines Drive, The Woodlands, TX 77380
http://www.lightthenight.org/txg/
● Movie Night Book Of Life @ Showbiz Kingwood $9.25
● Incredible Pizza http://www.ipcconroe.com/parties-events.php
● Houston Grand Prix http://www.houstongrandprix.us/index.html
@ 13901 Eastex Freeway Houston, TX 77032
● Go-Kart Raceway @ 2800 W. Mount Houston Rd. Highway 249 Houston, TX 77038
http://www.go-kartraceway.com/default.html
http://www.go-kartraceway.com/249-Party_Flyer_2012.pdf
● Bowling @ AMF $16.95
● Pizza/ Bonfire Party @ Officer Home
Spread HOSA Awareness Week!
Let everyone know how awesome HOSA is! There will be a
dress up/spirit week for HOSA coming in November! We are not
yet sure of the exact days, and we are waiting for approval, but
please be aware of this upcoming exciting week and PLEASE
spread awareness to everyone what HOSA is and how awesome
it is!!!
Spread HOSA Awareness Week! pt. 2
We are hoping to get approved for the last week of October or
during November, if so our dress up days may be…
Monday - "Plan Your Future" Wear your favorite college shirt!/
Tuesday- "Play Your Future" Dress up like your future job!
Wednesday- "Pride and Patriotism-HOSA" Wear red, white, and blue!
Thursday- "Medical Professionals Are Heroes"
Dress up as your favorite super hero!
Friday- "Diabetes Awareness Day" Wear grey.
(Substitute: "Don't Sweat About Your Future" Wear workout gear!)
HOSA T-SHIRT DESIGNS CHOSEN:
Not accurate color and font
HOSA T-SHIRT Part 2
● "Cute enough, skilled enough" Design has been chosen, they will be
ordered soon and will be $15.
o If you volunteered twice, you have already paid for this :-)
o Officers should already have your sizes.
● "I (anatomical heart) HOSA" Design will be made by stencil/stamp.
● So, bring in for next HOSA Meeting (10/28) a NEON GREEN TSHIRT, likely found at walmart for maybe $5, and we will make our
own fun shirt!
HOSA Creed
I BELIEVE in the healthcare profession.
I BELIEVE in the profession for which I am being
trained and in the opportunities which my
training offers.
I BELIEVE in education.
I BELIEVE that through education I will be able
to make the greatest use of my skills,
knowledge and experience in order to become
a contributing member of the healthcare team
of my community.
I BELIEVE in myself.
I BELIEVE that by using the knowledge and
skills of my profession I will become
more aware of myself. Through fulfilling
these goals I will become a more
responsible citizen.
I BELIEVE that each individual is important
in his or her own right; therefore, I will
treat each person with respect and love.
To this end, I dedicate my training, my
skills and myself to serve others through
Health
Occupations Students of America.
NEXT HOSA MEETING (10/28)!!!
HAVE ALL YOUR DUES $$$ IN BEFORE, YOUR EVENT CHOSEN,
BRING IN FUN NEON GREEN T-SHIRT!