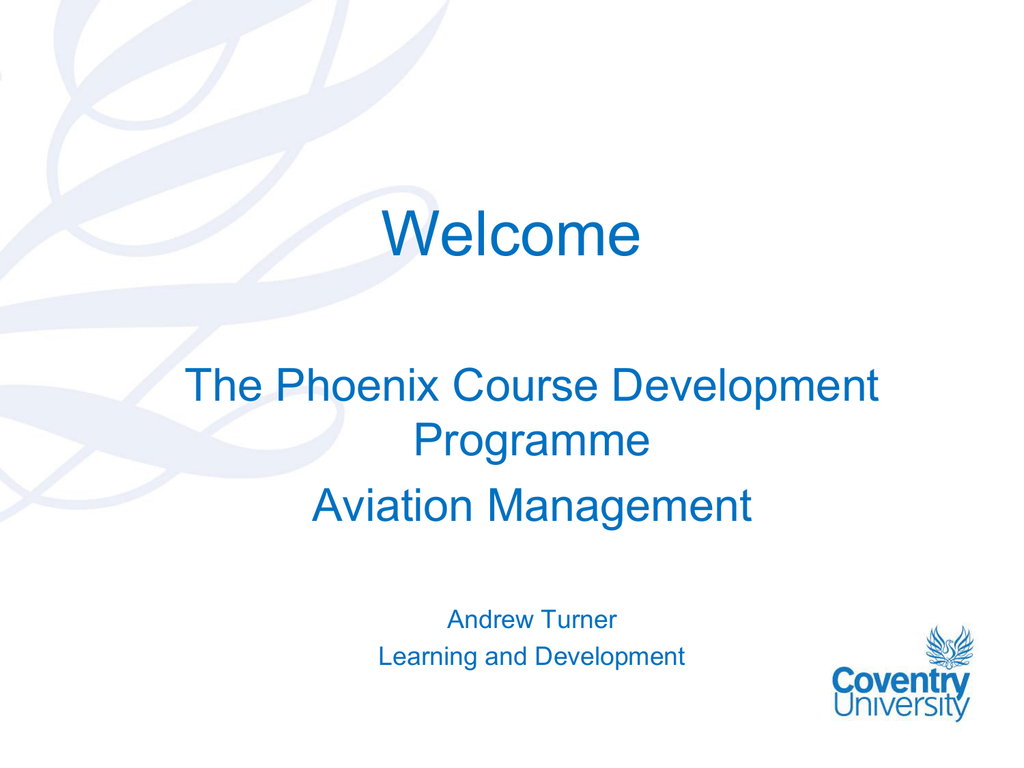 Welcome
The Phoenix Course Development
Programme
Aviation Management
Andrew Turner
Learning and Development
The student experience?
• The £135 university lecture – but is it worth it?
• As universities hike their fees, will students be left questioning
the quality – and quantity – of teaching?
(Mortarboard 3 May)
University priorities in teaching and
learning
1. Student satisfaction
2. Student success and completion
3. Graduate level jobs and careers
"Gradually, the
internet is sinking into
the background as a
tool that everyone
takes for granted"
Digital literacy
The skills necessary for
living, learning and
working in a
digital society
Aspects of digital literacy...
• Information literacy
• Communication literacy
• Learning literacies
– Collaboration
– Use of digital learning spaces
– Use of social media
– Assessment submission and feedback
• Recording learning
The focus is now on the course
experience
Student
satisfaction
Success
and
completion
Value for
money
Course
experience
Graduate
level jobs
and
employment
Excellent
student
experience
International
experience
10
EC Faculty requirements
• The offer to students must be unambiguous,
delivered and auditable.
• Simplification of courses to reduce staff workloads –
assessing less or assess over several modules.
• Activity led learning – 20 credit module running at the
same time over all courses and all levels.
11
The student journey
From student to...
12
• Your job as course designers.....
Academic
and personal
tutoring
Technology
and digital
literacy
An
international
experience
Assessment
Careers and
employment
'Classroom
Experience'
Work
experience
The
student
experience
Professional
accreditation
13
Review of existing courses
• Use the data provided and your own reflections to
consider where are you know?
• Data provided: course viability data, NSS, module
questionnaire data
– What are the areas for development?
– What are the strengths to build upon?
– What are the opportunities.
• How does your course address the Teaching and
learning strategy priorities?
14
Course vision. Imagine.......
• Imagine a conversation between two students.
• A student is coming to the end of a third year of your
course and is asked by a prospective student about
whether to apply to do Criminology or forensic
investigation at Coventry University.
• How would you like the conversation to go. What
would they say.
15
Developing a collective vision
for your courses
• In your groups develop a vision for your courses
which reflects the student experience and your vision
for the graduates from it
– Consider the teaching and learning experience
– International experience
– Employment – employability
– Unique selling point of the course / distinctiveness
– Why would a student choose your course over a
competitor
– Student experience
Activity – developing the
strategic themes
• Divide into groups
• Identify the key strategic themes and
student competences for your courses.
• Try to develop level outcomes for your
theme as it would be experienced by
your students.
Action planning for day 2
• Review and Action: Where are we now.
• Allocate tasks and responsibilities for day 2.
– Teaching and learning (including Technology
enhanced learning)
– Assessment strategy,
– Internationalisation
– Academic and Personal Tutoring
• What will you present to a student panel?