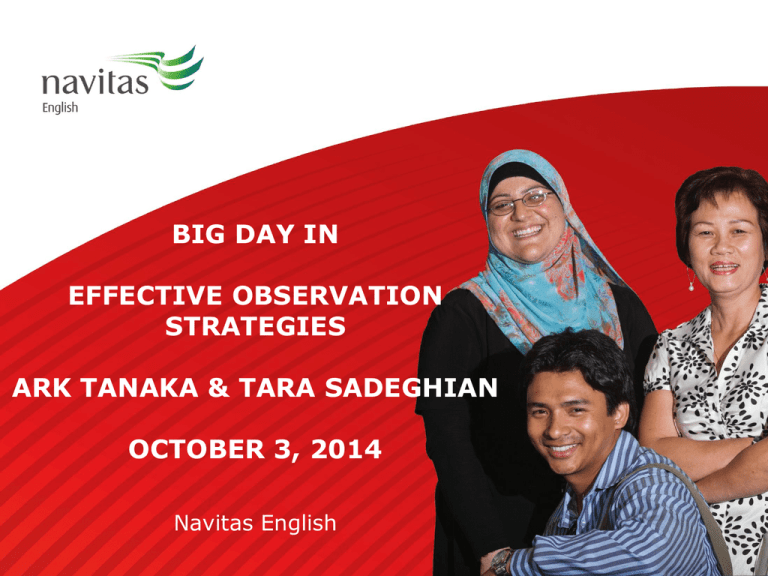 BIG DAY IN
EFFECTIVE OBSERVATION
STRATEGIES
ARK TANAKA & TARA SADEGHIAN
OCTOBER 3, 2014
Navitas English
Questions
1. Why do we observe a teacher?
2. How often do we observe a teacher?
3. Are there any potential obstacles in running effective teacher
observation?
SESSION OVERVIEW
• To explain what made us set up an effective
observation plan
• To explain the professional development
observation procedures
• To report on what we have learnt
DIFFERENT PURPOSES FOR OBSERVATION:
Steps that we took to develop a structured teacher
observation plan
1.
2.
3.
4.
5.
6.
7.
8.
Built a culture in which teachers feel comfortable being observed
Set a time frame to complete Ts observation
Designed relevant observation documents
Conducted pre-observation sessions with Ts
Conducted observation sessions
Conducted post-observation discussion with Ts
Provided options for Ts to develop their teaching skills
Followed up on Ts observed
1.Building the culture
1.Setting the time frame
3. Designing relevant observation documents
4-7. Observation Procedures
Different action plans and follow up on Ts
Teacher A
Experienced SEE
•Teacher agreed to improve one aspect of her teaching skills, which was to
increase S-S interactions by reducing teacher talking time
Teacher B
Experienced AMEP
Teacher C
Novice SEE
Teacher D
Experienced SEE/AMEP
•Teacher wanted to observe a model lesson by T&L as she was not comfortable
observing another teacher whom she didn't know well.
• Teacher agreed to observe another teacher in order to improve the structure
of his own lesson plan
•Teacher identified her own P.D needs without being observed and asked for
peer-observation with an ELICOS teacher
Principles that we followed for peer observation process
1. Developmental, not judgmental- Observation is a learning
experience for an observer.
2. Collaborative- observer and observee discuss a teaching area
the observer intends to develop through peer observation
3. Manageable in terms of time
Key success factors
1. Building trust between observers and teachers
2. No paperwork for teachers!
3. No written lesson plan!
4. Constructive feedback strategies
5. Immediate post-observation feedback
6. Options for action (self-study, peer-observation, modelling,
having a mentor, etc)
Constructive feedback strategies
Dos
• Give immediate feedback
• Remind the purpose of
observation
• Start with self reflection
• Be specific and concrete
• Praise sandwich
• Negotiate actionable plan
with support
Don'ts
• Delay feedback
• Start with criticism/cool
feedback
• Highlight too many areas to
work on
• End with negative comments
Feedback from our teachers…
Teacher A:
• "My initial reaction to observation was negative due to my previous experience.
In the past, feedback was given badly ."
•
"But feedback was good because there were no negative points, instead they
gave me suggestions as to how I can do things differently."
•
"Surprised with how observers saw many good things in my lesson."
Teacher B:
• "I was very eager about the observation plan and volunteered to be observed
first as I felt this was an ideal opportunity for observers to give me genuine
feedback and insight into some of my classroom teaching methods."
•
"Overall, I recommend peer-observation and team teaching amongst teachers
should be practised and encouraged from time to time to promote individual's
professional development."
Achievements
1.
2.
3.
4.
Identified each teacher's strengths and weaknesses
Arranged guided peer observation sessions
Enabled teachers to identify their own P.D needs
Created an environment in which teachers feel comfortable
learning from others
Our future plan
1. Deliver P.D sessions reflecting our teachers' needs
2. Assist teachers with identifying their SMART Goals
3. Encourage experienced teachers to deliver P.D for novice
teachers
COMMENTS/
QUESTIONS?
THANK YOU!