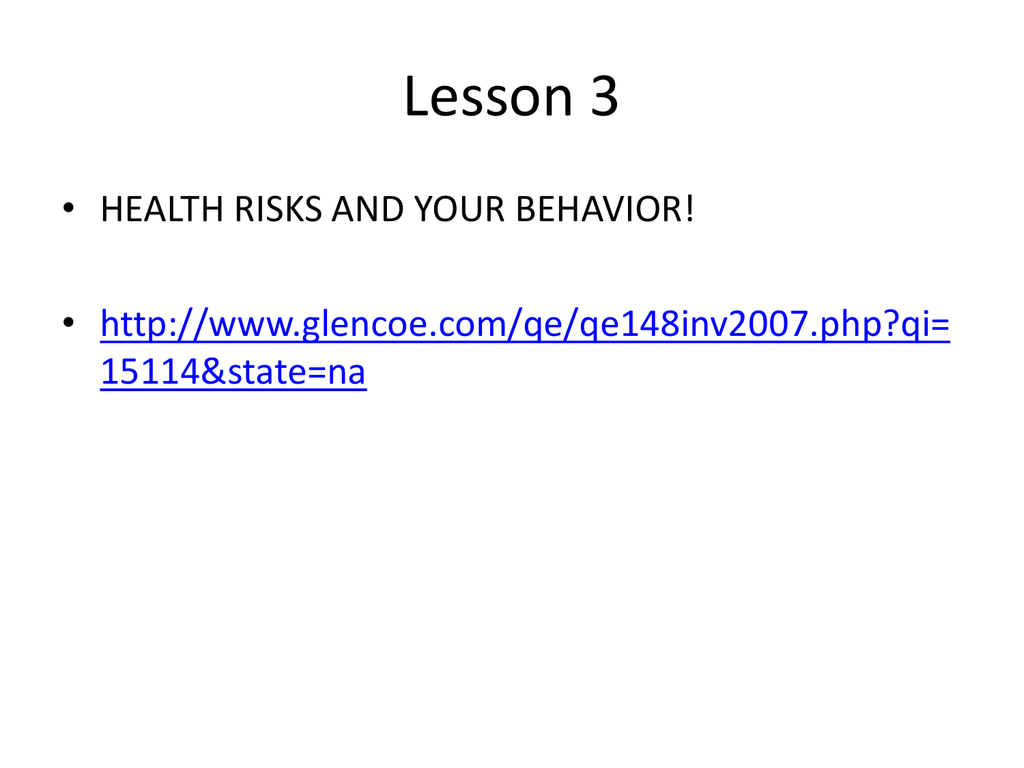 Lesson 3
• HEALTH RISKS AND YOUR BEHAVIOR!
• http://www.glencoe.com/qe/qe148inv2007.php?qi=
15114&state=na
RISK BEHAVIORS (Vocab)
• Actions that can potentially threaten your health or
the health of others.
• Examples: Smoking, Sex, Alcohol, Drugs, and Obesity.
CUMULATIVE RISKS (Vocab)
• Related risks that increase in effect with each added
risk.
PREVENTION (Vocab)
• Taking steps to keep something from happening.
What is Abstinence?
• http://www.youtube.com/watch?v=QIekzDXq
5F4
ABSTINENCE (Vocab)
• A deliberate decision to avoid high-risk behaviors,
including sexual activity and the use of alcohol,
tobacco, and other drugs.
LIFESTYLE FACTORS (Vocab)
• The personal habits or behaviors related to the way a
person lives.
REVIEW
• DEFINE THE TERM RISK BEHAVIOR?
• WHY IS CUMULATIVE RISK A SERIOUS CONCERN?
• HOW MIGHT CHANGES IN LIFESTYLE FACTORS INFLUENCE
YOUR HEALTH IN POSITIVE WAYS?