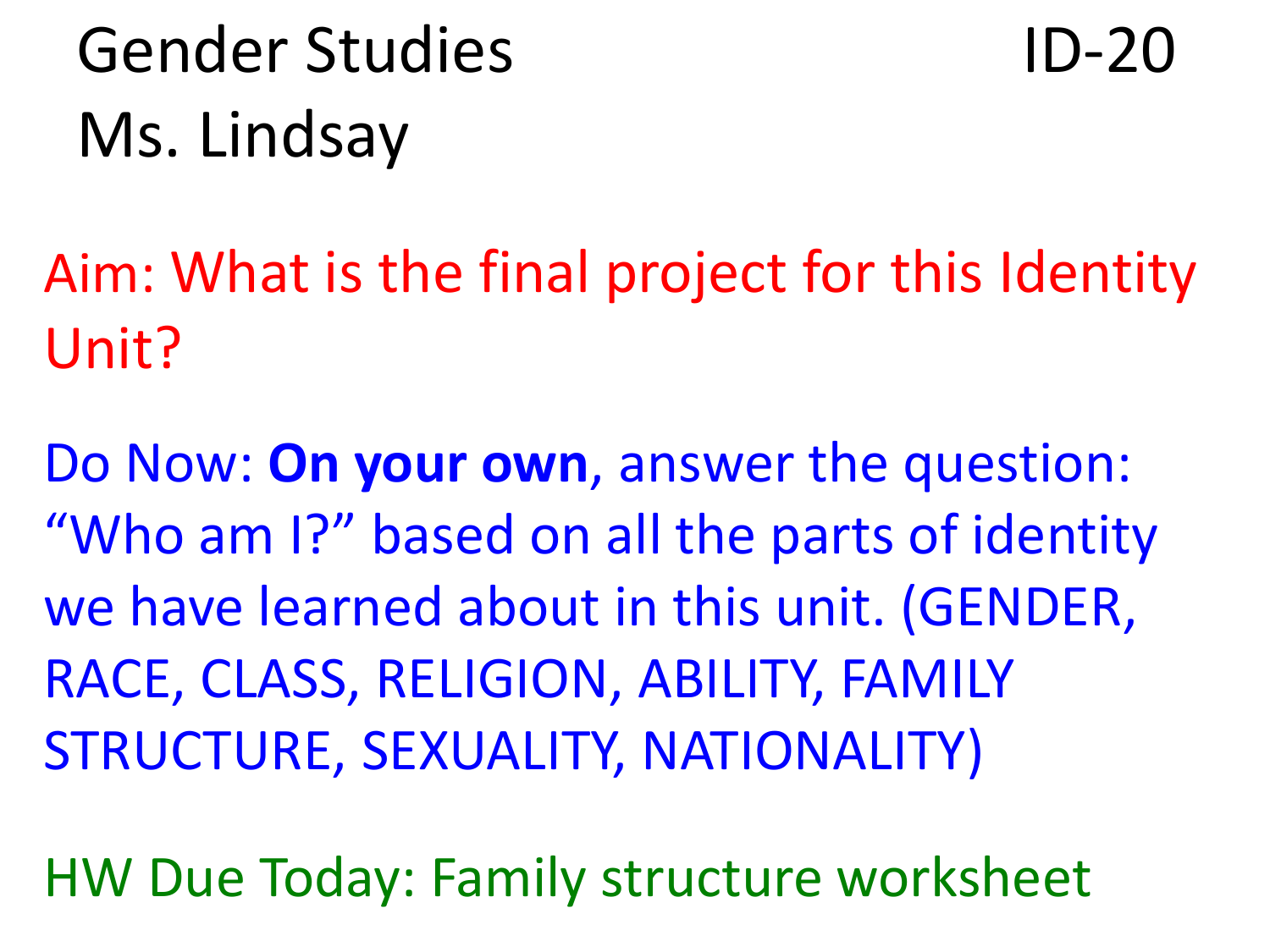 Gender Studies
Ms. Lindsay
ID-20
Aim: What is the final project for this Identity
Unit?
Do Now: On your own, answer the question:
"Who am I?" based on all the parts of identity
we have learned about in this unit. (GENDER,
RACE, CLASS, RELIGION, ABILITY, FAMILY
STRUCTURE, SEXUALITY, NATIONALITY)
HW Due Today: Family structure worksheet
Do Now Model
•
•
•
•
•
•
•
•
GENDER: Female – 1
RACE: White – 2
CLASS: Middle Class - 5
SEXUALITY: Heterosexual - 7
ABILITY: Able-Bodied, Able-Minded – 4
RELIGION: Agnostic – 6
NATIONALITY: United States – 8
FAMILY STRUCTURE: Co-custody family – 3
"Who Am I?" Project Due: ID-26
Oct. 28 for B & C / Oct. 29 for D & A
• Create an art piece that represents you. Focus on as
many pieces of identity as possible. The pieces you
identify with THE MOST should be the MOST
REPRESENTED in your piece.
• You will also write a short piece that explains your
art. In it, you will make DEEP CONNECTIONS to your
personal life, big issues (relating to parts of your
identity), and gender studies vocabulary.
• Remember to use creative student voice & check
for spelling, punctuation, and grammatical errors.
HOW LONG DOES IT HAVE TO BE?
Artistic poems must total 400 words.
four 100-word poems OR
one 400-word poem
Written explanation must be 500 words.
Questions?
Model Study
• Praise poems
• Visual art – drawing, painting, collage
• Movie – play, scenes, images w/text
• Performance art – song, dance, slam poems
Write down what type of art piece
you want to create.
Then, raise your hand. I want to
read everyone's ideas.
HOMEWORK
Make sure you know what TYPE of art you are
creating & which PARTS OF IDENTITY will be
included!