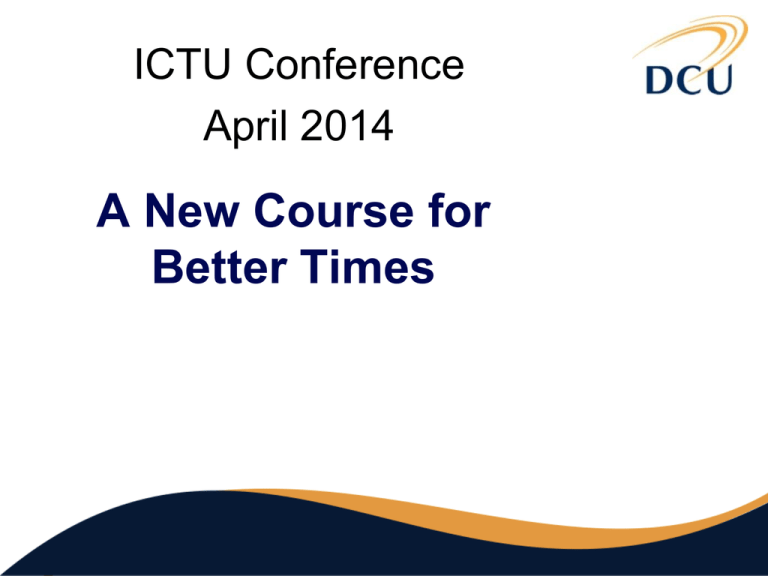 ICTU Conference
April 2014
A New Course for
Better Times
David Jacobson
Industrial Policy
• Introduction: TASC Commission, The Nuts and
Bolts…
• Issues:
– The Banks
– State Support for Enterprise Sector
– Export Performance
– Innovation
– Sustainability
– Corporate Taxes
INTRODUCTION
TASC Commission on
Industrial Policy
• Book: D. Jacobson (ed.) The Nuts and Bolts
of Innovation: New Perspectives on Irish
Industrial Policy, Glasnevin Publishers, 2013
• Authors: David Jacobson, Paul Sweeney,
Sean Ó Riain, Jim Stewart, Eoin O'Malley,
Rachel Hilliard
THE BANKS
• Industrial policy? Yes!
• See failure of credit guarantee scheme
– Predicted number of companies:
5,600
– Actual: 72
• Solution: State investment bank
• Aside on bailout: institutional
differences…
STATE SUPPORT FOR ENTERPRISE SECTOR
• Finding: tax payers contribute billions of euro
to supporting the enterprise sector
• Problems:
– Absence of coherent strategy
– Lack of research on impact of policy
– Each "side" blames the other
• Solution: More research, better info
EXPORT PERFORMANCE
• Ireland overall (industry and services) did
NOT lose competitiveness in the period 2000
to 2008
– Gains/losses in competitiveness:
2000 to 2009 2000 to 2005 2005 to
2008 to
+
-
Overall
Industry
Indigenous
MNC
-
+
+
INNOVATION
• Too much emphasis on high-tech
• Not enough diffusion of innovative
thinking
• Not enough research on impact of
expenditure on innovation
• Where are we good?
–How can we improve?
SUSTAINABILITY
• Evidence that:
− the more rigorous the regulations on
environmental protection, and
− the more rigorously they are policed,
• the more competitive the industry
CORPORATE TAX RATE
• For some MNCs,
− the tax rate is irrelevant, it is the
fiscal regime that is important
• For some, despite a significant
operational presence in Ireland,
corporate taxes are paid in Bermuda
Industrial Policy, by David Jacobson
Profit switching transfer pricing
Means multinationals are slicing
Tax revenues that we can get
Forcing underpaid into the net.
So unions to win the day
Must call a stop and loudly say
All firms in Ireland should pay the
same
Level play for a fairer game.
We depend too much on the USA
If they change the rules their firms
won't stay
And unemployment will be even
worse
Than this attempt at rhyming verse.
The message is that we should aim
To encourage local firms the same
As what we've done for all the rest
For Ireland's future, that's the best.