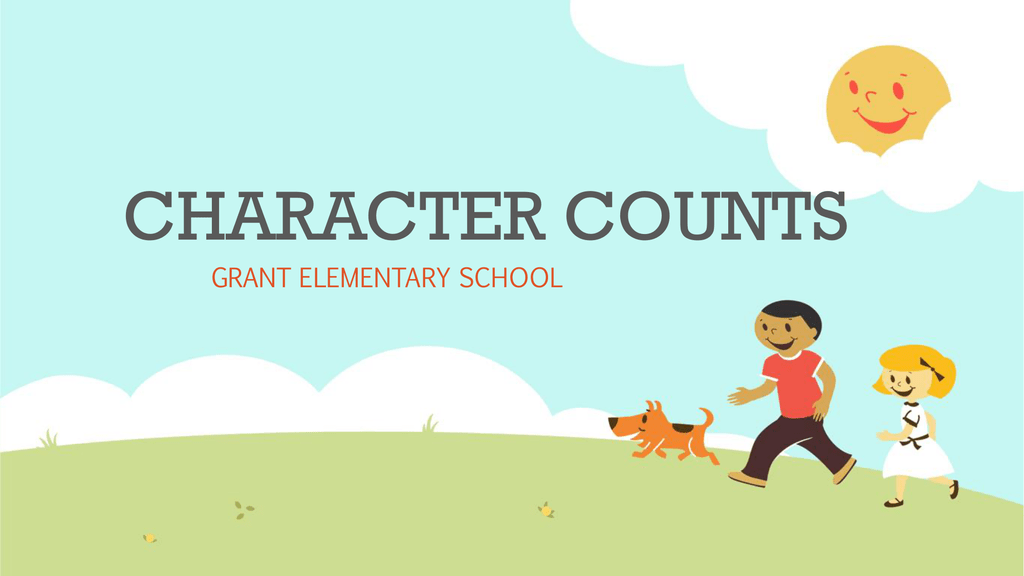 CHARACTER COUNTS
GRANT ELEMENTARY SCHOOL
Six Pillars of Character
• The CHARACTER COUNTS!
approach to character education
doesn't exclude anyone.
• The Pillars are six ethical values
that everyone can agree on.
• Simply put, it helps kids make
better choices to make everyone's
life better.
THINK TRUE BLUE
•
Be honest
•
Tell the truth and
be honest
•
•
Do what you say
you will do
Have the courage
to do the right
thing
•
Keep a good
reputation
•
Be loyal
•
Stand by your family,
friends and
community
NOVEMBER
THINK THE GOLDEN RULE
•
Use good manners, not bad language
•
Think about the feelings of others
•
Treat others the way you want to be
treated
•
Don't threaten, hit or hurt anyone
•
Handle your anger and
disagreements peacefully
JANUARY
THINK SOLID LIKE A TREE
•
Use self-control
•
Be self-disciplined
•
•
Think about the
consequences
before you act
•
Do what you are
supposed to do
•
Don't give up, keep
on trying
•
Always do your best
Be responsible for
your choices
FEBRUARY
THINK OF SHARING AN ORANGE
Play by the rules
 Take turns and share
 Be open-minded
 Listen to others
 Don't take advantage of
others
 Don't blame others
carelessly

MARCH
THINK OF A HEART
•
Be compassionate and show you care
•
Be kind
•
Say thank you and please
•
Be forgiving
•
Help people in need
APRIL
THINK OF REGAL PURPLE
•
•
Help make your
school and community
better
•
Be a good neighbor
•
Obey rules of school and laws
Cooperate
•
Respect authority
•
Protect our world
MAY
TRRFCC
Students can use this acronym to help them remember that
people with good character are terrific:
T rustworthy
R espect
R esponsibility
F airness
C aring
C itizenship
SHOW YOUR CHARACTER at GRANT
Be a good friend and classmate.
 It's who you are on the inside that matters.
 Everything you say and do sends a message about your
character.
 Earn Gecko Gold Cards. Turn in fifteen for a prize or
enter each one into a raffle for a chance at a prize.
 Be selected by your teacher for showing honorable
character. Receive an award at our monthly assemblies!

Be a Buddy Not Bully!
WHAT IS BULLYING?

Bullying is hurting someone's feelings or body on
purpose.

Bullying is behavior that is unwanted, serious and
stops someone from learning.

Bullying is repeated mean behavior done over time to
purposely hurt another person.

Bullying is behavior in which someone is trying to gain
power over another person.
EXAMPLES OF BULLYING
WHAT CAN YOU DO?
TATTLING
REPORTING

Get someone in trouble

Keeps someone safe

Behavior is on accident

Behavior is on purpose

You can handle yourself

You need adult help

Harmless

Someone could get hurt

Not Important

Important
WHO WILL YOU BE?
BULLY
BYSTANDER
UPSTANDER
GRANT is an FUN, SAFE place to
go to school and LEARN.
Remember to do your part.
Your CHARACTER COUNTS!