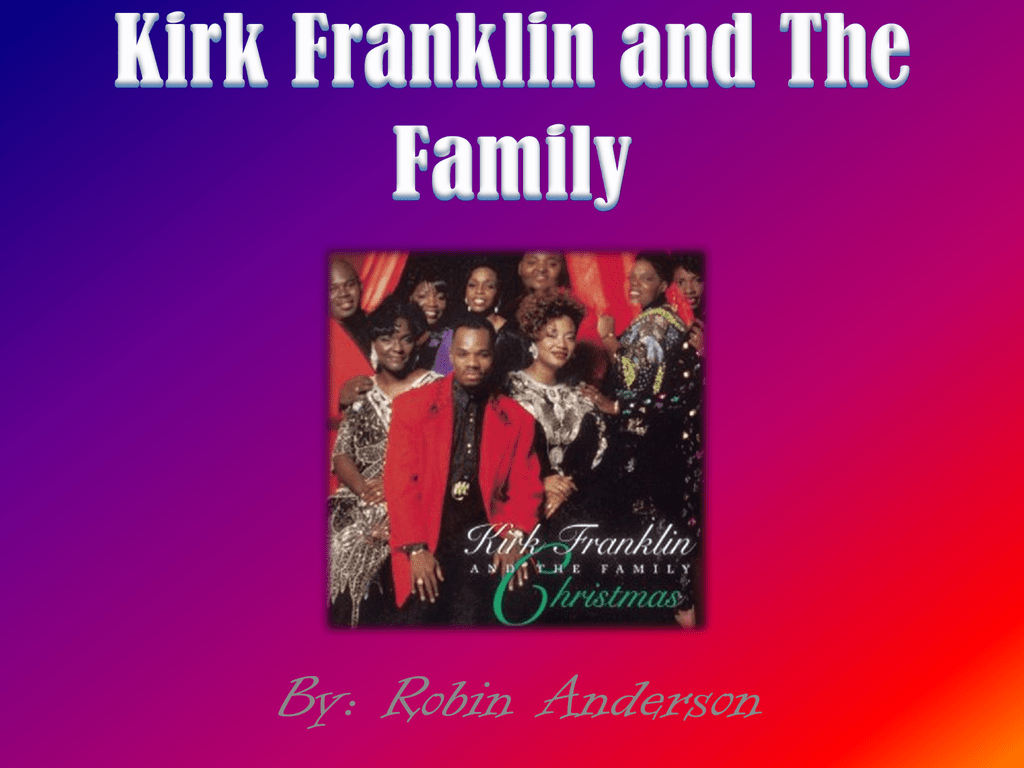 By: Robin Anderson
Journal Information
• Kirk Dwayne Franklin was born on January 26,
1970 In Fort Worth Texas, United States. He is
an American Gospel musician, choir director,
and author, and is most notably known for
leading urban contemporary gospel choir such
as The Family, God's Property and One Nation
Crew.
About The Choir
The Family
Kirk Franklin organized The Family in 1992. It
was the 17 voice choir formed from
neighborhood friends and family. They were
immediately signed up to a recording contract
by the co-founder of fledging record label
Gospo Centric when they heard one of their
demo tapes.
The Vocalist
•
•
•
•
•
•
•
•
•
•
•
David Mann
Elder Jonathan Drummond
Dalon Collins
Byron Cole
Minister Darrell Blair
Tommy Colter
Duawne Starling
Sheila Brice
Ramona White- Cole
Nelda Washington
Terri Pace
•
•
•
•
•
•
•
•
•
Carrie Young-Davis "Mousie"
Kisha Grandy
Tamela Mann
Janette Williams
Demetrius "Dee" Hereford
Yolanda McDonald
Teresa Young
Cassandra Cleveland-Robertson
Farrell Mannings
The Musicians
•
•
•
•
Bass: Jerome Allen
Drums: Eric Morgan
Keys: Jerome Harmon, Bobby Sparks
Lead: Anthony Thomas
Albums
• Kirk Franklin & the Family
it was released in (1993)
• Kirk Franklin & the Family Christmas
it was released in (1995)
Pictures Of Kirk Franklin & the Family
Another Picture of Kirk Franklin & The
Family
Last Picture of Kirk Franklin & The
Family
Thanks For Watching!!